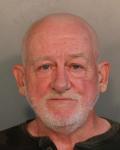 A 65-year-old Shokan man allegedly pointed a pistol at a cyclist during a road rage incident in the Ulster County town of Olive on Monday, May 9, according to the New York State Police and the Times Herald-Record.
Left: Ernest T. Townsend. Photo via the New York State Police. 
Ernest T. Townsend was driving a truck on Route 28A when he got into an altercation with a bicyclist, who thought Townsend came too close to him and "raised his fist," the THR reports.
Townsend responded by allegedly driving next to the cyclist and brandishing a firearm at him, according to a press release from the New York State Police.
Townsend turned his truck around, pulled up alongside the bicyclist, told him not to raise his fist, and pointed a pistol at him, then drove off, police said.
On Tuesday, police arrested Townsend and charged him menacing and criminal possession of a weapon, both misdemeanors, and criminal possession of marijuana, a felony.
According to the State Police, Townsend was found with more than eight ounces of marijuana and an illegally possessed pistol.