Above: Taco Juan's in Woodstock. Photo by Kat Stan, shared in the Watershed Post's Flickr pool. 
Will Nixon, the co-author of "Walking Woodstock" and "The Pocket Guide to Woodstock," has decided that the best way to capture the spirit of Woodstock life is in verse.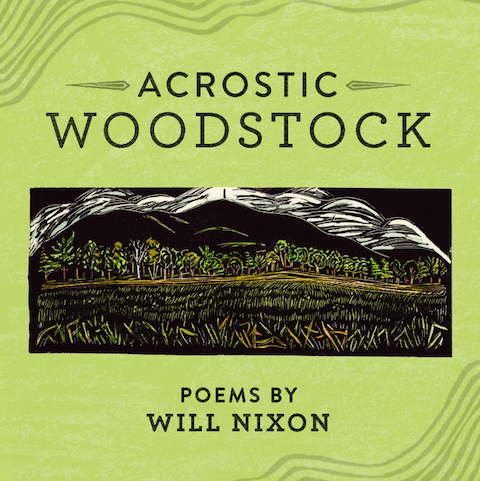 Nixon's new book, "Acrostic Woodstock," is a collection of 70 poems about the famous little Ulster County town. Each poem is an acrostic, where the first letters of each line spell out the title of the poem.
The real fun is the subject matter. For Nixon, everything is fodder for a poem. Levon Helm's Midnight Ramble gets an ode, as does the town hardware store and the taco shop:
TACO JUAN'S BENCH

Taco Juan never walks by Taco Juan's, the bench wino said.
Ain't no Alhambra Jane in diamond pumps and ghost rider jeans, no
Cal City Caesar low riding low enough to scrape stars off the pavement.
Only me and a young hottie nursing an ice cream sat there to see
Jesus himself, like the original hippie, in American-flag
Underwear and dreadlocks and a belt cut from a rope.
All this Jesus did was pause at the bookstore window, gardening books on the    left,
Nightstand books on the right, and finger his beard and pull out a tooth.
Sure enough, he dropped it in my beggar's cup when I wasn't really begging.
Bless him, but I'm twenty years past my last good smile and have a gap for the     ladies. I
Earn my keep by waving bees off my orange drink and telling tourists from
New York I once went ten rounds with Rocky, and Thunderbird won.
Christ was an awfully nice guy, even if nobody saw him.
Hey, this tooth looks sorta like mine.
This weekend, to celebrate the book's launch, Nixon is hosting a "Woodstock Poems Scavenger Hunt" from 5 p.m. Friday, Dec. 4 through 5 p.m. Sunday, Dec. 6.
Twelve shops and restaurants are holding poems for scavenger hunters; collect all 12 for a chance to win a $100 gift certificate to one of the businesses.
The hunt's headquarters is the Golden Notebook bookstore, and the participating businesses are Oriole 9, Jean Turmo, H. Houst & Son, Candlestock, Bread Alone, Catskill Art & Office Supply, Catskill Mountain Pizza, Sunflower Natural Foods, Yum Yum, Lotus Fine Art and Sunfrost Farms.
Woodstock Poems Scavenger Hunt. Friday, Dec. 4 through Saturday, Dec. 5. Various locations around Woodstock. willnixon.com.