Update, 2 p.m., October 7, 2015: The New York State Police have released a mug shot and a press release about a standoff between a Walton man and state police that ended peacefully last night after nine hours of tense negotiations.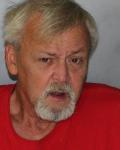 At 11:49 a.m. on Tuesday, Oct. 6, 53-year-old Arthur E. Veprovsky grabbed a "long gun" and threatened to kill his girlfriend and police officers in his home on Third Brook Road in Walton, according to the press release. The girlfriend had left the house safely by the time police arrived, police say.
Left: Arthur E. Veprovsky. Photo via New York State Police. 
Police surrounded the house and attempted to talk to Veprovsky, who reportedly refused to cooperate. New York State Police Crisis Negotiators and the state police Special Operations Response Team then arrived in Walton to set up a perimeter around Veprovsky's house, closing Third Brook Road.
Throughout the day, Veprovsky "still refused to surrender," police say. Finally, police officers sent a robot into the house and "made visual contact with Veprovsky," according to the press release. At around 9:30 p.m., tactical officers entered his home and arrested him, according to the press release.
Veprovsky was arrested and charged with misdemeanor menacing in the second degree and was arraigned in the town of Walton court. He is being held in the Delaware County Jail without bail. Police say that additional charges are pending.
Original story: A "barricaded subject" in a residence on Third Brook Road in the Delaware County town of Walton caused a tense standoff with police that ended with an arrest around 9 p.m. on Tuesday, Oct. 6, according to WBNG and state police sources. 
The incident began in the afternoon as a domestic disturbance, according to scanner traffic, and escalated into an hours-long standoff between the male subject and New York State Police, according to State Police spokesman Nathan Riegal.
A man inside the residence on Third Brook Road refused to come out or cooperate with police, Riegal said.
"We use the term 'barricaded subject,'" Riegal said. "That could mean that somebody actually barricaded their doorway, or could be somebody inside refusing to come out."
According to WBNG, a 58-year-old man was taken into custody around 9 p.m.:
Police said Arthur Veprovsky, 58, was taken into custody around 9 p.m. Tuesday. According to officials, Veprovsky threatened his girlfriend in their home at 3 Lower Third Brook Road on Monday night. Neighbors called police to report the situation. When Veprovsky refused to speak with police, a standoff ensued sometime between 3 p.m. and 4 p.m. Tuesday. An area of Lower Third Brook Road-- near the Walton Fire Department-- was blocked off for hours, as police attempted to negotiate with Veprovsky. Officials told Action News they broke down the door of Veprovsky's home, and sent a robot inside. According to Captain Scott Heggelke, with New York State Police in Sidney, police believe Veprovsky was in possession of a gun, or guns.
In reaction to rumors swirling on social media, Riegal said that the subject did not have any hostages.
"It is not a hostage situation," he said around 9:10 p.m.