Photo by Eric Molina, via Flickr. 
After nine months of surveillance and wiretapping, investigators from the New York Attorney General's Office and the New York State Police have arrested a group of 13 people for trafficking heroin in New York and Pennsylvania.
The network, which reportedly revolved around a 52-year-old Bronx-based kingpin named Brian Bacon who is known as the "Prime Minister," funneled heroin from New York City into Sullivan County via two men in Monticello, according to a press release. 
Thirty-four-year-old Jamaul Aziz and 22-year-old Gilbert Maxi allegedly served as heroin resellers in Monticello, police say. Aziz is described as one of Bacon's "main resellers."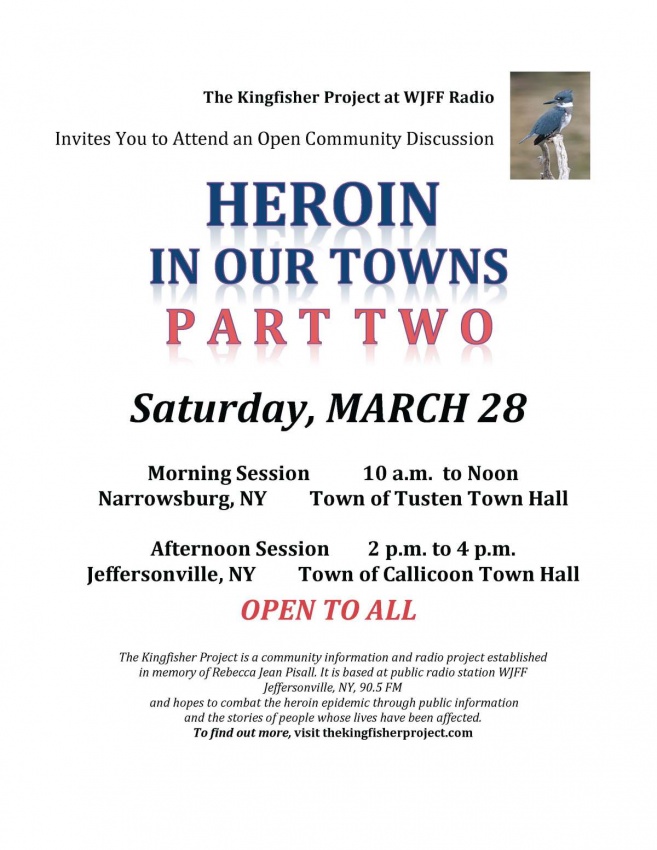 Above: A poster promoting two forums on heroin addiction in Sullivan County this weekend, from the Kingfisher Project. 
Bacon reportedly sold around a kilogram of heroin each month to his various clients in New York and Pennsylvania. Much of the heroin travelled by public trains and buses, police say. 
The investigation, called "Operation Iron Horse," began in June 2014. The 13 defendants were arraigned in Orange County Court on Thursday, March 26, according to the Times Herald-Record. 
The timing of the bust comes days before two community forums about the heroin epidemic in Sullivan County are scheduled.
The forums, called "Heroin in Our Towns, Part 2," will happen in two Sullivan County towns, Narrowsburg and Jeffersonville, on Saturday, March 28. The forums are sponsored by the Kingfisher Project, a public radio initiative from WJFF 90.5 FM in Jeffersonville that is covering the rise of heroin addiction in Sullivan County.
Heroin in Our Towns, Part 2. Saturday, March 28. 10 a.m. to noon at Tusten Town Hall, Narrowsburg and 2 p.m. to 4 p.m. at Callicoon Town Hall, Jeffersonville.