A 25-year-old Stamford man jumped out his window and fled into the woods wearing "limited clothing" when probation officers came looking for him about a probation violation on the morning of Friday, March 27, police say.
Jesse E. Papas had no shoes and wore only "limited clothing," but he led sheriff's deputies, probation officers, a New York State Department of Conservation police officer and a trained police dog for miles on frozen snow over a mountain and into the next county before being caught, according to a Delaware County Sheriff's Office press release.
Ozzie, a trained drug-sniffing police dog that works with the Delaware County Sheriff's Office, was key to the chase, police say:
Tracking was extremely difficult due to the snow pack remaining on the mountain and was further complicated by Papas' size and weight which allowed him to move through the snow leaving very few tracks in the frozen snow. Ozzie's outstanding tracking and apprehension abilities proved invaluable in apprehending Papas whom likely would have sustained hypothermia or frostbite if not apprehended by K-9 "Ozzie".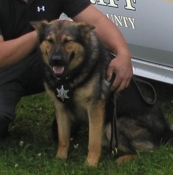 Papas was finally caught "without resistance" near Kemper Mountain Road in the Schoharie County town of Gilboa, miles away and the next county over from the village of Stamford.
Left: K-9 Osman "Ozzie" Steele, Delaware County's German Shepherd police dog. Photo via the Delaware County Sheriff's Office. 
Papas was taken to A.O. Fox Memorial Hospital in Oneonta by the Grand Gorge Emergency Squad "due to his prolonged exposure to the cold and snow wearing limited clothing and no footwear."
Papas was wanted by the Delaware County town of Davenport for violating his probation after being convicted on charges of criminal possession of stolen property in the fifth degree, a misdemeanor. After being released from the hospital, he was also charged with resisting arrest, another misdemeanor, and was taken to the Delaware County Correctional Facility, where he is being held without bail.