Above: Brooke Baxter Bailey and Jeff Bailey at the Woodstok Flea Market. Photo by Alexandra Marvar. 
Before leaving Williamsburg for the Catskills, Brooke Baxter Bailey and Jeff Bailey were involved in a series of Broooklyn-based experimental spaces: an alt-performance-art space called Glasslands (described by Gothamist magazine as "one of the city's best down-and-dirty performance spaces"), a piano bar in Greenpoint and Whirlybird, which Brooklyn Magazine called "Williamsburg's premiere Austin-style breakfast taco joint."
In 2014, the couple closed their Brooklyn businesses and moved upstate full-time with a young daughter in tow. They bought a property in the Ulster County hamlet of Phoenicia, a five-minute walk up Route 214 from Main Street. 
Brooklyn's loss is Phoenicia's gain. The Baileys won't just live on their new property, an old farm with a farmhouse and a barn -- they'll reincarnate their Brooklyn businesses in their new neighborhood. They're already renting out one room on the property on Airbnb, under the name Glass Mountain Inn. It has been profiled by style website Refinery 29 as "The Coolest Getaway Spot On Airbnb."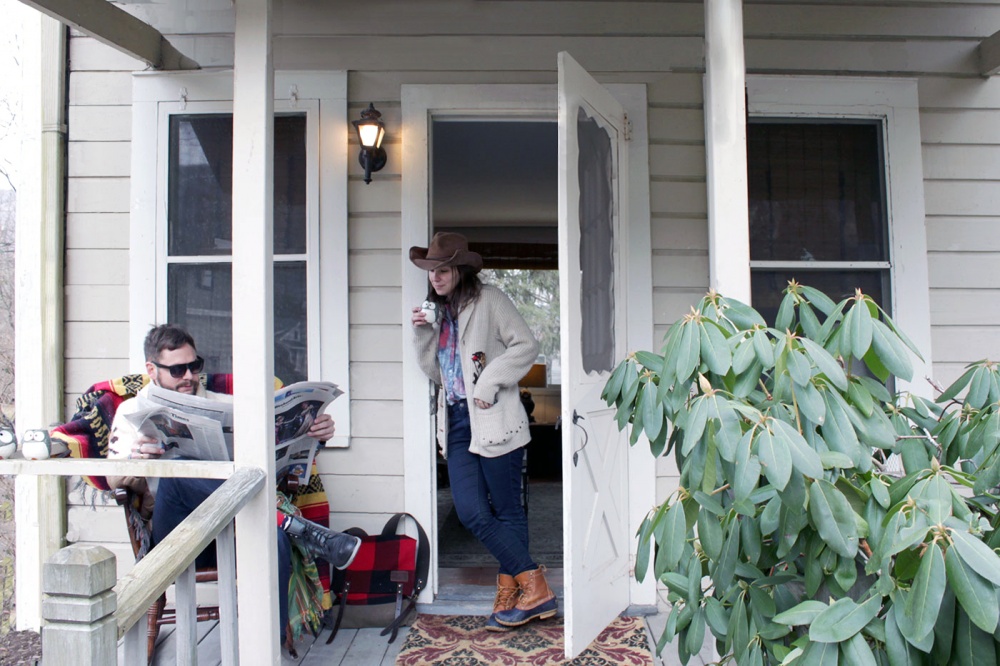 Above: Jay McElfresh and Alexandra Marvar at Glass Mountain Inn's rental unit in Phoenicia. Photo by Brooke Baxter Bailey. 
The Baileys have big plans: They will remodel the farmhouse, develop other rooms to rent and launch an event series featuring dinners, live music, artist residencies and retreats. Becoming a wedding venue is a distinct possibility. Their friend Alexandra Marvar, the organizer of Kingston's O+ Festival, will lend a hand.
The Watershed Post talked to Jeff Bailey about what inspired the move north and what the future holds.
Watershed Post: Why Phoenicia? Just because you found the dream property there, or does the community also seem like a good fit? It's on the eclectic side.
Jeff Bailey: Phoenicia is my spirit animal, I think. I like the way it lives. Smaller than small-town, unassuming in its charms. It's the right pace for me and the family.
I came here first about 11 years ago to play bass for a waitress I worked with in Brooklyn; she had booked a couple of shows up and around here. There's this stretch of Old Plank Road that follows the Esopus, the road with the Buddhist [Zen Mountain] monastery. I liked the light through the trees and the cold clearness of the creek as I rode by. After Brooke and I got our first house up in nearby Willow, I remember finding that road and that light and the creek again, and feeling like I had to end up here. That road takes you right into the Main Street drag, with all of its sleepy storefronts, old signage. I mean, it's charming for anyone to see, but I felt like we both really wanted to be here, which is hard enough for one person to find, let alone two people to wholeheartedly agree on. Finding the house felt like our tiny destiny. We made an offer on it with no money in our hands, and just in time, our restaurants sold and we could get our offer in.  
WP: Right now there's one unit for rent on AirBnb. How are the renovations coming? Got a timeline on the other units opening up? Any hints about the decor; do you guys hew to an overall theme, or will each be different?  
JB: Presently we have the one room up and going. It's a spacious one-bedroom with its own little deck and a big living room. Our friend Alex Marvar came in and helped to cultivate the space, so it's kind of her little corner as well. She's a talented social media multi-tasker and web designer, so she was also able to create a little bit of an internet presence. Brooke and I wanted to go with a sort of cozy Southwestern feel in there, and the next day Alex shows up with this giant photo of an old ranch hand, so that worked out nice.  
We kind of just brainstorm in the car or before bed about what we want to make something be like, and it always ends up just being its own little thing, you know?  
We've got another room opening up in the next few months, and Brooke was talking all sorts of noise about a cross between 60's Borscht Belt decadence and hippie rugs and beaded doors last night, so that's where our heads are right now. Who knows what it'll be when we're done. We've got a cottage on the property as well, which has a tenant until June. After that, we'll get to work and make that happen.  There's a barn in the yard that we've got some fun plans for. It's our home first, and we've got hopefully a lifetime to grow it, so no particular hurry.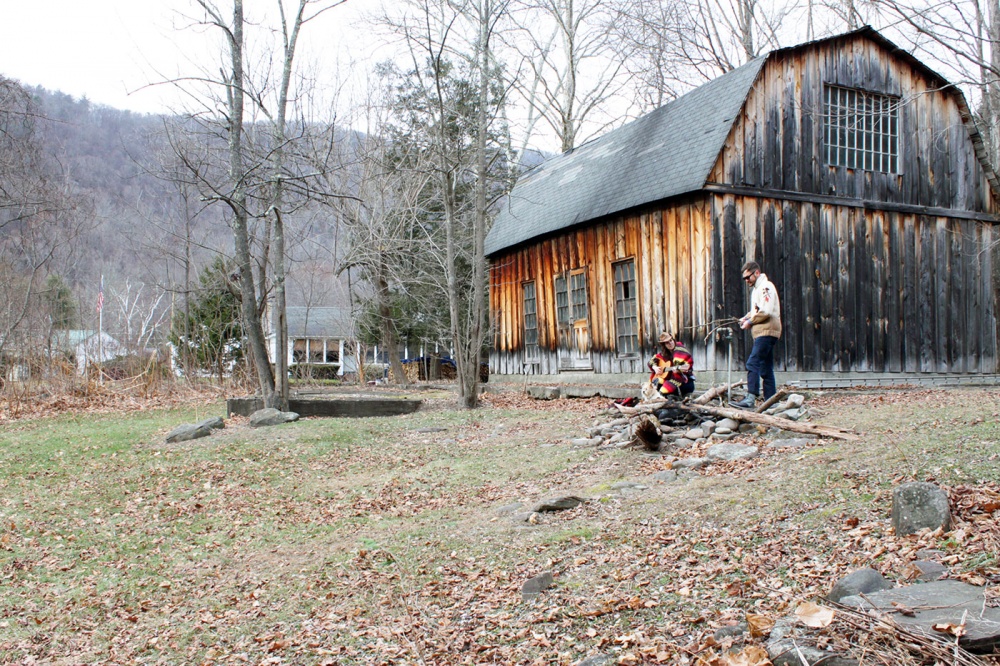 Above: The Glass Mountain Inn property. Photo by Brooke Baxter Bailey.
WP: You two have a diverse history as "space cultivators" that includes performance art, live music, a piano bar and a coffee shop. Are there plans in the works for something besides vacation rentals to happen at Glass Mountain Inn? If so, what and when?
JB: I think, being the community-oriented people we are, we'll invite that sort of energy into our space. All types of things could happen here. I've always been inspired by what Brooke did with Glasshouse and Glasslands. If you create the space and invite generous, creative people into the mix, you get more than the sum of your parts, and it grows exponentially that way. Whirlybird was a small expression of myself, and I did my best to inject it with the warmth and care I generally try to put forth into the world. 
All of those things are in the stew this time around, with the addition of a little more of a wellness element, because that's where we're at.  There's trees and rocks and rivers and mountains; it's not the city, you know? We recently collaborated on making this amazing little daughter, and I want her to grow up in a creative, spacious and happy environment.
We intend to use the barn as a sort of performance and event space. We'll use it for pop-up dinners, live music, retreats, talks. Further, our spot would be a hell of place to have a wedding. No joke. It would be amazing. This spring and summer I'm also booking some musical events at this beautiful old 150-seat theater downtown, so I'd like to use whatever musical connections we have to bring some music around town. There are a lot of opportunities to be useful to the community, and to cultivate it further.
WP: What's your ideal day in the Catskills?
JB: Coffee at home, a hike up Giant Ledge, breakfast, a long nap, lunch at Phoenicia Diner, have some friends over, cook dinner, make a fire, music, repeat. Oh, and occasional estate sales.
Correction: The people in several photos accompanying this story were incorrectly identified as Brooke Baxter Bailey and Jeff Bailey. They are in fact Alexandra Marvar and Jay McElfresh.