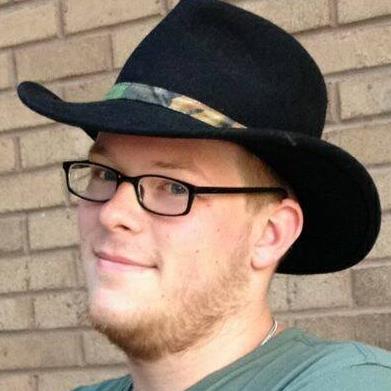 The Schoharie News, an online digital newspaper covering Schoharie County, is becoming a weekly print newspaper.
Left: Tim Knight. Photo by Erika Day. 
Tim Knight, the paper's 21-year-old owner, founded the Schoharie News as a digital-only online news outlet in June 2013. The site made a name for itself with Knight's careful reporting about the minutiae of county politics and his sharp-tongued, often fiery editorials about local government. 
Knight, who is graduating from SUNY Cobleskill with a degree in communications this spring, briefly sold the paper to another owner, Robert Panico, before buying it back last month. Now Knight plans to take the publication in a whole new direction.
In May, the Schoharie News will begin printing a weekly tabloid edition on newsprint and distributing it to locations around the Schoharie Valley. The print run, which will begin at 1,000 copies, is being subsidized by Knight and a friend. Knight expects to fund the paper with advertising revenue, and has fellow SUNY Cobleskill student Shania Marotta signed on as the advertising manager.
"There is a dearth of real reporting in this county, and change is needed in the media landscape," Knight said. "While digital has its advantages, it's limited in what you can do professionally."
Knight has found that it is difficult to fund online journalism. While digital ad rates are much lower than their print counterparts, digital ads are often more difficult to sell (a dynamic that the Watershed Post knows firsthand). Print publishing should help with cash flow, Knight said. 
"There's a trust in print ads in rural communities," Knight said. "There's a sense that, if you have something in hard copy, that it's more deliberative, that more work has gone into it, and that it's going to be more directly impactful on its readers."
The Schoharie Valley is covered by two print weeklies, the Stamford-based Mountain Eagle, where Knight worked as a freelancer for a time in 2014 and 2015, and the Cobleskill-based Times Journal, which is Knight's closest competitor.
Of the Times Journal, Knight says "I am hopeful that they are receptive to having competition in the Schoharie Valley for the first time since the 1980s."
Here's to more media outlets in the Catskills. We wish Tim the best.