Most people have never heard of Catskills trails with names like Venus' Bath, Countryman Kill Falls, Moonshine Ridge, Lover's Loop, Yankee Smith and Rip's Ledge.
All of them are seldom-hiked unofficial trails that begin on private land owned by the Winter Clove Inn, an old-style Catskills resort in the Greene County hamlet of Round Top. The resort welcomes day hikers to use its lands, provided that they ask permission at the front desk first.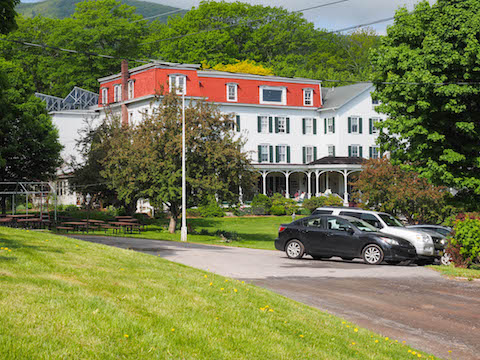 Above: Winter Clove Inn. Photo by Alan Via. 
The Winter Clove Inn has been attracting visitors to this northern Catskills clove for 152 years. The resort got its start in 1863 as a farmhouse that took in urban folks looking for wilderness.
Five generations of innkeepers, all members of the Whitcomb family, turned the property into a stately hotel with a large porch lined with rocking chairs sitting on hundreds of acres of land. The resort also boasts its own waterfall.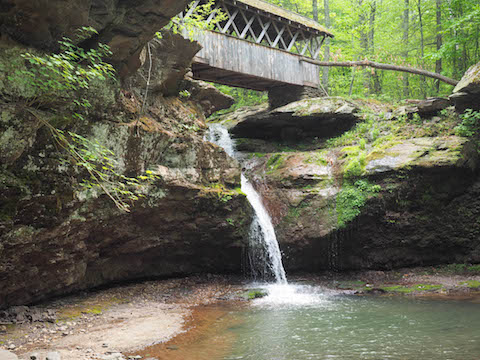 Above: A waterfall in Winter Clove. Photo by Alan Via. 
The trails leading up the mountain begin on the Winter Clove Inn's property and extend onto state-owned land up the mountain. You won't find these trails on maps or in guides, so you'll need good woods sense, a compass and topographic map for the region before you set out.
The trails are not well-marked, so plan your route carefully beforehand. Whether you choose a long or short hike, you'll likely see mountain laurel, azaleas, short oaks and small red pines.
We recommend the Rip's Ledge trail, a 5.25-mile round-trip hike that leads to a spectacular view across the Hudson Valley and into Massachusetts and Connecticut.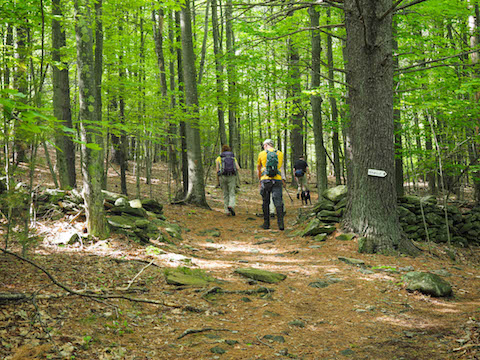 Above: The trail to Rip's Ledge. Photo by Alan Via. 
To get to the Rip's Ledge trail, drive past the front of the main building, turn left and park next to a red roofed building. Then head up to the office to let the inn staff know you're there to go hiking. Treat the resort as you would any property whose owner provides permission to hike: avoid littering, don't ask to use their bathrooms, and keep your dogs leashed. By keeping a low profile, you'll ensure the inn's continued hospitality to day hikers.
Cross the grassy field adjacent to where you parked. (A word of caution: There are many trail intersections in Winter Clove, so attention to trail signs, particularly one that reads "Hiking Trails" is essential.)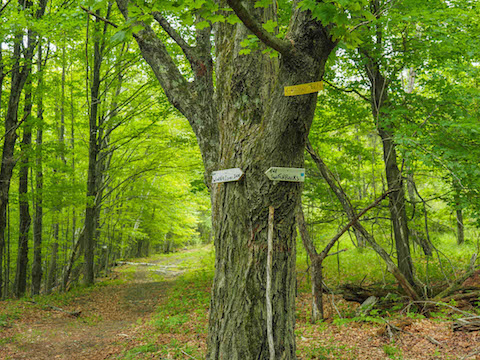 Above: Some of the signage along the trails in Winter Clove. Photo by Alan Via. 
The trail to Rip's Ledge you'll encounter sections of hemlock forest, a section of old woods road, and a shady, cool, .2-mile forest hike that leads to bright sunlight on Rip's Ledge. Starting at 1,300 feet of elevation, the trail passes by an immense stand of blueberry bushes that extend deep into the forest on both sides of the trail, making the area a favorite snacking pit stop for local bears.
At the top of Rip's Ledge itself, which can get windy and slippery in bad hiking conditions, you get a spectacular view across Rip Van Winkle Hollow at the slopes of North Mountain, with southern Massachusetts and northern Connecticut visible across a long expanse of the Hudson River.
Above: Signage for the trails that begin at Winter Clove Inn. Photo by Alan Via. 
Whichever trail you decide to visit, the forest around Winter Clove will delight you. Better still, make a reservation and sample all of the trails in their autumn splendor.
For more info on hiking to Rip's Ledge, visit the Catskill Mountaineer. 
Alan Via is the author of "The Catskill 67: A Hiker's Guide To The Catskill 100 Highest Peaks Under 3,500" and many articles on the Adirondack and Catskill Mountains. He is working on two new hiking guides, and will be writing about snowshoeing in a December 2015 article in the Watershed Post.
­