Nina Berger's bright yellow, black and red food truck has tourists and locals alike lining up in the Greene County town of Lexington for her made-to-order eats.
In the year that Nina's Home Cooking has been in business, her custom-made food truck – actually a trailer – has become a popular place for her Catskills neighbors to grab a quick bite.
"Her pound cake tea loaves are just amazing," said Elisa Edmoundson of West Kill who stopped by on a Saturday morning for a slice of grilled banana nut bread. "It's habit-forming."
Berger opened on July 1, 2014 and manned the grill in her trailer in a parking lot on Route 42 until November. She opened again in the 2015 season in May. And while it was slow going at first, business picked up around Memorial Day weekend.
"I'm having a blast," she said as she grilled a large flour tortilla for the daily special: a chicken Caesar wrap. "Everything is homemade by me. I try to buy local and do my shopping in Albany." Berger buys only as much as she thinks she needs.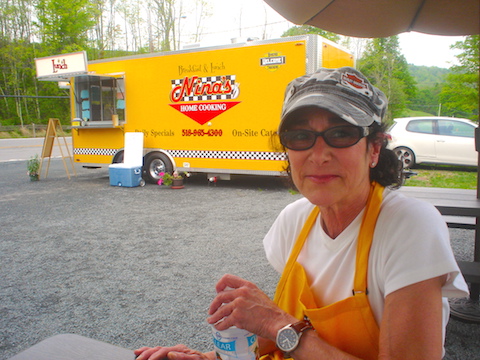 Above: Berger's trailer was custom-built for her, right down to the retro paint job. Photo by Janel Bladow.
"I've run out of stuff. I'll buy a bushel of Roma tomatoes for sandwiches because they hold up," she said. "What I don't use, I'll make tomato sauce."
Along with egg-and-bacon sandwiches, the breakfast menu features the popular Nina's Favorite, a wrap with three eggs, goat cheese and fresh chopped tomato, and The Lexington, a three-egg wrap with chopped ham, peppers and goat cheese.
Berger offers a daily special for lunch that can be pizza made in her four-tier pizza oven, a homemade meatloaf wrap with horseradish sauce or a homemade soup on a cool day.
Her sandwiches include peanut butter and jelly on sourdough bread, a goat cheese in balsamic reduction sauce wrap and a grilled chicken wrap with homemade pesto mayo and sourdough grilled cheese with Gruyere. She makes quesadillas, burgers and hot dogs on her grill and does chicken wings, fries and oversized onion rings in her frialator.
"People love the onion rings," Berger said as she loaded two orders into the wire basket and lowered it into the sparkling clean fryer.
Her prices are appealing too, from $2.50 for the grilled banana bread to $7.95 for an overstuffed wrap. Nothing is more than $10.
"I get a lot of workers who order ahead so they can grab lunch on the road," she said. "And people just driving by are now stopping in."
The cheerfully-colored trailer with its '50s-style graphics by an Albany-based artist is eye-catching, a salute to mid-century diners and TV's "Happy Days." The two wayside picnic tables with large green umbrellas offer diners great spots to sit and look at the mountains while eating.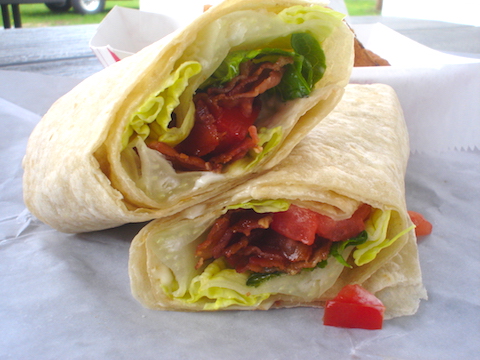 Above: The BLT Wrap and onion rings at Nina's Home Cooking. Photo by Janel Bladow.
The trailer is in the parking lot of Creamery Millwork, a business owned by Berger's husband John on Route 42. John Berger is a woodworker and custom cabinetmaker.
"I tell John he got a seasoned cook," Nina Berger said. "I started cooking with my mom when I was nine years old."
Nina and her family moved upstate from Long Island in the 1970s when she was in sixth grade. She and John were high school sweethearts at Hunter High School. They have two daughters, Arielle of Cold Spring and Grace, who lives in Bethesda, Maryland.
"I learned everything through practice and watching TV cooking shows," she said. "I'm like the Julie who cooked all of Julia Child's recipes." 
Berger's food truck business is a second career for Nina. She taught everything from first through sixth grades and was tenured at Hunter Elementary School until she was laid off in 2012 when enrollment dropped.
"I wanted to give back to the school because I loved going to school there," she said. "I wanted children today to get the quality education I got when I was a kid.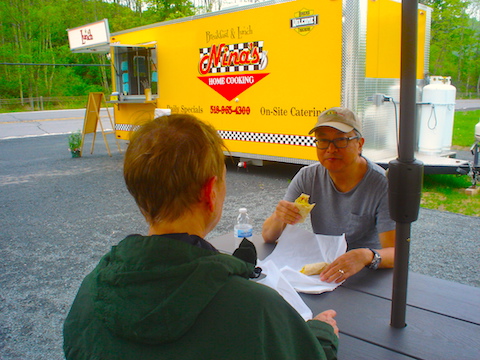 Above: Moira Taylor and John Enochty enjoy breakfast wraps. Photo by Janel Bladow. 
"I had a blast teaching. I'd bring kids to John's shop to build bat and bird houses," she said. "Now I have customers dropping in telling me that they still have their bat or bird house. I still have a lot of fun."
The inspiration for Berger's trailer came from the road. Nina and John would take long rides around the country on their Harley Davidson motorcycle, often stopping at food trucks parked along the blue highways. Berger designed and had hers custom-built in Florida.
"I bake everything here," she said, showing off her stainless steel Imperial four-burner stove with its compact oven. "I make pound cakes, like chocolate zucchini bread; oversized peanut butter and chocolate chip cookies; even granola bars with pecans, pumpkin, honey and peanut butter."
John mans a table at the Lexington Farmer's Market every other week (10 a.m. to noon) where he sells Nina's baked goods and other products, including chicken and beef jerkys.
Nina even has her own brand of fair trade organic coffee from Honduras, Guatemala and Sumatra. Ground or whole bean, it retails for $12 a pound. "It's really good coffee," she said.
Berger takes her truck on the road to events like the Tannersville Rubber Duck and Crazy Boat Race, which was held in May. She also caters private parties.
"We love Nina," said Moira Taylor, who stopped by one Saturday morning in May with her husband, John Enochty, for a brunch of egg-and-cheese wraps. "This is a great stop for us. We know everything is fresh. She brings energy and life to the neighborhood."
Nina and John once owned the house in West Kill that Taylor and Enochty bought for their weekend home.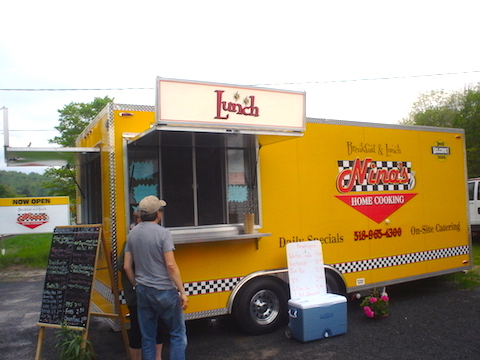 Above: Nina's Home Cooking in Lexington. Photo by Janel Bladow. 
"There's a connection," said Enochty.
That's not the only connection. The couple also hired Nina and her trailer for their pre-Thanksgiving cocktail party last year.
"She brought her truck in," he said. "She made mini meatballs, stuffed mushrooms and baked clams. Everyone raved about her food. It was a great success."
Nina's Home Cooking. 3785 Route 42, Lexington. Open for breakfast and lunch, Monday through Saturday, 8 a.m. to 3 p.m. 518-965-4300. Find them on Facebook.