A Mount Tremper resident's garage caught fire on Friday morning, in a two-alarm blaze that drew upwards of 50 firefighters from several local volunteer fire departments to the scene. 
The garage fire, near a home at 5283 Route 28, was reported at 9:39 a.m. on Friday. By the time firefighters arrived a few minutes later, the building had already collapsed, according to Phoenicia Assistant Fire Chief Teddy Byron. No one was injured in the fire.
"When we pulled up, it was fully involved," Byron said. 
With temperatures hovering around five degrees and a raw wind blowing, firefighters struggled with freezing trucks and equipment to fight the blaze. 
"All our trucks are freezing," Byron said.
The collapse of the garage made it difficult for the water to penetrate the structure, Byron said. Firefighters had to use foam to smother the fire and help water reach the interior of the blaze.
Responding to the incident were fire companies from the towns of Shandaken, Olive and Hurley, along with the Shandaken Ambulance Service, Shandaken and Ulster County police, and Ulster County fire investigators.
A series of fires and other incidents over the past few weeks has taken a toll on local volunteer fire companies in Ulster County. According to Ulster County Fire/Rescue Incidents, a Facebook group that tracks first responder activity in the county, 11 incidents occurred an eight-hour period on Thursday, Feb. 19, three of them major fires.
In the town of Shandaken alone, several major fires have broken out in the past week. On Friday, Feb. 13, a home on West Street caught fire. Three days later, the Key Bank branch on Phoenicia's Main Street caught fire. On Feb. 19, a trailer home caught fire -- and the Key Bank fire, which had apparently been smoldering, re-ignited.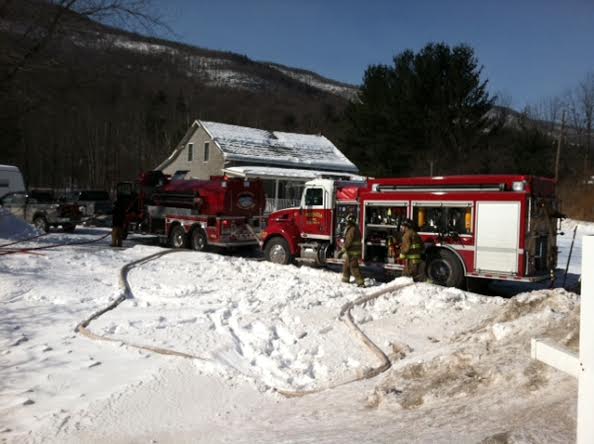 Fire equipment in the driveway of the home at 5283 Route 28. Photo by Lissa Harris.
With call after call coming in, local firefighters have been working around the clock in bitter weather fighting the fires. 
"I went on four calls yesterday. Now this is the fifth," said William Carl of the Olive Fire Department, standing by the side of Route 28 on the scene of the Mount Tremper garage fire. He had ice in his beard. 
Shandaken Ambulance Service Captain Rich Muellerleile, who was also on the scene, said that for many local first responders, their volunteer work has become a "full-time job" due to the recent spate of fires.
Fires are more common during periods of extreme cold, as people turn to alternate heating sources and the bitter weather forces home heaters to work harder. A report by the National Fire Protection Association found that half of all home fires between 2007 and 2011 occurred in the months of December, January and February. 
The recent uptick in local fires is most likely a result of the extreme cold, said Muellerleile.
"None of these fires appear to be suspicious," Muellerleile said, noting that several recent fires were still under investigation. "People need to be cognizant of how they're using heating appliances. When things freeze, people do stupid things."
Below: Icicles of water and foam hang from the remains of a burned garage at 5283 Route 28 after the fire. Photo by Lissa Harris.