Above: Two of Steve Heller's robots welcome visitors to the Fabulous Furniture Pop-Up Shop at 40 Mill Hill Road in Woodstock. Photo by Karen Falch.
It's a bit like the Prada Shop at Barney's without all the haute couture garments, fragrances, footwear and handbags.
Instead, Woodstock's newest boutique has the exclusive flair of a man cave à la Steve Heller, a celebrated local sculptor.
Picture life-sized robots, tabletop hot-rod cars, exquisite mirrors, rustic coffee tables and a stunning collection of far-out, handcrafted sculptures as only the quirky Heller can produce. Heller's wife, Martha Frankel, calls the 800-square-foot shop at 40 Mill Hill Road the "perfect little bonbon in the center of Woodstock."
Steve Heller's Fabulous Furniture Pop-Up Shop opened for a five-week stint on Aug. 29 with the aim of "taking the artist's work to the people rather than taking the people to his work."
The bulk of the sculptor's creations are located at Heller's showroom and workspace on state Route 28 in Boiceville, where he settled in 1974. This is the first time he's opened a satellite retail location.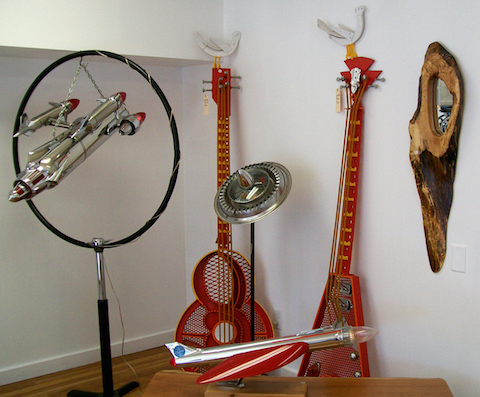 Above: Two Woodstock guitars, a rocket, a flying saucer and a live edge mirror at the pop-up shop. Photo by Karen Falch.
"It's given me the chance to tell everyone that my husband has the big showroom in Boiceville," Frankel said. "I feel like this was a good idea."
Heller resisted at first, but when the couple saw that the storefront on Mill Hill Road was available, the idea became more appealing to him.
"The building has three big windows in the corner and tons of sunlight, so it was perfect," Frankel said.
"We called the number of the real-estate agency, and they said no at first. Then, I made an offer for five-and-a-half weeks. We got the key on Friday and opened on Saturday."
After moving three vans full of merchandise, the couple then was faced with how they would arrange it.
"Steve's inclination was to fill it out. My inclination was to make it look like the Prada Shop at Barney's. We compromised," Frankel said.
The goal, in Frankel's mind, was to space it out and highlight each sculpture, making it "shine."
"It's like at Prada. They want everything to look exclusive. I hate the word 'exclusive,' but every sweater becomes more precious. I wanted each of Steve's pieces to be so beautiful that you didn't get bogged down with the next piece," she said.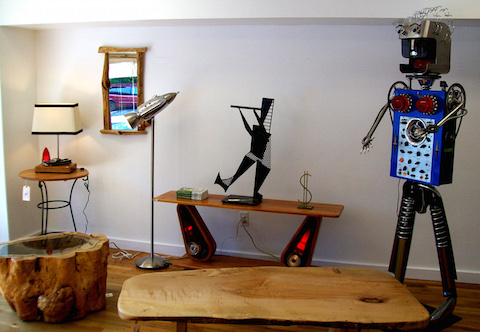 Above: The Flutist, a metal sculpture, surrounded by live edge furniture, space age artifacts and Star, a larger-than-life robot made from car parts. Photo by Karen Falch. 
While most who live in the Catskills probably have seen Heller's larger-than-life work somewhere, tourists or newcomers to the area might have missed out.
That was largely the impetus behind the pop-up, Frankel said.
"If you come to Woodstock, there's a whole collection of people who have never seen his work, so I said, 'Wouldn't it be great to bring Steve's furniture to the people?'
To the uninitiated, most of Heller's work is rooted in either the prehistoric (think dinosaurs) or the futuristic (think "Star Wars" robots).
Driving along Route 28, it's hard not to notice his main Boiceville workshop, which has an outdoor-museum quality, surrounded by his sculptures—much of them made from the piles of scrap materials he's collected over the years.
Heller's pieces, which range from Bazooka-pink hot rods to towering Jetsons-style spaceships, command attention from the busy roadway, often prompting the curious to step on their brakes and have a second look.
In addition to the showroom, locals likely are familiar with the Tyrannosaurus Wrench sculpture at the intersection of Col. Chandler Drive and Albany Avenue in Kingston.
Heller built the 25-foot beast out of wrenches, bulldozer sprockets and roller chains from discarded road machinery for the Kingston Sculpture Biennial in 2007, and it's been a beloved fixture at the intersection ever since.
The self-taught artist also has been known to win awards and accolades for his wild and wacky submissions in artist soapbox derbies in Kingston. Many of those relics now occupy a space on the lawn outside his showroom.
Frankel said Heller typically thinks big when producing his work, so finding sculptures to fit into the pop-up was a bit daunting at first.
"For this store, we have to sort of think small, so we have lots of small pieces, four or five big mirrors and five or six tables," Frankel said.
"It's a little bit of this, a little bit of that. Plus, we have the robots. We have four of them in the store. We have a bunch of table-top ones and all kinds of sculptures."
Frankel, who has a busy schedule of her own as an author, host of the weekly Woodstock Writers Radio, educator and StorySlams host, said she runs the pop-up on Friday through Sunday.
It's everything she expected it to be, and Frankel said she anticipates it will get busier as the Woodstock Film Festival approaches.
Each year, close to 15,000 visitors come in for the movies, panels and parties. Many of the tourists not only explore the town's restaurants and attractions, but browse in the one-of-a-kind boutiques.
Frankel enjoys watching people's faces as they check out the merchandise, ranging from $100 lamps to $10,000 robots, and said it's especially fun to watch children's expressions.
"The kids go nuts. It's great," she said. "I never have a problem when I say to a kid, 'You can't touch. You have to put your hands in your pockets.'"
While it's been a nice run, Frankel said the pop-up will close on Oct. 6. Even so, she's certainly amenable to doing it again next year in Woodstock—or beyond.
"I feel like in five weeks, I'll have done exactly what I wanted to do in Woodstock. I was ready for change, and this felt good," Frankel said.