Above: Dennis Crowley, a founder of Foursquare, speaks at the Catskills Conf on Saturday, Oct. 24. Photo by Julia Reischel.
Luminaries in the tech world, including the founder of Foursquare and the managing director of Etsy, wore sweatshirts and flannel in the Catskills over the weekend to talk startups and coding while learning about blacksmithing, foraging, square dancing and butchery.
About 100 coders and techies, many from New York City, gathered around campfires and slept in bunkhouses during Catskills Conf, a new three-day conference held at the Ashokan Center in the Ulster County hamlet of Olivebridge on the weekend of Oct. 23 through 25.
The talks were aimed at a global tech community of makers and coders. Some were inspiring: Crowley, the Foursquare founder, talked candidly about failure--and how to survive it--during his talk on Saturday, Oct. 24.
"No one wants to talk about the failure story," he said. "The only people who get it are an audience of people who build this stuff."
Crowley described the story of Foursquare, a high-profile search and discovery mobile app, as a roller coaster full of missteps.
"Do not let people tell you that your ideas are stupid," he said. "Do not be afraid to make your own job."
Other speakers discussed a variety of subjects, from wearable tech to "scaling deeply."
The goal of the conference was to bolster a tech entrepreneurship community in the Hudson Valley and Catskills. Presiding over the affair as emcee was Aaron Quint, the founding chief technology officer at Paperless Post, who recently moved to Kingston.
Part of the conference's mission involves enticing young tech professionals to follow Quint's lead.
"Who here aspires to living up here all the time?" Crowley asked the audience. A smattering of hands were raised in response.
Many conference-goers seemed convinced, and some tweeted about their newfound love for the region.
"I will definitely say that #catskillsconf really made me want to spend more time in the catskills," tweeted Camille Fournier, the chief technology officer at Rent the Runway. 
"Let's have a technology conference in the Catskills"
Kale Kaposhilin, Dan Stone, Daniel Schutzsmith and Sabrina Schutzsmith, the co-founders of the Hudson Valley Tech Meetup, created the Catskills Conf together with Aaron Quint as a camp-style version of their regular gatherings.
"We thought: 'Let's do this; let's have a technology conference in the Catskills,'" Stone said. "We really wanted it to showcase the Hudson Valley effectively. It should be in the fall, to have the foliage. Wouldn't it be great if it were camp style, in the woods, with talks, activities and three days of programming? Thus was born Catskills Conf."
Committing to the idea in the spring of 2015, the conference's organizers had only a few months to prepare. They did little marketing aside from word-of-mouth at national technology conferences. Still, about 100 people and sponsors paid around $800 each for tickets to the event, Stone said.
Like most tech conferences, Catskills Conf included speakers standing on a stage in front of Powerpoint slides talking about the internet, coding, technology and innovation.
Unlike at most tech conferences, attendees at Catskills Conf also hung out around campfires and slept in bunkhouses. There was a cider-pressing workshop from Awestuck Ciders, a drone-flying demonstration and a falconer in attendance.
Entire families attended the conference together, and qualified for a special ticket rate. There was at least one young child present. Yulia Genkina, a computer science teacher at Stuyvesant High School in Manhattan, came to the conference along with several of her students, and brought her husband, Trevor DePew, a techie who builds musical instruments.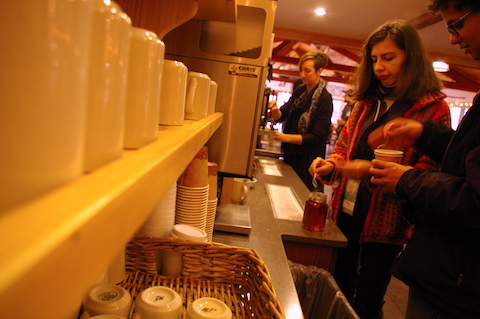 Above: Conference-goers get caffeinated on Saturday morning at Catskills Conf. Photo by Julia Reischel. 
There was also an unusual focus on community-building, both locally and globally. One presenter talked about ways to make Americans care more about the plight of refugees from Syria. Another, Michael D'Agostino, the founder of Tentrr, a new startup that aims to be the Airbnb of private campsites, announced that his aim is "sustainable tourism" in the Catskills.
"We're on a 20-year mission here to improve the area through start-up innovation," Kaposhilin saids.
"We care a lot about improving things," said Stone. "Whether you code, or whether you're an entrepreneur, you're making the world a better place." 
Bring-your-own internet
The Catskills have a long history of hosting visitors from New York City, but the region's isolation and lack of dependable internet and cell phone service make it an unlikely destination for technologists.
Kaposhilin is a longtime fan of the Ashokan Center, a folk and craft retreat in Ulster County, and wanted it to host the conference despite the fact that it had spotty wireless internet access.
The Catskills Conf organizers solved that problem by rewiring the Ashokan Center's whole campus with high-speed internet. AT&T provided funds, and Stone did much of the work himself.
"We had some great help from Ian Cook, who is the IT director for Charity: Water, a nonprofit that brings water to developing countries," Stone said. "Well, it's not a developing nation, but it is a site in the Catskills."
Below: Jonathan Mann performing a song, "Don't Fall in the Creek," about and inspired by the Catskills Conf on Saturday, Oct. 24 at the Ashokan Center. Mann has written a song every day for years.