The 23Arts Initiative, a Greene County arts organization that launched last year, is bringing rockstar chamber music to Tannersville in a series of free summer concerts in the imposing and intimate All Souls Church. 
The series, which features artists from London and Denmark, begins this weekend on Sunday, July 5 with a performance of Franz Schubert's "Trout Quintet" led by the Initiative's summer artist-in-residence, pianist Tanya Gabrielian. Gabrielian's piano will be joined by the violin, viola, cello and double bass played by Areta Zhulla, Mark Holloway, Paul Wiancko and Tony Flynt.
All Souls Church, perched at the intersection of County Roads 25 and 23C in Tannersville, is an excellent setting for chamber music. A miniature Gothic cathedral incongruously located at a quiet crossroads outside of the village, its vaulted wooden gives performers perfect acoustics and audience members close-up views of the musicians.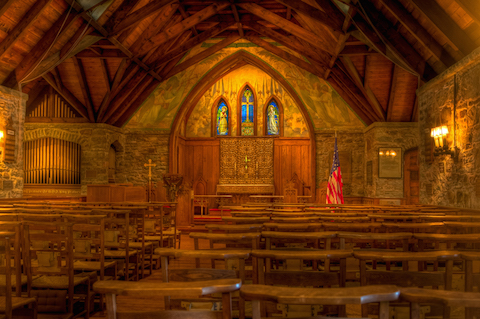 Above: Inside the All Souls Church in Tannersville. Photo by Ldallara via Wikimedia Commons. 
All the concerts in the series held at All Souls are free, including this weekend's Sunday concert.
Up next, on Sunday, July 26, Ben Woodward, the artistic director of London's Fulham Opera, soprano vocalist Catharine Rogers and a group of musicians called the New Baroque Soloists will perform works baroque chamber music.
Then, on Sunday, August 9, the Attacca Quartet, a young performance group that is making waves in Manhattan, will perform a "rarely performed" quintet by Béla Bartók.
Finally, on Sunday, August 23, acclaimed Danish singer Thomas Storm of the Royal Danish National Opera will perform the greatest hits of two influential Nordic composers, Jean Sibelius and Carl Nielsen.
The chamber music series is just a part of the packed summer schedule from the 23Arts Initiative, which was launched last August by Piers Playfair and his wife Lucy. The Playfairs also founded the Catskill Jazz Factory in 2012, which offers its own jam-packed schedule of concerts, workshops, classes and community events this summer and fall.
Both organizations cast a wide and eclectic net at venues large and tiny, bridging the gap between tony venues across the Hudson and in NYC and the small mountaintop communities in the hills. They bring world-class jazz and classical musicians to venues like All Souls Church and Bard College's Fisher Center while also organizing Tannersville's annual Fourth of July parade, which is happening this Saturday, July 4, at noon.
Education ties it all together. The groups bring their musicians into local schools to conduct workshops and classes, and they offer reduced-price tickets to students for their concerts.
So far this year, the best show put on by the two groups may have been the centenary tribute to jazz legend Billie Holiday, held May 8 in front of a sold-out crowd at Bard's Fisher Center.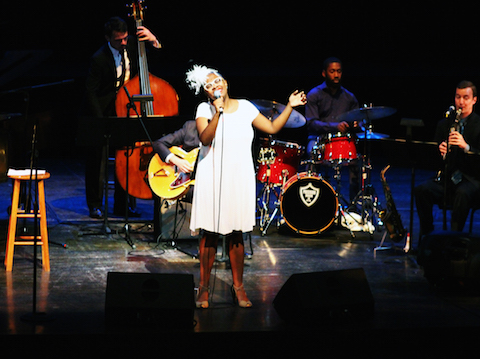 Above: Cécile McLorin Salvant as Billie Holiday at Bard College. Photo by Vincent Pecoraro. 
The show featured the Aaron Diehl Trio and Grammy Award-nominated vocalist Cécile McLorin Salvant performing as Billie Holiday, "resplendent in a white-feathered fascinator, white cat-eye glasses and a white shift," according to our correspondent Peggy Bellar, who was in the house that night. Bellar reports that Salvant's a cappella version of "St. Louis Blues" and her encore performance of "Strange Fruit" had the audience on its feet in standing ovations.
A night of Latin jazz coming up on Saturday, August 1 will offer a similar fusion of history and virtuosity, this time with Afro-Cuban, funk, jazz, gospel, and contemporary classical music. Trombonist Chris Washburne, his group SYOTOS and Brazilian pianist André Mehmari will perform at the Villa Vosilla on Main Street Tannersville in what the organizers promise will be a cross between Tito Puente, James Brown and Charles Ives. 
All Souls Church free classical chamber music series. Sunday July 5, July 26, August 9 and August 23, 11:30 a.m. 23Arts Initiative. 23arts.org. 23Arts Initiative is a Watershed Post advertiser.