Above: COBU performing at the 2013 Drum Boogie Festival. Photo courtesy of the Drum Boogie Festival.
It's one of the oldest truths in music, and maybe in consciousness: Rhythm is an intense natural high, and brings people together like nothing else can. So prepare to be uplifted and moved at the the Woodstock Drum Boogie Festival, happening this Saturday, Sept. 12 at Andy Lee Field.
The festival taps into a rich regional vein of star power. Grammy winner and National Endowment for the Arts fellow Jack DeJohnette will perform with Gambian-born kora drummer Foday Musa Soso and jazz bass player Matt Garrison.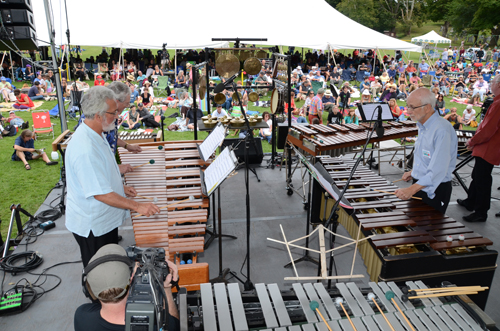 Above: NEXUS perfoming at the 2013 Drum Boogie Festival. Photo courtesy of the Drum Boogie Festival. 
Mandara, a quintet of instrumentalists and vocal artists directed by Valerie Naranjo, a veteran percussionist who has played in the Saturday Night Live Band and in the Lion King orchestra on Broadway, will be joined by dancer Hettie Barnhill as a special guest.
Famed vibes player Joe Locke will be there, as will COBU, a Japanese taiko percussion group. The NYU Steel Drum Orchestra will take you on a voyage to the outer limits of Caribbean steel pans, and Aanadhha with Dibyarka Chatterjee will do likewise in their chosen realm of Indian tabla. You'll hear American fife and drum and Balinese gongs. Big Takeover will serve up smoldering reggae.
The Drum Boogie happens every other year, and this is the year. Woodstock Chimes founder and CEO Garry Kvistad will be there again jammin' out with his own band Nexus, a four-virtuoso ensemble that got started with an improv session back in 1971. They've since been dubbed "the high priests of the percussion world" by the New York Times.
Kvistad first dreamed up the Drum Boogie in 2008 while brainstorming with New York State Assemblyman Kevin Cahill about how to have some serious fun while raising the profile of local good causes and erasing the lines that separate folks. During the festival's first year, 2009, thousands showed up to catch the rhythm.
We talked with Kvistad about the festival's fourth iteration.
Watershed Post: Why do you think the human urge to beat drums is so universal, and the experience of rhythm so powerful?
Garry Kvistad: Drumming is fairly unique, in that anyone can beat a drum without any training while specialists have taken many styles of drumming to extreme limits of expertise. Everything in our bodies is pulsating, from the tiniest sub-atomic particle to our heartbeats. Rhythm is universal. Percussion is so much more than pulse, however, and the Drum Boogie Festival exposes the audience to a large array of percussion instruments and styles, including melodic percussion played on xylophones and tuned drums.
WP: How did you manage to get so many world-acclaimed percussion stars into the act?
GK: The percussion world is relatively small, and either I know the group/performer personally or they know of my reputation. And I'd like to think that the Drum Boogie Festival now has a bit of prestige amongst performers; they're eager to be involved. Because of the festival's musical focus and history of great performers, many want to be associated with the festival and its lineup and are willing to do it for a little less than if they were to get booked at Carnegie Hall or Yankee Stadium.
WP: Why is it a biennial rather than an annual event?
GK: This is a free festival requiring funding and a serious production effort. I donate my time and that of my company, Woodstock Chimes, to produce it. It takes a lot of effort to put together, and two years is a more reasonable amount of time to make it work.
WP: How did you choose Family of Woodstock as the beneficiary of this year's grant?
GK: My wife Diane, a co-producer and owner of Woodstock Chimes, has been on the Family board for a long time. Our foundation, Woodstock Chimes Fund, helps to support the arts and humanitarian activities within the region and we know the great things Family has done and continues to do. This year the grant that we will be giving to Family at the Drum Boogie Festival will be earmarked for their programs dealing with domestic violence.
WP: What kind of crowd shows up? Just a diverse mix of, well, everyone? What's the defining spirit?
GK: We've attracted a large, diverse audience for each of the past three festivals. I believe it is a perfect family outing since the performances can appeal to any age group and any demographic population. The performers are generally from a 100 mile radius of Woodstock, but they represent cultures from around the world, both men and women.
Drum Boogie Festival 2015. Saturday, Sept. 12. (Rain date Sunday, Sept. 13). 11 a.m. to 8 p.m. Andy Lee Field, Woodstock. Bring a lawn chair and/or blanket. Food trucks and children's activities will be present. Free.