Above: Get your fill of cuckoo clocks and schnitzel in the Greene County Catskills. Photo by Katherine Speller.
German and Swiss immigrants have made their mark on Greene County, which is home to the most Alpine of the Catskill region's peaks. Be sure to grab your beer stein and press your best lederhosen before checking out your own little taste of Deutschland in the Catskills.
At the Bavarian Manor Inn (866 Mountain Ave., Purling, 518-622-3261, bavarianmanor.com) patrons can enjoy award-winning veal schnitzels: classic Viennese Wiener Schnitzel, Hungarian Gypsy Schnitzel made with onions, mushrooms and paprika sauce, and Holsteiner Schnitzel, which is topped with fried egg, anchovies and capers. The German Wurst Platter combines bauernwurst, weisswurst, bratwurst, pork, sauerkraut and (a crowd favorite) potato pancakes.
At the Maassmann's Restaurant (Blackhead Mountain Lodge and Country Club, 50 Crows Nest Road, Round Top, 518-622-3157, blackheadmtn.com) locals and golfing guests feast on classic schnitzels, sauerbraten and rouladen — roasted beef rolls stuffed with bacon and pickle and served with gravy.
For a Bavarian bacchanalia of polka, beer and schnitzel, head to the Mountain Brauhaus (430 Winter Clove Road, Round Top, 800-999-7376, crystalbrook.com/mountain-brauhaus) for seasonal events from Oktoberfest to Jagerfest to a series of Schlachtfest feasts. German specialties include schnitzel, rippchen and a Brauhaus Rueben sandwich stuffed with German deli meats, sauerkraut and Swiss cheese. Those looking for something sweeter can end their night with a slice of homemade pflaumenkuchen — a plum cake served warm with whipped cream on top.

With Swedish meatballs, cheese fondue and a list of schnitzels and sausages, the menu at Chalet Fondue (55 Route 296, Windham, 518-734-4650, chaletfondue.com) represents German and Alpine cuisine on every plate. The Swiss Geschnetzeltes, a Zurich specialty, is a plate of finely sliced veal in a light cream and mushroom sauce, while the Kassler Rippchen offers two brined and smoked loin pork chops with potato salad and sauerkraut. The decor is imported from Bremen, the German hometown of the original owners. But if you aren't in a Bavarian or Alpine mood, you can take home some pizza from Nunzio's — the pizzeria conveniently located right inside the restaurant.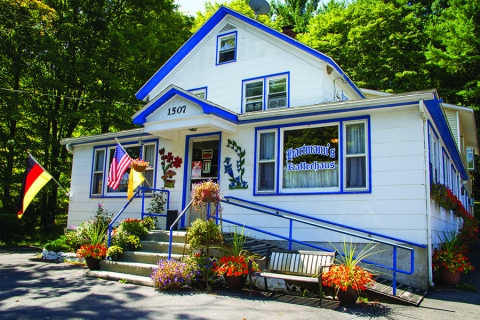 Above: Hartmann's Kaffeehaus. Photo by Clancy Nolan. 
Hartmann's Kaffeehaus (1507 Hearts Content Road, Round Top, 518-622-3820, hartmannskaffeehaus.com) has been turning out German-style baked goods from its hilltop shop since 1959, and its repertoire is wide and deep. Cookies, pastries, tarts, cakes and pies beckon from glass refrigerator cases, brimming with fruits, nuts, frostings and jams. Stollen and strudel are sure bets, but it's worth experimenting with less familiar dishes, especially the bar-style cookies that come in a variety of flavors, including a standout coconut version. (We wrote more about Hartmann's in our 2014 Catskills Food Guide here.) 
Drink beer and sample schnitzel, bratwurst and other German specialties at Nussy's Bier Garden at Riedlbauer's Resort (43 Ravine Drive, Round Top, 518-622-9584, riedlbauersresort.com), and then head outside to practice your golf swing. Open seasonally.
This article originally appeared in the print version of the 2015 Catskills Food Guide, our annual publication covering food and farms in the Catskills. The Catskills Food Guide is distributed across the Catskills region and at select locations in the NYC metropolitan area. Find a copy near you here.