Despite some initial opposition, a dairy goat farm has received a permit to operate a microcreamery and retail store in a long-vacant barn in the center of the Delaware County town of Andes. 
Cyndi Wright, the owner of Dirty Girl Farm, received approval for a special use permit from the town of Andes Planning Board after a crowd of supporters packed the Andes Town Hall during a public hearing on the issue on Wednesday, Oct. 14.
Wright and her husband, Lester Bourke, hope to purchase a long-vacant 37-acre dairy farm property located at 114 Delaware Ave., next door to the Andes Central School, from John Gregg.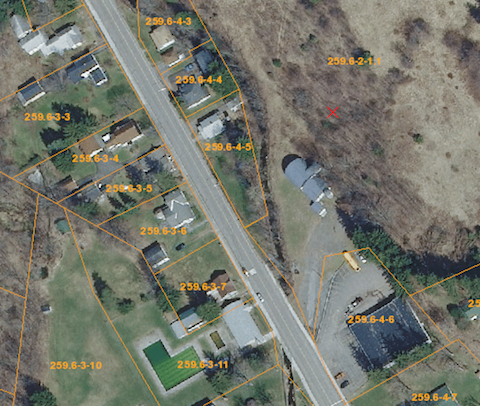 Above: The property at 114 Delaware Ave. (Marked with red X.) Source: Delaware County Community Online Mapping Information Tool. 
Wright plans to move her creamery operation from its current location at her house on Perch Lake Road, which is in a more rural part of Andes. She and Bourke hope to live on the Delaware Ave. property, house and graze their dairy goat herd there, host farm tours and cheesemaking classes and open a retail store where they would sell their goat milk and cheese.
"This is something I really want to do," Wright said in an interview in September. "I think it will bring tourism to the area."
Wright and Bourke have operated Dirty Girl Farm on Perch Lake Road in Andes since 2012, and sell their goat cheese and milk in stores and farmers' markets in the Catskills and in New York City.
In July, Dirty Girl was awarded a $20,000 grant from the Delaware County Department of Economic Development through its Agricultural Microenterprise Program to buy a larger pasteurizer.
Wright plans to finance the purchase of the Delaware Ave. property, which was assessed last year at $129,600, with the sale of her home on Perch Lake Road.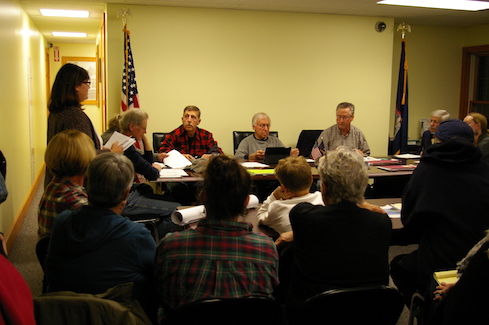 Above: Cindy Wright addresses the Andes Planning Board on Oct. 14, 2015. 
"It's going to devalue our house"
The property at 114 Delaware Ave. was once active dairy farm, according to Wright and members of the Andes Planning Board, but it hasn't been used in decades.
The majority of the property spans a high hill, but several buildings, including a large barn, are located on Delaware Ave. itself, just across the street from the Andes Central School.
The idea of a long-vacant patch of farmland becoming an active farm in the center of town has aroused some concerns from neighbors.
"I'm not against farming," said Melvin Harrington at Wednesday's hearing. "What I am against is that it's going to devalue our house."
Harrington said that he worried that having a working farm nearby would attract rats and predators to his property, cause noxious smells and create problems for the local school.
Members of the Andes Planning Board had similar concerns when Wright first proposed her project several months ago. Several board members questioned her about the number of goats she planned to house on the property and what she planned to do with their manure, according to Wright.
Last night, a frustrated Wright said that she had appeared before the board "five times in five months" to explain her plans. She said that the goats' manure and dairy byproducts would be regularly removed from the property with the help of other local farmers.
Wright brought supporters to the planning board meeting last night to bolster her case. About 40 people piled into the room, most of them wearing "I support Dirty Girl Farm" stickers.
Above: Planning board members Alex Adelson and Frank Winkler review Wright's plans for the creamery at the Planning Board meeting on Oct. 14. 
Right to farm law
As it turned out, however, concerns about farming in the center of town are moot, thanks to Delaware County's right to farm law.
Planning Board Chair Frank Winkler opened the meeting on Wednesday by acknowledging that "there's been some confusion" on that point.
The right to farm law "protects the right to farm on any parcel where it can be conducted safely," Kristin Janke Schneider, an environmental planner at Delaware County Planning Department, told the crowd.
That law means that the Andes Planning Board does not have any say in whether farming can occur on the property. The board can only approve a special use permit to allow the microcreamery and retail store there.
"If it's agriculture, it's none of our business," said planning board member Alex Adelson, who had raised concerns about Wright's farming plans at previous planning board meetings.
Surrounded by Wright's supporters, Harrington was the only person present to raise concerns about the farm at the hearing on Wednesday. Addressing him, planner Janke Schneider said that there are limits to the rights of farmers under the right to farm law.
"The right to farm law protects a farmer in their usual, customary means of farming," she said. "It doesn't give them the right to dispose of manure in your front yard."
She added that if the farm did cause problems, Harrington could appeal to Delaware County Public Health about sanitation issues and to the New York City Department of Environmental Protection about pollution and runoff issues.
After the public hearing, the Andes planning board voted unanimously to approve the special use permit for the microcreamery and store, with one member absent. After the vote, Wright's supporters burst into applause.
Many steps remain before the creamery can open. Wright must finalize the purchase of the property and must procure additional permits from state agencies.
Manure angst 
A similar conflict between farms and their neighbors erupted in the Sullivan County town of Bethel last month.
In September, Stacy Cohen and Monte Sachs, the owners of the Catskill Distilling Company and the Dancing Cat Saloon, said that their neighbor, farmer Peter Hofstee, was driving away their customers by dumping piles of manure near his property line, according to the Times Herald-Record. Hofstee denied leaving the manure piles there, the paper reported.
Citing the right to farm law, the town of Bethel said that it could do little to change the situation besides offer mediation, according to Time Warner Cable News:
But according to the Bethel Town Supervisor Daniel Sturm, the farmer isn't breaking the law. "In our town law, we have a right to farm law, which allows a farmer to do the fertilizing and the spreading like they do," Sturm said.  According to Sturm, the farm owner told the town he hasn't changed his farming practices at all this year.
Correction: The owner of Dirty Girl Farm is named Cyndi Wright, not "Cindy," as she was referred to in an earlier version of this story.