A 26-year-old man has been charged with second-degree murder in connection with the death of a two-year-old Marlborough boy, according to a press release from the New York State Police.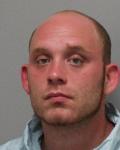 The man, Kenneth M. Stahli (left) of Milton, allegedly abused the boy, Mason L. Decosmo, over the course of several days. Stahli was dating the child's mother, according to the press release. An autopsy detemined that the child died of blunt force trauma. 
After finding the boy unresponsive on Tuesday afternoon, the babysitter called 911, according to the Times Herald-Record. The newspaper reports that the couple had recently moved into the trailer where the child died. 
The Daily Freeman talked to a state police lieutenant who told the newspaper that the mother of the boy, Katlin Wolfert, was a "good parent," but was also aware of the abuse:
The lieutenant said the injuries that led to Mason's death "occurred when she was not home." But, he added, "had things happened prior to that [the death] that she was aware of? Yes."

"We can't tell how much she knew and when she knew it," Drake said, though he added Wolfert was trying to rectify problems regarding Stahli's care of her son.
Stahli's family defended him to the Freeman, saying that they didn't believe he was guilty: 
Kenneth Stahli's father, Robert Stahli, said the homicide is "beyond my son's character. ... He's not a monster. He doesn't go around and kill 2-year-old kids."
Update, 8/12/14: Stahli has admitted to killing the child, according to the Times Herald-Record's Pauline Liu:
Kenneth Stahli admitted he killed his girlfriend's 2-year-old son last week after he had leaned on the toddler with half of his own body weight, crushing the child, an investigator testified.
Update, 8/13/14: The mother of the child is now neglect charges, according to the Times Herald-Record.