You can't make this stuff up: Police say two men, one wearing a devil mask, robbed a Mormon church in the Schoharie County town of Esperance last month, damaging the church to the tune of $18,000 in the process. 
On Monday, state police announced the recent felony burglary arrests of 26-year-old Justin Pethick and 18-year-old Roger Graham, both from the Esperance hamlet of Central Bridge. Police say that on Jan. 27, the pair broke into the Church of Jesus Christ of Latter Day Saints in Central Bridge, and proceeded to damage doors, cabinets and locking mechanisms while looking for things to steal. Pethick was wearing a devil mask to conceal his identity, police said.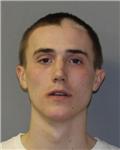 The alleged burglars didn't find much for their trouble, police said: $160 and two backpacks were stolen from Boy Scout Troop 46, which keeps a storage room at the church, and $40 was taken from the church's Family History Center. 
Pethick is a parolee who was convicted and jailed for felony burglary in 2006 for robbing his former employer, the Links Restaurant at the Cobleskill Golf and Country Club. In his recent arrest, Pethick also faces a lesser charge from allegedly stealing tobacco and cigarettes from another employer, Apple Food and Grocery in Central Bridge, while working there.
Graham was arrested on Feb. 4, and charged with burglary in the third degree. Pethick was arrested on Feb. 20, and charged with burglary in the third degree, petit larceny and marijuana possession. 
State police were assisted in the investigation by the New York State Department of Corrections and Community Supervision and the Schoharie County District Attorney's Office.
Justin Pethick (above) and Roger Graham (below). Photos courtesy of the New York State Police.