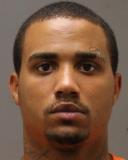 A 20-year-old Cairo man has been charged with assault after allegedly punching one person in the face and dropping lit fireworks down the shirt of another.
Cory M. Thompson was arrested by New York State Police at Catskill following an investigation into events occurring on July 5 at a private residence. 
In a press release dated July 10, New York State Police said that last Saturday, Thompson "repeatedly punched an individual in the face," leaving the victim with facial fractures and a broken eye socket. That same day, police said, Thompson also dropped lit fireworks down another man's back, leaving him with several burns from the explosion between his shirt and his back. 
Thompson was charged with second-degree assault — a class D felony — and third-degree reckless assault, a class A misdemeanor.
Thompson was arraigned in Cairo town court and was remanded to the Greene County Jail in lieu of $50,000 cash bail or $100,000 bond. He was scheduled to reappear in court on July 10, 2014 at 3 p.m.