On Memorial Day, the New York City Department of Environmental Protection (DEP) opened four of its Catskills reservoirs to recreational boating for the summer.  We're partnering with the DEP and the Catskill Watershed Corporation on a brand-new Catskill Reservoir Paddler embroidered badge, which you can only earn by paddling a specific reservoir each month.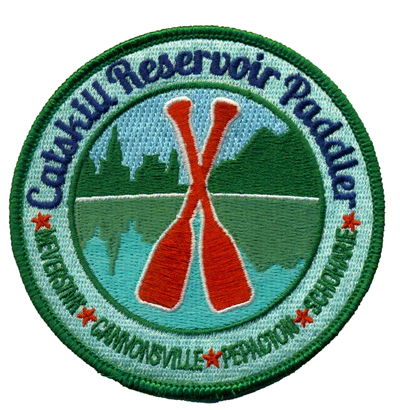 In June, the spotlight is on the Schoharie Reservoir. Paddle the Schoharie anytime between Memorial Day and June 30, send in your proof, and a Catskill Reservoir Paddler badge will be yours. Click here or scroll down for full redemption instructions. 
The Schoharie reservoir is one of the smaller Catskills reservoirs, and is home to the Gilboa Dam, currently undergoing a massive renovation, and a nest of brand-new eaglets, all of whom are just leaving the nest this month. 
Submerged under the water at the southern end of the reservoir is Devasego Falls, a 70-foot-wide former waterfall that once was quite the tourist attraction, according to the Catskill Mountain Club. Along with the falls is the site of the former town of Gilboa, which, like many small Catskills towns, was moved when New York City decided to dam up the creeks and put a reservoir on top of it. 
There are two boat launches that lead into the Schoharie Reservoir: Devasego Park (named for the long-lost falls) is on the Schoharie Creek, a mile and a half upstream of the reservoir's southern tip. The other, Snyder's Cove, sits at the reservoir's midsection. For a detailed map of the Schoharie and its boat launches, click here. 
Below: The boat launch at Devasego Park. Photo courtesy of the Catskill Watershed Corporation.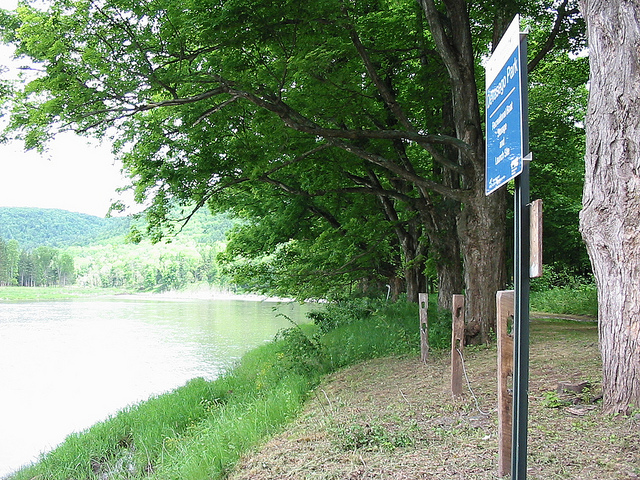 North of the Gilboa Dam is Nickerson Park Campground, where you can camp, rent a boat, and get your boat steam-cleaned before heading out on the reservoir. (607-588-7327. Nickerson Park Campground, 378 Stryker Road, Gilboa.) Another nearby steam cleaner is Arthur J. Young & Sons in Prattsville, near the reservoir's southern tip. (518-299-3426, 25 Washington Street Extension, Prattsville.)
HOW TO EARN YOUR CATSKILL RESERVOIR PADDLER BADGE
To earn your badge, you must paddle or sail at least one reservoir in 2014 during its scheduled month:
Schoharie Reservoir (May 26-June 30)
Neversink Reservoir (July 1-31)
Cannonsville Reservoir (Aug. 1-31)
Pepacton Reservoir (Sept. 1-Oct. 13)
Bring along a camera, because you'll need to provide one of the following: 
a date-stamped photo from your boat looking back at the launch site (so the reservoir can be recognized)
a photo of your DEP access permit
a photo of your boat rental/steam-cleaning receipt
Email your proof, along with an address where the badge should be mailed, to Diane Galusha of the Catskill Watershed Corporation, at galusha@cwconline.org.