This summer, the Catskills Outdoor Guide is partnering with the New York City Department of Environmental Protection (DEP) and the Catskill Watershed Corporation to bring you our new Catskill Reservoir Paddler embroidered badge, which you can only earn by paddling a specific reservoir each month.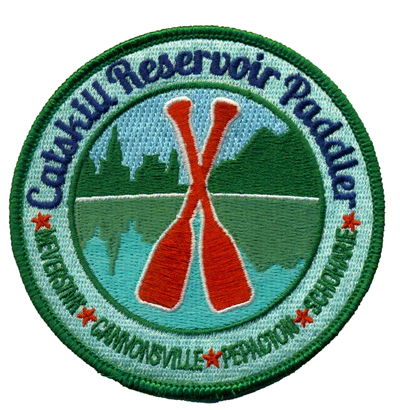 In July, the spotlight is on the Neversink Reservoir. Paddle the Neversink anytime between July 1 and 31, send in your proof, and a Catskill Reservoir Paddler badge will be yours. Click here or scroll down for full redemption instructions. 
At five miles long, the Neversink reservoir is the smallest of the Catskills reservoirs supplying water to NYC. It's also the southernmost of the four Catskills reservoirs that are open to recreational boating, making it the most convenient one to drive from NYC -- just head up Route 17 in Sullivan County and turn right.
Beneath the waters of the Neversink are the ghost towns of Bittersweet and Aden, both of which were forced to relocate when the reservoir was built in the 1950s, displacing hundreds of residents. 
There are two boat launches that lead into the Neversink Reservoir: Chandlerss Cove and Kramers Cove, both on the west side of the reservoir off Aden Road.  For a detailed map of the Neversink and its boat launches, click here.
You can get your boat steam-cleaned for the Neversink at Cannie D's Corner Corp. (845-985-2076, 4 Schumway Road, Neversink) or at the Eureka Market (845-985-5152, 7991 State Route 55, Grahamsville). And you can rent a boat at Bradley Boat Rentals (845-807-1145, 220 Lindholm Road, Hurleyville). 
For our five-step guide to boating NYC's Catskills reservoirs, click here. 
HOW TO EARN YOUR CATSKILL RESERVOIR PADDLER BADGE
To earn your badge, you must paddle or sail at least one reservoir in 2014 during its scheduled month:
Schoharie Reservoir (May 26-June 30)
Neversink Reservoir (July 1-31)
Cannonsville Reservoir (Aug. 1-31)
Pepacton Reservoir (Sept. 1-Oct. 13)
Bring along a camera, because you'll need to provide one of the following: 
a date-stamped photo from your boat looking back at the launch site (so the reservoir can be recognized)
a photo of your DEP access permit
a photo of your boat rental/steam-cleaning receipt
Email your proof, along with an address where the badge should be mailed, to Diane Galusha of the Catskill Watershed Corporation, at galusha@cwconline.org.