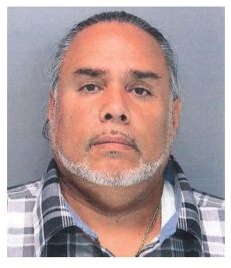 A 49-year-old Kingston man has been arrested and charged with second-degree murder in the death of Kingston resident Anita Jacobs-Royer, who was found strangled to death in her Third Avenue home on Sunday, February 3.
Audelis Cruz was arrested on Sunday, February 10, according to a statement released by the Kingston Police Department on Monday. Cruz had recently been released from prison, and was on parole for a first-degree robbery conviction. He was living in Room 45 of the Motel 19 Motor Inn, at 187 Route 28 in Kingston. 
Cruz's arrest caps off a week of intense investigation by the Kingston Police Department, who initially found Jacobs-Royer when a concerned family member called and asked police to check on her welfare. 
When police discovered that Jacobs-Royer's car was missing, they turned to Facebook to ask local residents to help locate the car. Within 30 minutes, police said, the car was found by a citizen who saw it parked at 205 Route 28, near the motel where Cruz was living. An investigation led to Cruz being deemed a "person of interest" in the case.
Kingston police then determined that Cruz had fled to New York City. Officers from the Kingston Police Department traveled to New York City and spent four days conducting surveillance. Cruz was found at about 2pm on Sunday, on a Manhattan subway platform, and arrested on an outstanding parole violation. He later gave a statement to Kingston police admitting to the strangulation of Jacobs-Royer on Friday, February 1, two days before her body was found. 
Cruz is currently in the Ulster County Jail pending additional charges.
Assisting in the investigation along with the Kingston Police Department were the New York State Police, Ulster County District Attorney's Office, Ulster County Sheriff's Office, Town of Ulster Police Department, New York State Parole, U.S. Marshalls' Fugitive Task Force, New York City Police Department, and New York City Department of Investigation.
Update, 3:15pm: The Kingston Times reports that Cruz has spent most of his adult life in prison for various offenses:
The 49-year-old Cruz, state records show, has spent the majority of his adult life in prison starting in 1986 when he was sentenced to five to 15 years for first degree robbery. Paroled in December 1993, he was busted the same month for felony criminal sale of a controlled substance and returned to prison with a five- to 10-year sentence. Released once again in December 1998, Cruz was free for less than two years before he was arrested for first degree robbery in March 2000 and sent back to prison where he remained until June. All of Cruz's offenses, state records show, occurred in Manhattan. Cruz also managed to rack up an array of disciplinary infractions while incarcerated, most notably a 2009 incident at Eastern Correctional Facility in Napanoch, in which he allegedly forged paperwork to steal money from fellow inmates accounts and have the funds sent to his wife. Cruz's disciplinary record, just during his most recent prison stint, includes nine more infractions for offenses ranging from drug use and possession of tattooing equipment to fighting and vandalism.