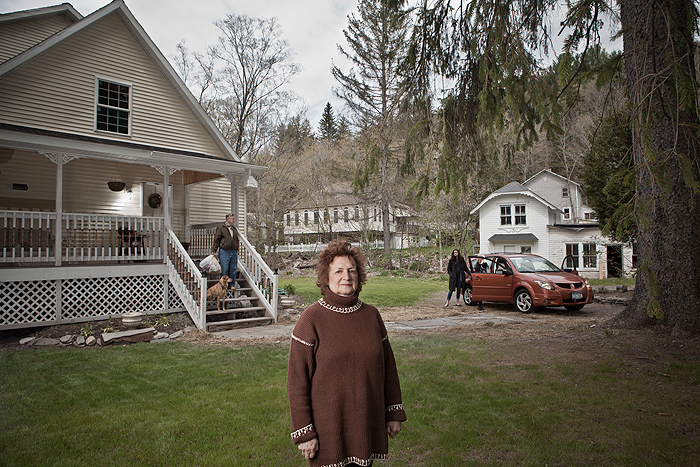 Yvonne Reuter
Part-time resident
Fleischmanns, Delaware County
Above: Yvonne Reuter stands in front of "Villa Yvonne," her house in Fleischmanns. Reuter, her 90-year-old mother, and her 14-year-old niece escaped from here by walking through waist-high floodwaters during Tropical Storm Irene. Photo by Christopher Auger-Dominguez.
Video: The morning after Tropical Storm Irene, Yvonne Reuter, Kitty Leer, and Elizabeth Leer woke up to find flood waters rising around Reuter's home in Fleischmanns, NY. Here's the story of how they escaped -- and how that morning changed their lives. Producer: Lisa A. Phillips Production Assistant: Lauren Scrudato.
Kitty Leer thought she was going to die.
The weekend of Hurricane Irene, Leer, 90, was visiting "Villa Yvonne," her daughter Yvonne Reuter's country home in Fleischmanns. The family has a long history on the property. Leer's parents, who left their native Vienna in 1939 to escape Hitler, ran a guesthouse there in the 1950s. Yvonne bought the property in 2004 and built a house there for her close-knit extended family to enjoy.
But the morning after Irene, Villa Yvonne was no peaceful haven. The water was rising fast. As Yvonne got into her car to move it to higher ground, she yelled to her niece Elizabeth Leer, 14, to help evacuate her "omi" – a German word for grandmother. "Do not let her go!" Reuter cried.
Elizabeth gripped her grandmother's arm firmly and the two stepped into the water. "I thought, this is it," Kitty Leer said.
All Elizabeth could think of was getting her grandmother to safety. "The water was up to my waist," she said. "It was really powerful and scary water."
As they made their way up the street, the water pulled at her grandmother, who stands just over five feet tall and has a slight build. At times she was swept off her feet. Elizabeth held on. Yvonne came back and took her mother's other arm. Their progress was agonizingly slow. "It's not very far, but with the current you can't walk that fast," Yvonne said. "If you walk past three houses, it seems like you walk three miles."
A village maintenance worker ended their ordeal. He picked them up in his truck, took them to the car, and then went back to get Yvonne's husband, George Reuter. The family spent the night at a friend's house.
The next morning, the waters receded enough for Yvonne to return. The house was fine, but the property was covered in silt, gravel and debris. "The yard looked like a moonscape," Yvonne said. "I had things from other people's houses in my yard: a mattress, bedspreads, curtains, a playground set from a park somewhere."
By the following spring, life at Villa Yvonne was almost back to normal. On a crisp April weekend, Kitty and Elizabeth Leer, along with several other relatives, came up for a visit.
Elizabeth confessed she still has nightmares about the flood. But she also has a new confidence in herself. People praise her for saving her grandmother's life. "I realized I can step up to the plate when I need to," she said.
Yvonne was pleased to see her family together again and the property nearly recovered. The lawn was growing in green and lush, and her relatives were replanting shrubs and flowers. The only major project ahead is tearing down several ruined sheds, the last remnants of her grandparent's guest house.
But Yvonne is not mourning the loss. The most important thing – her family – was still intact. "The other stuff doesn't matter," she said. "We have a great feeling of family spirit when everyone is together. [The flood] put true life and what is important into perspective."
Interview with Yvonne Reuter, mother Kitty Leer, and niece Elizabeth Leer
Watershed Post: How did the flood change you?
Elizabeth Leer: There is a lot to live up to in my family. My brothers are viewed as heroic because they step up and do what it takes to protect my family. I was happy to prove myself when my family needed it. I learned more about myself. Everyone praised me for saving my grandmother, but I never thought of it like that. I simply thought of it as something I had to push through. Now that I look back, it was much more serious than I originally thought. I have dreams and nightmares where things turn out differently. It was a really crazy experience I will never forget.
WP: How did the community respond to the flood?
Yvonne Reuter: The village church provided food for three weeks for the community and volunteers. I found all these pictures in my yard and tacked them up at the church, hoping the owner would stop by to eat and see them. After the flood, I was at the house for at least a week cleaning up debris from my yard. After a period of time, I got sick of it and went to help out at the church. I bounced back and forth between my house and the church. The town is a wonderful community of people and you really saw the positive force of everybody helping each other. No matter who it was or whatever differences you might have with people, silly arguments, that was all gone. This wonderful community spirit was so uplifting and positive.