Above: Kham and Jamie Nguyen putting siding on their new Mount Tremper farmstand, which is scheduled to open in April. Photo by J.N. Urbanski. 
A new roadside farmstand is slated to open in the Ulster County town of Shandaken this spring, next door to where the controversial Hanover Farms farmstand operated for nine years before being closed by court order in 2013.
Tremper Hill Farms will be located at the junction of Route 212 and Route 28 in Mount Tremper, on the property of Kham and Jamie Nguyen. The Nguyens have built a new structure on their roadside property to house the farmstand, just downhill from their house.
An exact opening date has not been set, but the Nguyens are hoping to begin selling produce by the end of April. They are inviting local farmers, producers and small-scale growers to contact them via email at tremperhillfarms@gmail.com.
Kham, who is currently the head chef at Phoenician Restaurant in Phoenicia, said that he has always wanted to start a farmstand filled with fresh, local, reasonably priced food.
"I have four kids to feed and every time I go shopping I go all the way to Kingston," he said.
Kham has lived in the Catskills his entire adult life, ever since he arrived from Vietnam 29 years ago. He headed to the region to live with a friend he had made in a refugee camp and shortly thereafter got his first job in a restaurant at 15 years old, he said. 

Although he studied computer programming at SUNY Albany, Kham couldn't find a job in his field in the Catskills and has worked at restaurants in the area on and off for the last 25 years, he said. The contacts he has made in the food business will help him find producers and farmers to provide goods to sell at the new farmstand, he said.
Kham's wife, Jamie, is a teacher at Onteora High School. Together, the couple is excited to establish a business in the heart of their community that they can pass down to their young children in the future, so that they will always have jobs, they said. An added benefit is that Kham will now be able to work from home.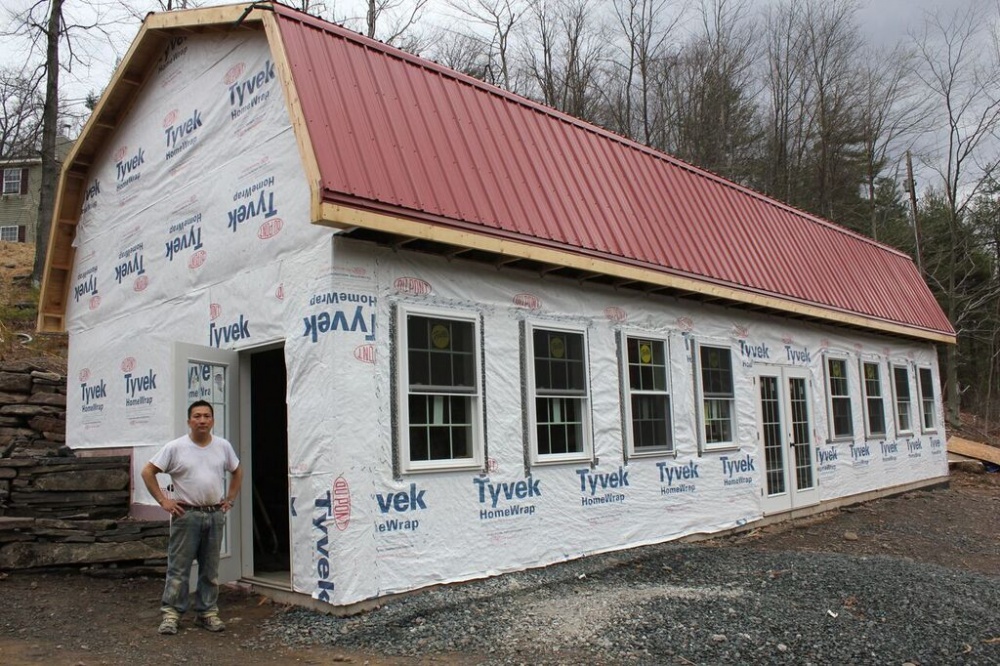 Above: Nguyen in front of the unfinished farmstand building on Route 28. Photo by J.N. Urbanski. 
The legacy of Hanover Farms
Tremper Hill Farms will be located next door to where Hanover Farms, a popular local farmstand run by Al and Alfie Higley, was located from 2004 to 2013.
Due to what a judge called "flagrant and egregious" violations of town building code and zoning law, Hanover Farms was forced to close in 2013. The Higleys opened a new location, called Greenheart Farms, a few miles down Route 28 in the town of Olive.
The Higleys are still embroiled in a legal battle with the town of Shandaken over the fallout from Hanover Farms's tenure in Shandaken. This week, the Daily Freeman reported that the family is fighting $126,000 in fines related to the now-shuttered farmstand.
Despite its legal troubles, Hanover Farms pioneered a business model for farmstands in Mount Tremper, catering to locals and weekenders who want to buy local produce conveniently.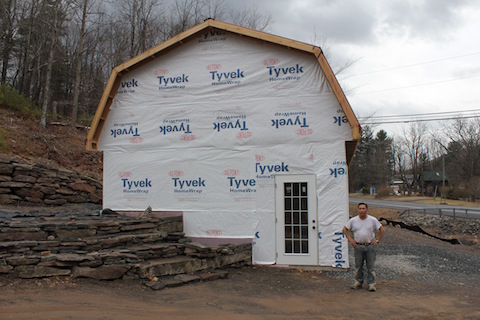 Above: Nguyen in front of the unfinished farmstand building on Route 28. Photo by J.N. Urbanski. 
The Nguyens' farmstand will be the second farmstand to open on that particular stretch of Route 28, joining the well-established Migliorelli's farmstand, which is a short drive away.
"We've seen that since this battle that has occurred [with Hanover Farms] that people have seen and recognized the business model that could be attained, if you do it respectfully and within the confines of the law we have crafted, which Jamie and Kham are doing this spring," said Rob Stanley, Shandaken's town supervisor.
"Clean and beautiful"
Kham and Jamie Nguyen received approval from the town of Shandaken Planning Board for a special permit to operate a farmstand on July 1, 2015. A building permit was issued for the property on August 6, 2015 by the town's Building Inspector, Warren Tutt.
After the permit was issued, a contractor built a 1,000-square-foot structure at the foot of the driveway near Route 28. The Nguyens, both of whom have full-time jobs, have been finishing the inside by themselves.
Above: Kham Nguyen at work inside the new farmstand in Marcn 2016. Photo by J. N. Urbanski. 
The couple spent the weekend of March 5 putting in all the windows. They purchased barn wood for the structure's siding and began mounting it themselves on March 12.
"I want it to look clean and beautiful, not some eyesore," Kham said. "Not just for me, because it's in front of my house, but for the community."
Stanley, Shandaken's supervisor, is excited about the new venture.
"People want to find better, organic foods closer to home, saving gas and emissions," he said. "It's nice to support local farms in some shape or form. There will be leeks and ramps coming up soon. I can't wait to get some potato and leek soup going on the stove."
He added: "When you have urbanites coming up during the summer, it's something they expect from a rural location: getting fresh produce grown locally."