Above: The 2016 Catskills Food Guide. On the cover: Mama's Boy Burgers in Tannersville, shot by Andrea Cabane.
The print 2016 Catskills Food Guide has hit the street: pick up a free print copy in over 100 locations, or buy a digital edition to read on your device. 
This year, the guide features articles about locally made birch syrup, the region's best bakeries, where to find delicious artisanal pizza, a list of sandwiches you can hike with, restaurants where you can spend the night, foraging for local foods, a farm where you can eat a five-course meal, the Catskills craft beverage boom and, of course, our favorite new Catskills restaurants.
The Catskills food scene is growing, and so is our coverage of it. In this edition of the Catskills Food Guide, we've expanded the Catskills Food and Drinks Map, which now lists 37 local beverage makers and 51 local farms that welcome visitors. 
Check out who won the 2016 Catskills Food Guide photo contest, sponsored by the Peekamoose Restaurant & Tap Room. 
Below: The pull-out "Drink the Catskills" map, which features 37 Catskills craft beverage destinations.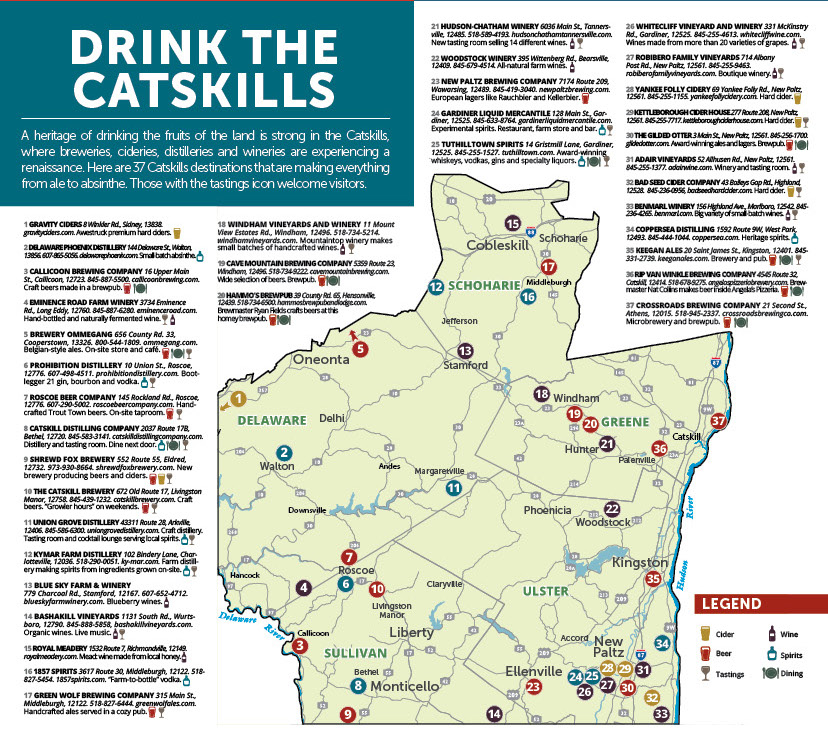 Follow the Catskills Food Guide on Twitter at @catskillsfood, on Facebook at facebook/catskillsfoodguide and check watershedpost.com/food for new stories and coverage of Catskills farms and food. 
Below: The cover of the 2016 Catskills Food Guide and the pull-out Catskills Food and Drink Map.