From the moment you walk into the Crispell Memorial French Church in New Paltz during one of Historic Huguenot Street's new In-The-Moment tours, you are one of the Huguenots, a community of French Protestants who fled religious persecution in Europe to settle in the Hudson Valley in the 17th century.
The church, a replica of an historic stone church that was the center of New Paltz's Huguenot community, is hosting a baptism of one of the members of a prominent Huguenot family, the Hasbroucks. You are there thanks to a letter of recommendation from one of the Hasbroucks themselves.
At the nearby Jean Hasbrouck House, a maid welcomes you as a guest of the Hasbrouck family, and then guides you through the house and its history over uneven, rickety floorboards. As she tries to find accommodation for you, she leads you through Esther Hasbrouck's bedroom, the dining room and the kitchen. At the house of the Deyo family, you marvel at its glamorous electric lighting, the first to appear in the village.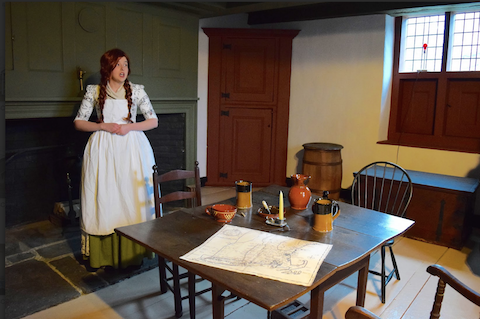 An historic interpreter in the Hasbrouck House in New Paltz. Photo by Keady Sullivan.
The In-The-Moment tours, which feature costumed historical interpreters who improvise their roles as they lead groups through the historic homes of New Paltz, are a new addition for Historic Huguenot Street in 2015. There is no script, so the storyline is slightly different each time you come back. Historically correct sounds, smells and props add to the experience. The costumed guides riff on unexpected anachronisms while staying in character: During one tour, when a guest's cellphone rang, one historic interpreter asked, 'Is that a bird, or witchcraft?'"
The new tours, which are available on weekends, cover a "larger period of time, including our favorite parts from past tours, and giving a fuller arc" to the Huguenots' stories, according to Genevieve Casagrande, the guest experience manager for the 10-acre historic district, which includes the replica church and seven historic stone houses.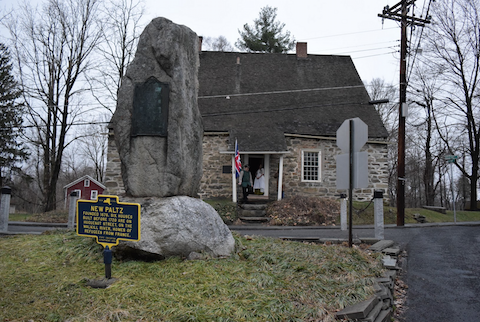 Hasbrouck House in New Paltz. Photo by Keady Sullivan.
The Historic Huguenot Society, which runs Historic Huguenot Street, already attracts over 100,000 people per year, according to Casagrande. Casagrande is expecting the new immersive tours to increase visitation by a third, she said. The attraction also offers regular, non-costumed tours daily during the summer season, which begins this weekend.
The 2015 season opens on Saturday, May 2. To celebrate, Historic Huguenot Street will be hosting free and family-friendly activities for the community, including colonial games, live music and performances and a picnic honoring New Paltz first responders from the rescue squad, the police department and the fire department. 

Historic Huguenot Street 2015 Grand Opening. Saturday, May 2, 10 a.m. to 5 p.m. In-The-Moment tours offered Friday through Sunday. huguenotstreet.org.