Lori Robin didn't set out to start a vegan cheese company. A gilder and stone carver by trade, she had planned to teach restoration workshops for antiques lovers in a studio in the Delaware County village of Fleischmanns.
"Take people out shopping, buy something from one of the antique shops, bring it back to the studio, restore it, and go home with a finished product. That was the plan," Robin said. "But I was…" she paused, searching for a word.
"Derailed by cheese?" I offered.
"That's exactly right!"
Now Robin's space is a commercial kitchen, where she handcrafts an increasing variety of organic, cultured vegan nut cheese alternatives for sale in the Catskills, New York City, and — thanks to a new distributor — beyond.
Robin has no doubt that there's a market for her cheese.
Cashews give Robin's cheese the smooth texture that's lacking in many vegan options. Hemp seed and macadamia nuts pack it full of fatty acids, protein, and fiber. Additionally, Robin adds cultures to ferment the nuts, just as one does with dairy-based cheeses—this step give her products the zesty "aged" taste that cheese lovers crave.

The microbial aspect of the cheese has another benefit — it's "great for the gut," said Robin. "It's totally probiotic. You're actually eating yourself to health. And it's better than a yogurt because it's not dairy-based."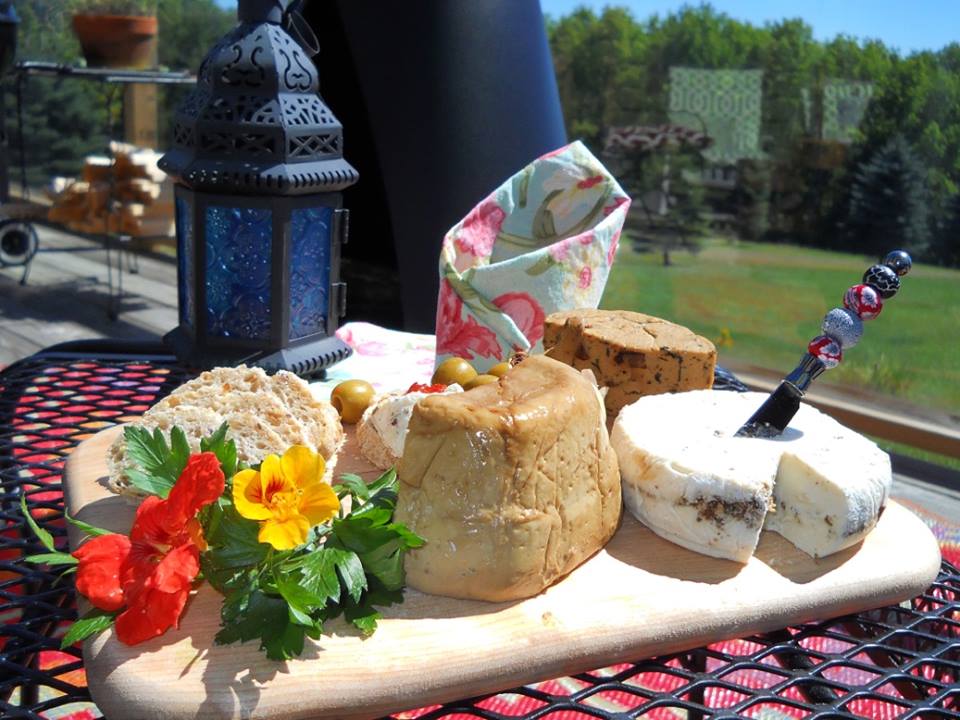 Above: A variety of Cheezehound's cheeses. 
Robin's relationship with vegan cheese is, as she says, both "obsessed" and "passionate." As a self-described "veteran vegan," Robin began experimenting with cheese-making three years ago as a way to fill a gap in her own cuisine.
"There were no good cheeses!" she explained. Robin wasn't the only one who thought so — a Google search for "vegan cheese" results in pages of plant-based eaters decrying their cheese alternatives.
Many non-dairy cheese options are made from highly processed rice or soy ingredients and don't have the melty, gooey texture of real cheese— and if they do, it's often thanks to the addition of starches, oils, and stabilizers. Consumers are hungry for creamy, flavorful, meltable, healthy cheese alternatives.
So Robin did some investigation, adapted some dairy-based cheese-making recipes, and in 2012, she dove in.
The cheese-making process itself wasn't completely alien; it's not all that different from her work in restoration.
"I've turned 1700s gesso and lacquer recipes into legible, usable, modern-day recipes," she said. "In effect, it's the same. It's all alchemy, that's how I see it. It's just recipes."
What did surprise Robin was how quickly the hobby took over her life. "I became totally obsessed with it," she admitted. "I basically put everything down for three years and just played with making cheese."
But now, her risk has paid off — her business, which she named Cheezehound in honor of her floppy-eared pup (whose image graces the logo), is expanding.
Robin sells her cheese at markets and pop-ups in the Catskills and New York City, and her products are stocked in several specialty and health food shops (including Mother's Earth Storehouse in Kingston). Now, she's secured a distributor, allowing her product to reach even more stores and customers while she focuses on cheesemaking — instead of sales — full time.
There are only a handful of other companies in the country creating a product of similar quality: handmade from scratch with organic ingredients, without the palm oils or carrageenan found in packaged vegan cheese. Robin likes to think of her products as an upgrade — not an imitation.
"I hate the word imitation," she said, "but New York State labeling laws don't allow you to use the name of the cheese [like cheddar or mozzarella] unless you say 'imitation.'"
Instead of limiting her, this restriction actually fostered Robin's creativity — she focused on developing new flavors instead of mimicking traditional ones, pulling inspiration from some of her favorite dishes.
Robin's Qasbah cheese includes Moroccan spices traditionally found in tagine; the Blue Mountain is shot through with a layer of bright blue spirulina, an ultra-healthy alga; and the Stout pâté includes a half pound of wild organic mushrooms for every pound of spread.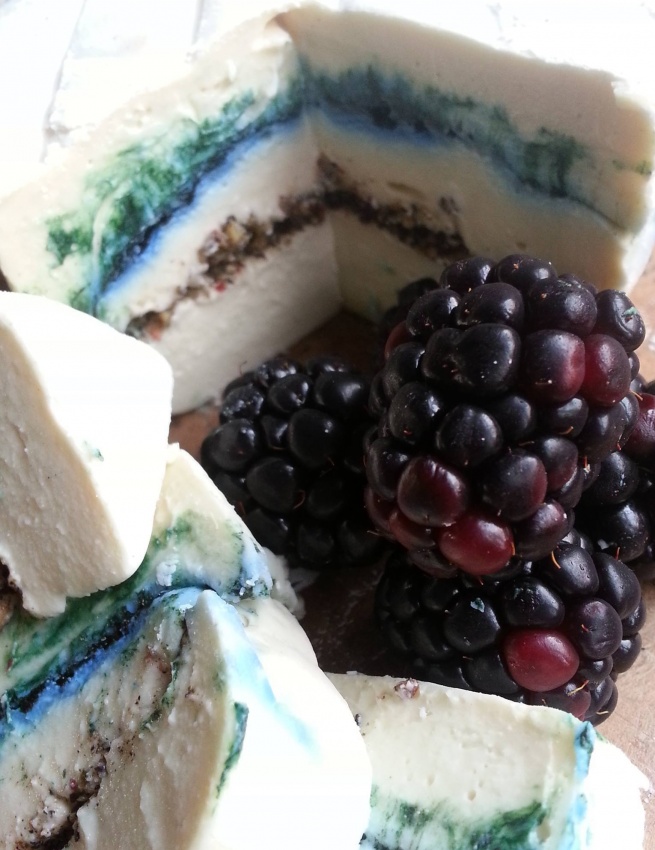 Above: The Blue Mountain cheese from Cheezehound. 
These unique flavors — not to mention the health benefits — have won fans in the vegan and non-vegan communities alike.
As we chatted at Zephyr Restaurant in Pine Hill, a woman approached our table, recognizing Robin.
"You let me try some of your cheese last summer!" she exclaimed. "It was so good!"
Cheezehound. Non-dairy vegan cheeses. Fleischmanns. 845-625-9003. cheezehound.com
Want more Catskills food coverage? Get the 2015 Catskills Food Guide, our annual publication covering food and farms in the Catskills. Find a copy near you here, and online coverage here.