Above: VW Parts, William Hrazanek's junkyard that has sat on the bank of the Bushkill for over 20 years. Photo by Julia Reischel, taken on July 9, 2013. 
In a rare show of force, a phalanx of state Department of Environmental Conservation officers raided three auto junkyards in Fleischmanns and Arkville on Tuesday to execute a search warrant.
But junkyard owner William Hrazanek may have bigger problems than the DEC. Legal and financial troubles could force Hrazanek to close his two Fleischmanns junkyards, which have angered village residents -- and probably leached pollutants into New York City's water supply -- for years. 
Hrazanek, who stopped paying taxes and mortgage payments on the properties years ago, is betting on a $1.2 million windfall from a Federal Emergency Management Agency (FEMA) flood buyout program to bail him out of his current financial predicament.
Hrazanek has long been infamous in Fleischmanns. In addition to fighting the village of Fleischmanns for 20 years over his junkyards, he has been caught running a black market car registration and insurance service for illegal immigrants, has been sued by Volkswagen for copyright infringement, and runs multiple shell corporations to manage a diverse portfolio of local real estate, much of it in disrepair.
On Tuesday, DEC officers descended on three of Hrazanek's junkyards to investigate the properties. Officers were tight-lipped about the cause of the investigation, but said that it was in connection with an environmental search warrant.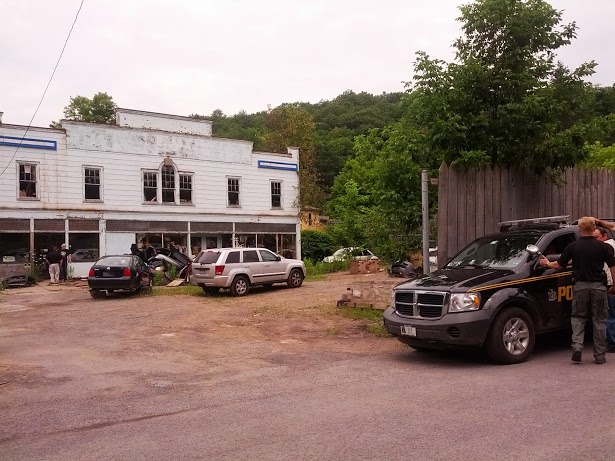 Above: DEC officers investigating the 717 Wagner Avenue junkyard in Fleischmanns on July 9, 2013. Photo by Julia Reischel.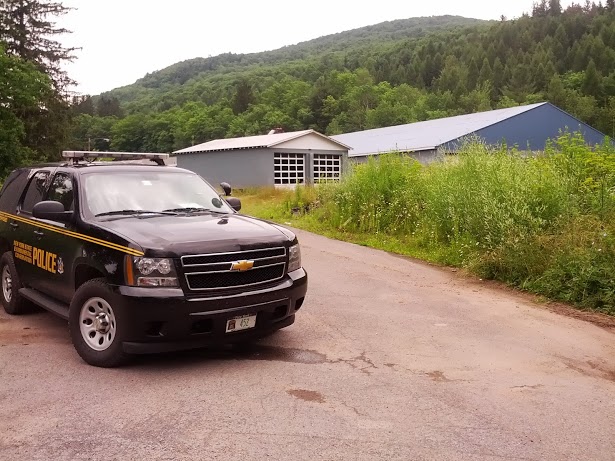 Above: DEC officers investigating the 102 Depot Street junkyard in Fleischmanns on July 9, 2013. Photo by Julia Reischel.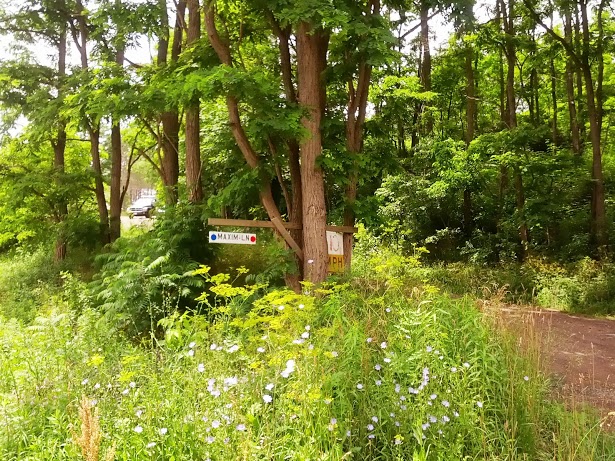 Above: A DEC vehicle in the driveway of the 50 Maxim Lane junkyard in Arkville on July 9, 2013. Photo by Julia Reischel.  
The targets of the DEC investigation were VW Parts at 717 Wagner Avenue in Fleischmanns, a large warehouse at 102 Depot Street in Fleischmanns, and a hilltop parcel located at 50 Maxim Lane in Arkville. Each location was cordoned off by DEC police vehicles. A Watershed Post reporter counted nine DEC officers and six DEC vehicles at the various locations.
The two Fleischmanns junkyards are close to the Bushkill, a creek that runs into the Pepacton Reservoir, which is a major source of New York City's unfiltered drinking water.
"We're conducting an environmental search warrant," said Lieutenant Kathleen Jacoby, the on-site coordinator at the scene. Neither Jacoby nor DEC Region 4 public information officer Rick Georgeson would give any more information about the cause of the investigation or the number of officers involved.
"Because the investigation is ongoing, we can't say anything, unfortunately," said Georgeson.
The raid came as Hrazanek's two Fleischmanns junkyard properties are being foreclosed on by Kenneth Pasternak, the wealthy entrepreneur and Belleayre Resort investor, in a bid to banish junkyards from the village entirely.
If Hrazanek is forced to shut down the Fleischmanns junkyards, it will be welcome news to many village residents.
"What goes around, comes around," said John Granito, a former Fleischmanns mayor and longtime Hrazanek foe. "What he's done to this village over the years is pathetic." 
Attempts to contact Hrazanek for a comment on this story were not successful. A phone number listed to his name was disconnected, and attempts to reach him through his lawyer failed. 
Junkyard wars
Hrazanek began fighting the village of Fleischmanns as soon as he moved a junkyard, VW Parts Inc., into 717 Wagner Ave in 1992. He was in court almost continuously over junkyard permitting issues between 1992 and 2005.
He won battle after battle, and more junkyards appeared. Eventually, he expanded past village borders; the Maxim Lane junkyard is high on a hill in nearby Arkville, hidden from the sight of passersby on Route 28. In satellite photos, hundreds of cars can be seen crammed together on the property.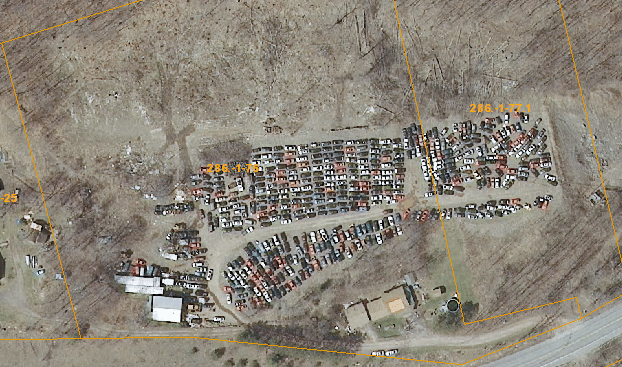 Above: Undated satellite photo of 50 Maxim Lane junkyard. Source: Delaware County Community Online Mapping Information Tool. 
In Fleischmanns, a group called the Coalition for Junkyard & Environmental Enforcement sued the village for allowing Hrazanek to build another junkyard on Depot Street without a proper environmental review. In 2001, the coalition won a victory: a state Supreme Court judge revoked the village's permit for the Depot Street junkyard. 
"An auto junkyard in Fleischmanns would have needlessly contaminated the drinking water supply for 9 million people," a staffer from the water advocacy group Riverkeeper told the Daily Star at the time. "Gasoline, oil, antifreeze and other pollutants would have drained from the site into Bushkill Creek."
But the ruling didn't stop Hrazanek from putting cars at the Depot Street site. In 2007, he signed a settlement with the New York City Department of Environmental Protection that allowed him to keep used cars on the Depot Street property as long as he agreed to take steps to prevent pollution in the Bushkill. In return, the DEP promised that it wouldn't consider Hrazanek's property a "junkyard." 
In July 2011, the New York State Department of Environmental Conservation spotted a series of violations at the Wagner Avenue junkyard and fined Hrazanek $500. A few weeks later, floodwaters from Tropical Storm Irene swept through both of Hrazanek's Fleischmanns junkyards. The floods inflicted heavy damage at the buildings at both locations. It is impossible to say exactly what washed downstream out of Hrazanek's property into the Bushkill -- and into the city's water supply.
In 2012, the NYC DEP found violations at Depot Street, prompting Hrazanek to crush and remove cars from several of his junkyards.
But the cars came back, at least to Wagner Avenue. On Tuesday, the Wagner Avenue junkyard was filled with cars and piles of tires. 
A long history
Hrazanek has a long history of trouble with the law, village officials, and his neighbors. 
When John Granito, then Fleischmann's mayor, tried to perform a state-ordered inspection of the Depot Street property in 1998, Hrazanek had him arrested for trespassing. (Granito later sued Hrazanek and multiple Delaware County officials for civil rights violations, but lost the case.) Hrazanek sued members of the village board who opposed the junkyards, causing a "climate of fear" in the village, according to a 1999 Daily Star article. 
For four years in the mid-2000s, Hrazanek ran a profitable scam selling cars with phony auto registrations and insurance to members of Fleischmanns' sizable illegal immigrant population. Forty cars were involved in the scam, each carrying an $1,800-per-year "insurance policy," most of which Hrazanek pocketed, according to state insurance investigators. 
Although Hrazanek cost his insurance company half a million dollars and faced 15 years in jail, he pled guilty in 2008 to reduced charges and only ended up paying a $2,175 fine. The authorities estimate that he made $30,000 per year from the scheme.
Hrazanek was sued by Volkswagen in 2008 for selling car parts on the internet using the Volkswagen name and trademark. Volkswagen argued that Hrazanek and his company "blatantly infringe the VW Marks in nearly every facet of their business operations." A federal judge ordered Hrazanek to pay $23,596.47. 
For years, Hrazanek has not paid taxes. His unpaid tax bill is $72,746.69, according to court documents. He owes $44,454.73 of that to the village of Fleischmanns alone.
But Hrazanek's aversion to taxes hasn't stopped him from asking for handouts from the federal government and the county. He has applied for a $1,200,000 FEMA Hazard Mitigation Assistance Grant based on the damage his property on Depot Street in Fleischmanns sustained during Tropical Storm Irene.
This spring, he told a bankruptcy court that the federal buyout program would purchase both of his Fleischmanns junkyard properties. (In fact, only the Depot Street property was included in Delaware County's application for the grant, and the county puts the value of the property at only $539,500 -- not $1.2 million. Also, the grant program does not apply to properties that are in foreclosure or that are behind on taxes.)
Meeting his match
Kenneth Pasternak, who grew up in Fleischmanns before leaving the Catskills to make a fortune in finance, may be the only person who can get Hrazanek's junkyards out of Fleischmanns. One of the investors of the Belleayre Resort project, which aims to build a luxury resort on the mountaintop near Fleischmanns, Pasternak approached Hrazanek in 2007 to offer him money in exchange for a promise that he move his junkyards out of town within five years.
"In my beautiful hometown, this guy creates an eyesore, and conducts a business inappropriate to a tourist resort community," Pasternak said. "I tried the nice-guy approach where I said, 'Let's work through it, Bill. I'll lend you the money even though you're not credit-worthy.'"
Under the terms of their agreement, if Hrazanek didn't move out within the time frame, there would be consequences.
"I wrote the note in such a way that I would be able to force him out," Pasternak said. "I thought there would be a very high chance that he would default and I would be able to execute, in essence, an eviction from the village."
According to court documents, everything is playing out as Pasternak expected. Hrazanek stopped making his mortgage payments in 2011. Pasternak began foreclosure proceedings this year. Hrazanek tried to stop the foreclosure by filing for bankruptcy, but in May, the case was thrown out. (Hrazanek filed the bankruptcy "in bad faith," a federal bankruptcy official told the judge in the case.) 
According to Pasternak, the foreclosure proceedings are moving forward.
Pasternak said that he doesn't know why the DEC decided to raid Hrazanek's property this week.
"I'm actually surprised that it took them so long," he said. "That's the real story on Hrazanek: That he thumbs his nose at obligation. He's not a good citizen. He's a guy who manipulates the system for his own good, and thumbs his nose at any ethical or legal obligation."
To see our growing collection of public documents about William Hrazanek, click here. 
Updates:
Mount Tremper chemical spill linked to Fleischmanns junkyard operator. Watershed Post, July 15, 2013
Catskills junkyard operator faces criminal charges. Watershed Post, February 26, 2014.