New York State Department of Environmental Conservation (DEC) Environmental Conservation Officers (ECOs) enforce the 71 Chapters of NY Environmental Conservation Law, protecting fish and wildlife and preserving environmental quality across New York.
In 2015, the 268 ECOs across the state responded to 25,000 calls and issued 22,000 tickets for crimes ranging from deer poaching to corporate toxic dumping and illegal mining, black market pet trade, and excessive emissions violations.
"From Montauk Point to Mount Marcy, from Brooklyn to Buffalo, the ECOs patrolling our state are the first line of defense in protecting New York's environment and our natural resources, ensuring that they exist for future generations of New Yorkers," said Commissioner Basil Seggos. "They work long and arduous hours, both deep in our remote wildernesses and in the tight confines of our urban landscapes. Although they don't receive much public fanfare, the work of our ECOs is critical to achieving DEC's mission to protect and enhance our environment."
Recent missions carried out by ECOs include:
How'd Those Stripers Get There - Rockland County
On Jan. 4 while on patrol at the Haverstraw Marina, ECOs Maxwell Nicols and Andrew Kostuk received a tip that fishermen were catching striped bass and tossing the fish into the weeds behind them. After watching the fishermen for a while, the ECOs confronted the men and asked if they had any luck fishing. The men said they hadn't, but after a brief search, Officer Nicols pulled a striped bass, still alive, from the weeds within feet of where the men had been fishing. Further investigation led to a second striper. The men were instructed to pack up for the day and were escorted back to their vehicles, where they were issued tickets for possession of striped bass out of season.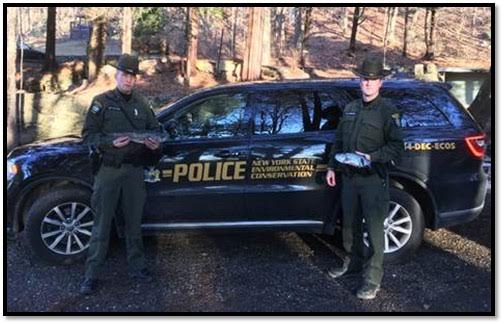 ECOs Nicols and Kostuk with the illegal Striped Bass
Road Shot Deer - Ulster County
On Jan. 4 at approximately 6:30 p.m., ECO Joshua Sulkey responded to a 911 call with an Ulster County Deputy for a deer that had been shot in the roadway. Upon arrival, the man who shot the deer was still on scene. He admitted to shooting the deer with his .380 pistol, which was secured by the officers. He claimed that the deer was injured in a car accident and that he decided to shoot it to humanely end its life. He was issued tickets for illegally killing a deer, discharging a firearm from a roadway, and discharging a firearm within 500 feet of a residence. The officers explained to him the dangers of shooting a firearm near houses and from the road at night. He is set to appear in Marbletown Court in February.
Repeat Offender - Sullivan County
On Jan. 4, ECO Tom Koepf was contacted by DEC staff regarding a construction project that was discharging large amounts of turbid water into a nearby stream in the town of Fallsburg. When the officer arrived on site, he observed a large area of cleared land that would soon be used for a new apartment complex. A construction crew had recently been working on the site and failed to keep a stormwater runoff drain from becoming clogged. As a result, thousands of gallons of turbid water were running off site and into a DEC-regulated wetland and Class B protected stream. Officer Koepf observed that there were no preventative safety measures on site to keep turbid water from being released. The owner of the construction company was issued a summons for polluting water in contravention of standards. The owner will face fines as high as $37,500. This is the third time the company has been cited by ECOs for its carelessness.
Turbid water entering a wetland in the town of Fallsburg
Illegal Dumping - Sullivan County
On Jan. 5, ECO Ricky Wood responded to a garbage dumping complaint along Flynn Road in Parksville. Among various materials located in the garbage, ECO Wood found a receipt from the Liberty Shop Rite, which contained customer information. The garbage was photographed and ECO Wood responded to the store for a follow up. With the assistance of Shop Rite staff, ECO Wood obtained a name, date of birth, and address associated with the customer on the receipt. In addition, Wood reviewed video tape from the store and ascertained a physical description of the customer. On Jan. 6, ECO Wood met with the suspect at his Parksville residence for an interview. After a brief interview of the suspect and his mother, it was determined that they had driven to Flynn Road and intentionally dumped the trash at the location. The appropriate summonses were issued, and the mother and son team quickly drove to the location and cleaned up the mess. The charges are currently pending in the Town of Liberty Court.
Unlawful Disposal of Solid Waste in Parksville
River Dumping Incident – Tioga County
On Jan. 7, ECO Brent Wilson was patrolling for duck hunting compliance when he noticed a large pile of garbage floating down the Susquehanna River. ECO Wilson contacted the Campville Volunteer Fire Department to ask for assistance with its air boat so he could retrieve the garbage in order to identify who dumped it. Campville VFD transported ECO Wilson out to the garbage so it could be secured and brought back to shore. Once on shore, the garbage was determined to be several tarps wrapped together, and no identifying material could be found. Town of Owego crews disposed of the tarps.
ECO Wilson and Campville Volunteer firefighters help remove the tarps from the river
If you witness an environmental crime or believe a violation of environmental law occurred please call the DEC Division of Law Enforcement hotline at 1-844-DEC-ECOS (1-844-332-3267).