Saturday, July 13, 2019 - 8:00pm
Location
Mt. Tremper,
NY
12457
United States
New York US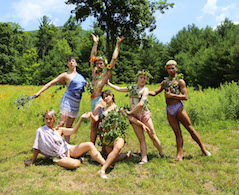 Ballez
Giselle of Loneliness
In partnership with The Joyce Theater
Saturday, July 13 at 8:00 pm / Tickets $15 / Preview
Giselle of Loneliness depicts the suffering of a queer Giselle. Faced with a choice between life as an outcast and a death delivering them to the separatist, queer ghosts known as the Wilis, Giselle chooses instead to live, fight, and change the world around them. Featuring original music and design with a cast of queer dancers led by Ballez Artistic Director Katy Pyle.
Ballez is just what it sounds like: it's lesbians doing ballet. And not just lesbians, but all those whom ballet has left out. Giselle of Loneliness draws inspiration from the original Romantic ballet, Nijinska's ballet Les Biches (1924), and Radclyffe Hall's novel The Well of Loneliness (1928).
"This LGBTQ Dance Company wants to change how we think about gender in ballet." —NBC Left Field