Monday, September 10, 2018 -

1:30pm

to

4:00pm
Location
6055 Route 23
Agroforestry Resource Center
Acra,
NY
12405
United States
New York US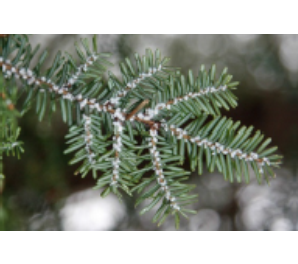 Cost: Free
Registration deadline: September 7
Register online: https://reg.cce.cornell.edu/HWAmonitor_210 or call 518-622-9820 x 100
Location: Agroforestry Resource Center, Acra
Presented by: Charlotte Malmborg, New York State Hemlock Initiative (NYSHI)
Hemlocks are one of the most important tree species in the northeast; providing a multitude of ecological benefits as well as numerous raw materials for human use. Hemlocks are also under attack by the hemlock woolly adelgid, an invasive aphid like insect that is now established in our region.
Come and learn about the threat this forest pest poses for New York's forests. The first part of this training, which will run from 1:30-2:30 p.m., will focus on correctly identifying hemlock trees and hemlock woolly adelgid, management techniques for landowners and land managers, and biocontrol opportunities.
The second part will run from 2:30-4:00 p.m. and involves the phenology monitoring of HWA and a field component, so dress appropriately. Phenology is the study of the timing of an organism's major life stages. HWA Phenology monitors help the NYSHI by surveying a particular location and recording the timing of HWA's major life stages at that location. This increases the understanding of HWA in that region and helps plan biocontrol releases at that location. This training is geared towards those who are planning to volunteer throughout the fall season and watch for HWA's transition from their summer resting "aestivation" phase to when they begin to feed, grow, and develop (and accumulate their "wool"). This involves weekly sampling and carefully looking at infestations on a couple of trees per stand. This year the NYSHI is tracking HWA phenology through the Nature's Notebook smartphone app. If you are interested in tracking HWA phenology, we will give you the link so you can download the app in advance and create an account before you arrive. It is free to join. You can sign up for either the general HWA overview, the HWA phenology monitoring opportunity, or both.
This training will occur at Cornell Cooperative Extension of Columbia and Greene Counties' Agroforestry Resource Center in Acra, NY. For more information on CCE of Columbia and Greene Counties and other program offerings, visit our website www.ccecolumbiagreene.org. Cornell Cooperative Extension is an employer and educator recognized for valuing AA/EEO, Protected Veterans, and Individuals with Disabilities and provides equal program and employment opportunities.
6055 Route 23
Agroforestry Resource Center
Acra,
NY
12405