Saturday, March 18, 2017 - 7:30pm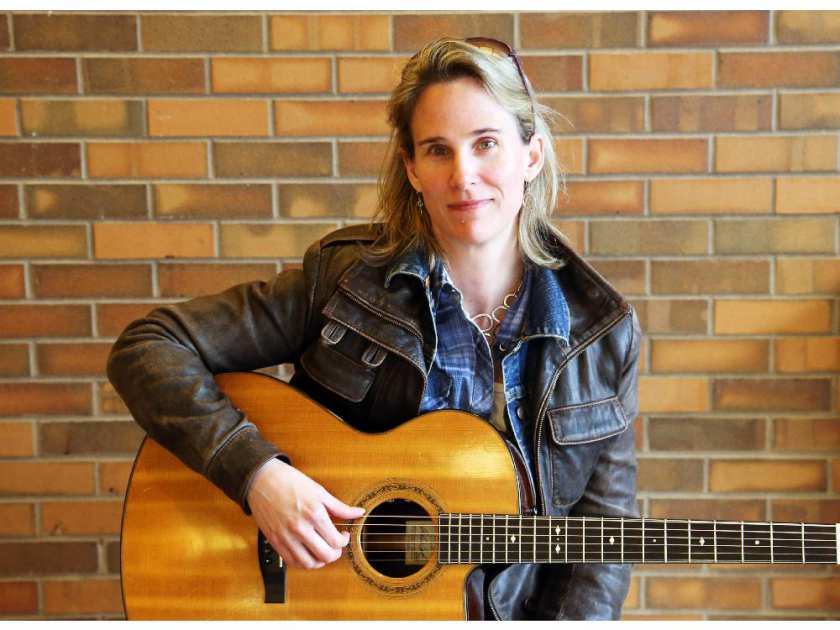 On Saturday, March 18, powerful roots-country, singer-songwriter Lynne Hanson, from Ottawa, Ontario, performs in Phoenicia for Flying Cat Music at the Empire State Railway Museum at 70 Lower High Street. The doors open at 7:00 p.m. and music begins at 7:30. Tickets are $12 or $10 with reservations. For information or reservations email flyingcatmusic@gmail.com or call 845-688-9453.
Lynne Hanson may live in Canada but her soul lies closer to Austin. She's a rising star in Canadian Roots Music; playing some blues, some folk, and a lot of hard-edged, emotionally honest country. Maverick Magazine calls Hanson, "Canadian country music at its best", while SiriusXM Canada says of her, " Hanson's deep bluesy croon is pure and full of fortitude, and she's drawn comparisons to Lucinda Williams, with a touch of Gillian Welch thrown in." The Ottawa Citizen praises how "Hanson combines country and folk with a confidence usually found in rock music" but Lynne puts it more simply, saying: "There are two sides of me, that rockin' side and that introspective side."
Lynne Hanson made a significant splash with her first three albums, Things I Miss, Eleven Months, and Once The Sun Goes Down, earning a nomination for a Canadian Folk Music Award in 2009 and winning the coveted Colleen Peterson Songwriting Award in 2010. She toured the United Kingdom and Ireland as support for Grammy-nominated Nashville based songwriters Steve Forbert in October 2012 and Gretchen Peters in March 2012, but did not release another album until her 2014 break out recording River Of Sand.
Hanson doesn't mince words about what she went through in the interim. "For the first year after I put the last album out [2010's Once The Sun Goes Down] I was on the tail end of a very bad decline, and spinning out of control,
I woke up one day and realized this isn't what I wanted to be. I had gone out the night before with a friend, who doesn't drink, and I was just going to drink soda water, but I still got hammered. I was like, 'Something's gotta change.' I quit drinking, cold turkey, that day. It was Sept. 1, 2011."
Lynne is frequently lauded for the authentic content of her music and for the unfiltered emotional intimacy it conveys. She won't pretty up songs to make them go down easy; they can land as hard as Lynne has herself too often in her life. No surprise then that Roots Music Report writes: "A thread of quiet urgency runs through Lynne Hanson's songs." Pennyblackmusic, a British online magazine, observes: "Lyrically, the intensity on matters of the heart are comparable with Janis Ian, Dory Previn, Norah Jones, Laura Marling."
The Indie Acoustic Project named River Of Sand Best Alt Country CD of 2014. The Irish Times, too, gave it high praise by writing; "What makes this an exceptional piece of work is the quality of the songs. Both lyrically and melodically they offer a colorful honesty and an economy that sharpens their country-folk punch... Certainly Hanson has made one of the standout country albums of the year." And the Cambridge Times said of Lynne, "She's made the only roots rock record of the year to hold a candle to Rosanne Cash's The River and the Thread".
Hanson called River of Sand "by far my most honest album. My previous albums have expressed events, feelings in a round about way, almost in code. This is me opening up, completely." She further explained in another interview, "Having gone through depression and all these things, it's the most lonely feeling in the world. The worst part of it is that you feel like you ARE alone, even if there's people around you. I wanted to say something about all of us who feel this way. We are all the same. It doesn't make you faulty or broken..."
Since issuing River Of Sand, Lynne Hanson released a shorter collection of murder related tales, that British-based Three Chords and the Truth UK described as: "a mesmeric collection of seven dark pieces, splendidly assembled under the title 7 DEADLY SPINS... there are echoes of Gillian Welch, Lucinda Williams and Rosanne Cash detected throughout the record." The latter comment reinforces an observation about Hanson made previously by the website newcanadianmusic.ca, when they concluded that "Fans of Gillian Welch and Lucinda Williams should definitely investigate."
Lynne recently returned from touring Europe in time for the release in April of her brand new full length CD, Uneven Ground, recorded with her full band The Good Intentions, before they all head off to Europe again. Saturday's show features Lynne playing alone, unplugged, in an ideal intimate listening room setting, and definitely should not be missed.