Saturday, December 10, 2016 -

7:30pm

to

10:00pm
Location
Phoenicia,
NY
124364
United States
New York US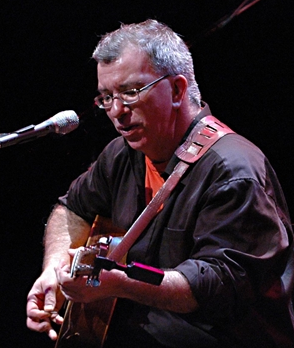 On Saturday, December 10, acclaimed Canadian folk-singer James Keelaghan performs in Phoenicia for Flying Cat Music at the Empire State Railway Museum at 70 Lower High Street. The doors open at 7:00 p.m. and music begins at 7:30. Tickets are $20 or $18 with reservations. For information or reservations email flyingcatmusic@gmail.com or call 845-688-9453.
James Keelaghan is one of Canada's most esteemed songsmiths. It is difficult in folk music to compile a career as distinguished as his has been to date. Keelaghan arrives in Phoenicia for one of the final stops on his "History: the First 25 Years" Tour, celebrating the release of some of his career highlights on a CD of the same name. James Keelaghan issued eleven other CD's during the period chronicled, winning numerous accolades in the process. He has has been nominated for five Juno awards, the Canadian equivalent of a Grammy, winning that prize for best roots and traditional album in 1994.
James Keelaghan is a four-time nominee and a winner of multiple Canadian Folk Music Awards, most recently in 2014 when he was named Solo Artist of the Year, among other honors. Leading American Rock critic and author Dave Marsh has proclaimed James, "Canada's finest singer songwriter." Keelaghan twice won the USA Songwriting Contest in the folk category for the songs "Cold Missouri Waters" and "Message to the Future." American audiences largely were familiarized with the former through a 1998 recording made of it by the folk supergroup Cry Cry Cry, consisting of Richard Shindell, Lucy Kaplansky, and Dar Williams.
As formidable a songwriter as he is though, Keelaghan is just as impressive as a performer. Time Out London calls him, "A definite contender for Canada's leading acoustic performer," adding, "he is one hell of a good songwriter, and as a guitarist his playing is practically faultless." Britain's NetRhythms.co.uk praises James for, "his gorgeously rich baritone voice and exemplary guitar work the hallmarks of an artist in full command of his material and his resources." While Sing Out magazine says Keelaghan possesses, "one of the most glorious male voices in the folk community."
A reviewer of his work on ABC Radio Australia once remarked, "Canada's James Keelaghan was a revelation. His warm, round, big-chested voice immediately put me in mind of compatriot Gordon Lightfoot. The songs, on both historic and personal themes, are deeply-thought gems." Time and time again the critics comment on those same aspects when discussing James Keelaghan's music, his singing, and his songs. For a singer-songwriter, that pretty much aces it.
That he titled his career compilation CD "History" says more about James Keelaghan than might at first be apparent. He earned a degree in history years ago and now regularly reads about eighty books a year. Most are non-fiction and about history. As James explains it; "I'm always on the lookout for a good story or idea."
The Boston Globe praised how Keelaghan "…displays a genius for finding his way deep inside big stories," and it's true. His penetrating song "Cold Missouri Waters" for example, indelibly captured a tragic moment in American history; the August 5, 1949 Mann Gulch fire along the upper Missouri River in Montana. A team of fifteen smokejumpers parachuted into the area to fight it that afternoon, and, of those fifteen, twelve perished along with another fire fighter. One of the survivors was the foreman Wagner Dodge, who intuited a survival tactic that the United States Forest Service had previously not recognized. Dodge's crew rejected it however, and attempted to outrace the flames:
"Sky had turned red, smoke was boiling Two hundred yards to safety, death was fifty yards behind I don't know why I just thought it I struck a match to waist high grass running out of time Tried to tell them, Step into this fire I set We can't make it, this is the only chance you'll get But they cursed me, ran for the rocks above instead..."
Controversy surrounded Foreman Dodge and the escape fire he lit. He was subject to questioning by a Forest Service Review Board that convened after the tragedy, and was haunted until his own death by his failure to convince his men to trust his instincts. Time has validated Dodge's actions, and training for fire fighters today incorporates the insight he had that day. But the very human history of how things come about can so easily be forgotten. The vividness of fear and grief felt almost seventy years ago comes alive again through the telling of a tale in song. That is folk music, it is what James Keelaghan does, and no one does it better.