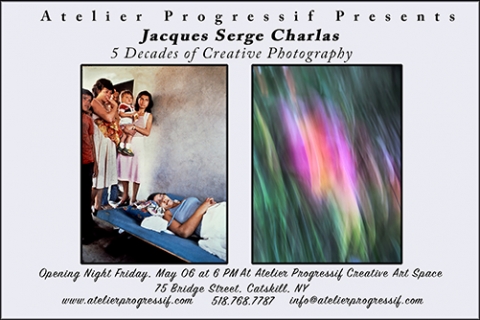 Dear Friends and Art Lovers,
We invite you to join us at the opening of Jacques Serge Charlas, Five Decades of Creative Photography at Atelier Progressif on Friday, May 6th, at 6:00 PM.
The Exhibition will showcase Jacques Charlas' oeuvre including his first project in the early 1970s documenting the disappearance of Paris' central market, Les Halles; the El Salvador revolution in the late 70s; coverage of the Soviet-Afghan War in the early 80s; and his story on Wall Street greed.  Later works in the show include Mr. Charlas' Faces project, produced in the 90s, which portrays deeply surreal images found in ordinary objects; and his most recent body of work, in which he uses the camera as a brush and light as color to create digital paintings of contemporary abstract images.  
For five decades, Jacques Charlas has been at the forefront of the creative process.  His images are a highly sensitive mix of social relevance and emotional depth imbued with poetry and an intellectual impact that make them exceptional.
We hope to see you there,
Yechiam Gal/Principal
Atelier Progressif
Creative Art Space
75 Bridge Street
Catskill, NY  12414
518.768.7787