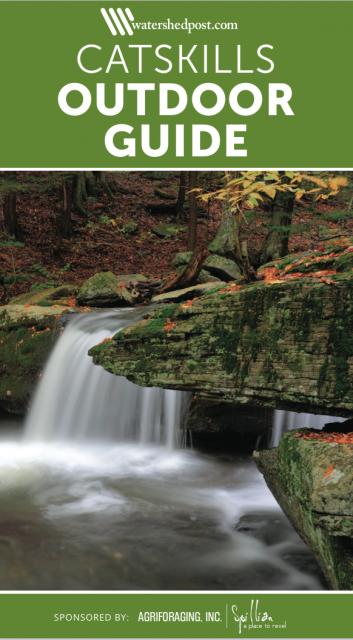 The Catskills Outdoor Guide is an annual print publication that comes out in late May and is distributed year-round in the Catskills and metro-area NY.
The deadline to advertise in the 2016 Outdoor Guide is April 1, 2015. Reserve your slot now: Contact Ben Fenton by emailing ben.fenton@watershedpost.com or calling us at 845-481-0155.
Highest praises to the impressive team behind the Watershed Post! Their website is our one-stop-shop for local news, so it's not surprising that their foray into the world of print would match their commitment to content and style. As an advertiser for several years, we can personally attest to the popularity of their publications - we can't seem to keep them on our shelves! Our guests are a mix of locals and visitors; both groups adore reading more about the stunning landscape and lifestyle of these Catskills mountains. We will remain ardent fans and advertisers for many more years to come.

-- Devin and Marybeth Mills, Peekamoose Restaurant
Content
The Catskills Outdoor Guide covers outdoor recreation and attractions in the Catskills region with in-depth reporting, lively writing and beautiful photography. 
The 2016 Outdoor Guide will also contain a pull-out map featuring popular hikes and outdoor recreation spots in the Catskills.
You can see the Outdoor Guide's content online here: http://www.watershedpost.com/outdoor.
Circulation and distribution
20,000 copies of the Catskills Outdoor Guide are distributed to over 100 locations in five Catskills counties, at a few select locations in the greater NYC metro area and at prominent regional events. 
Ad rates and deadlines
Deadline: April 1
Contact Ben Fenton by emailing ben.fenton@watershedpost.com or calling 845-481-0155.