Left: Schoharie County DA James Sacket, who recently announced his upcoming retirement.
Schoharie County District Attorney James Sacket has announced that he will be retiring after 20 years on the job as the county's lead prosecutor, kicking off what is likely to be a contentious race to replace him this fall.
Sacket made his announcement on Tuesday, just three days after Blenheim town supervisor Shawn Smith, a local attorney and President of the Schoharie County Bar Association, launched his campaign for the position. In an exclusive interview with the Watershed Post, Sacket confirmed what many in the political sphere had already come to believe: that the long-serving public official would be hanging up his spurs.
"It's time to turn it over"
First elected to the position in 1997 against then-incumbent Frank Klein, Sacket was frank about his decision to retire at 66.
"I'm getting tired and worn out," he said. "I often tell people you don't want to see what I see, know what I know…It's time to turn it over to someone a little bit younger."
Tasked with prosecuting the county's business, which has ranged from successfully overseeing three murder cases to handling thousands of parking tickets, Sacket said his office - consisting of himself, two assistant District Attorneys, and two legal assistants - has never been busier than now. Sacket attributes the active caseload to the raging heroin/opioid epidemic that has plagued rural New York.
While he is ready to spend more time with family and friends, the husband and father of two college students conceded that his retirement is "bittersweet" for him, because it is rare for a day to go by that he doesn't want to go into the office.
Looking back at his twenty years of public service, Sacket listed several accomplishments he was proud of, including establishing a permanent District Attorney's office and consistently coming in under budget. Sacket cited his office's ability to be a team player and problem solver as important.
While he personally hopes to one day be the only person alive who doesn't use any form of social media, Sacket said that his office has adapted to meet the challenges presented by 21st-century crimes, such as cyber and white-collar crimes.
When asked what he has planned for in his retirement, Sacket laughed, saying, "I think I'll start on some of those 'honey do' lists."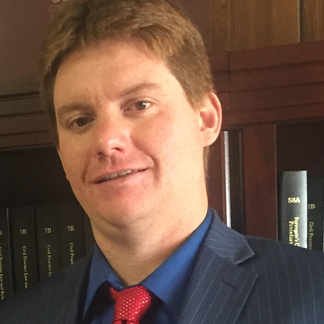 Left: Blenheim town supervisor Shawn Smith, who recently announced his candidacy for Schoharie County DA. 
Smith faces steep challenge
As the only publicly declared candidate for District Attorney so far, Smith has a more daunting to-do list ahead of him. Smith, a registered Democrat, will be facing an electorate where there are 2,500 more registered Republicans than Democrats, and the GOP controls every countywide elected office, including the DA position he is seeking.
Elected twice as town supervisor in the one-time Republican stronghold of Blenheim, Smith told the Watershed Post that he doesn't believe being a Democrat hurts his appeal.
"My experience is that the county residents vote for the candidates based on their merits instead of just strictly voting for one party over the other," he said. "When it comes down to it, I think that the voters will pick the attorney best able to serve them instead of choosing a candidate based strictly on which party they are running on."
Although no one has officially announced their intention to seek the Republican nomination so far, likely candidates include current Schoharie County ADA Susan Mallery and Otsego County ADA Marvin Parshall, Jr.
Regardless of whom receives the GOP nomination, neither will receive Sacket's endorsement, as district attorneys are prohibited from being politically active. This will mark the first time a DA election in Schoharie County has been contested since Sacket defeated Klein in a rematch back in 2001.
Despite the steep odds, it is possible for a Democrat to win countywide office in Schoharie. Such was the case in 2009 when Tony Desmond ran for Sheriff on the Democratic, Independence, and Conservative Party lines, and won by fewer than 50 votes. Smith, who is seeking the same three lines in his bid, is hoping to replicate Desmond's success, though it should be noted Sheriff Desmond ran for re-election as a Republican in 2013.
Smith is confident of his chances.
"If I can give the voters the opportunity to know me, they will see my experience, my accomplishments, my integrity and my motivation for seeking the office of DA," he said. "I think that will lead them to the conclusion to support my candidacy as it is in the best interest of the county."