Friday, November 18, 2016 - 7:30pm
Location
Phoenicia,
NY
United States
New York US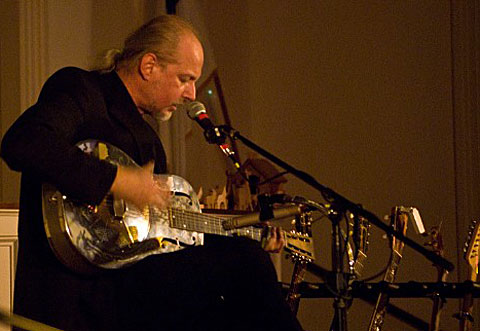 On Friday, November 18, acclaimed Canadian folk singer and now author Garnet Rogers performs in Phoenicia for Flying Cat Music at the Empire State Railway Museum at 70 Lower High Street. The doors open at 7:00 p.m. and music begins at 7:30. Tickets are $20 or $18 with reservations. For information or reservations email flyingcatmusic@gmail.com or call 845-688-9453.
It's impossible to write about this upcoming evening with Garnet Rogers without commenting also about his brother, but that's exactly how Garnet wants it. His extended concert tour is timed to coincide with the August publication of Garnet's critically acclaimed, 735 page memoir "Night Drive: Travels with My Brother," a darkly funny account of life on the road with his older brother --the legendary late folksinger Stan Rogers. Garnet hit that road as a full-time working musician at age 18, touring with Stan. Together, they formed what has come to be accepted as one of the most influential duos in the history of North American folk music.
In addition to accompanying Stan in their band, Garnet also acted as producer and arranger for his brother from 1973 to 1983, when Stan died tragically in a plane fire on his way home from the Kerrville Folk Festival in Texas. The Canadian Encyclopedia, in defining Stan Roger's legacy, says: "Analogies to Dylan and Guthrie persist, but Rogers defies all comparison. He was a unique artist, whose art and presence personified an entire country and lifted the abstract notion of "Canadian culture" to the highest levels of art." In April 1982 Stan Rogers himself wrote, "no other person can claim to be so much of an influence on my music, or so indispensable to what I do as Garnet."
Reflecting on Stan's contribution to music, Garnet once observed: "For every song that he was coming out with he was trying to explore and explain something about the human condition." Something quite similar can be said about Garnet Rogers, who has become an important singer-songwriter in his own right, recording more than one hundred of his own songs on fifteen solo albums. The Boston Globe calls him, "A brilliant songwriter. One of the major talents of our time" and Sing Out Magazine describes Garnet as "The greatest interpreter and vocalist performing in the contemporary folk scene." The Toronto Star calls Garnet, "A profound lyricist and respected composer." On a similar note, Dirty Linen says he: "knows and captures what is real and lasting—the joyous, contradictory poetry of living."
Even when he doesn't arrive with a book in hand to read from, a Garnet Rogers concert is always multi-faceted. Beautiful lyrics, exquisite guitar work, and rollicking tales of his travels are all hallmarks of his style. The thoughts that his lyrics convey are often deeply introspective, but his themes are wide reaching and relevant to all. Garnet's songs engulf listeners gently, washing over the audience in resonant waves launched by his rich, baritone vocals and exquisite multi-instrumental musicianship. The effect can be hypnotic. Then, before you slip too deeply under, Garnet pulls you back with a wickedly wry observation or some seemingly straight forward story that morphs into a hysterical riff.
Within Garnet's new memoir, multiple moods there too emerge. A review of "Night Drive: Travels with My Brother" in the Hamilton Spectator, observes that: "Life for a touring folk musician during the '70s and early '80s was not easy, often ugly and sometimes hilarious," concluding with "Garnet lays it out in detail with a witty and engaging style that makes it a hard book to put down."
"Bad food and horrible vermin infested motel rooms," Garnet summarized in the book's preface. "Booze, booze and more booze. Screaming fights, band firings and band resignations. Drunken maudlin rapprochements in parking lots behind some tiny coffee house as the terrified staff cowered inside." "I wanted to make it funny because it was awful at the time" Garnet later explained to an interviewer. "It was hell. It was just the worst kind of humiliating existence to be on the road back in the mid-'70s. There was nowhere to play. You could get a gig if you were willing to play 'Feelings,' you know, or 'Bad, Bad Leroy Brown.'"
But though "much of the book is laugh-out-loud hilarious," to quote Nova Scotia's Local Express, "Night Drive: Travels with My Brother" is ultimately a testament to the life, and the love, Garnet and Stan Rogers shared. It is Garnet's in depth exploration of the feelings captured in the lyrics to the title track of his 1996 "Night Drive" album.
"Sleep overtook me on my westward flight
Held me in its keeping
I had a dream; it seemed so real
Its passing left me shaking
I saw you here behind the wheel
On this very road I'm taking...
... I don't know why I write these lines
It's not like I could send you the letter
It's that I love your more after all this time
It's that I wish I'd shown you better
Years have slipped
Beneath my wheels
Dwindling in my rear view mirror
As time has passed
Your life has seemed less real
But these night drives bring you nearer"
This concert with Garnet Rogers will be a special and intimate experience.