The Catskills are betting big on electric vehicles.
Public electric vehicle (EV) charging stations dot the region—close enough to keep an electric car driving for a whole day of leaf-peeping—and a Delaware County designer is building a prototype for a farm-friendly electric truck.
Robert Bollinger, the CEO of Bollinger Motors, is working with a team of engineers in a refurbished garage on Main Street in the Delaware County town of Hobart to design an off-road electric truck—the first of its kind, he said.
Bollinger has plans to debut a prototype at the New York Auto Show in April 2017.
During a visit last spring, a full-size wooden mock-up of Bollinger's planned all-wheel drive pickup truck sat in a garage bay, equipped only with seats, accelerator and brake pedals, and tires.
Above: A wooden mock-up of the electric truck Bollinger Motors is designing. Photo by Robert Cairns.
While many designers begin with existing cars and figure out how to electrify them, Bollinger said, he had a different vision.
"What if we just started from scratch?" he asked.
He has set out to do just that, recruiting a team of engineers on the business networking website LinkedIn.com.
"I had a childhood dream of wanting to have a car company," Bollinger said.
After a career that included owning and selling an advertising agency, John Masters Organics, he moved to Hobart and bought a farm in 2010.
Bollinger's co-owner, Simon Martinez, runs the day-to-day operations of Flaca Vaca Farm, which specializes in grassfed beef. 
The farm inspired Bollinger's idea for an electric truck.
"You don't really need a lot of range for a truck," he said. "A truck is kind of the best use for an electric vehicle."
Bollinger bought the garage building in the village in 2014 and renovated it to fit his needs for an electric-car design laboratory. The building contains an office with four computer work stations and a pair of large milling machines that will produce many of the parts for the vehicle.
Above: One of two milling machines in the Bollinger Motors shop in Hobart will be used to cut out parts for a prototype vehicle. Photo by Robert Cairns.
The prototype truck will be powered by a 40-kilowatt battery pack. (Once it reaches regular production, Bollinger plans to jack up the power of the pack to 60 kilowatts.)
The vehicle has will have two electric motors–one each for the front and back axles.
Above: Robert Bollinger displays one of two electric motors that will drive his truck. Photo by Robert Cairns.
Bollinger said that the truck's power will be "really up there"--comparable to a Chevy 2500 or 3500 model truck.
"Probably more, actually," he said. "It's like a workhouse. Because of its torque and horsepower, you can load it with thousands and thousands of pounds."
The frame and body will all be be made from aluminum, both to reduce weight and to do away with the problem of rust.
"We're trying to keep it simple because we're looking to do it by hand," Bollinger said.
In addition to a rust-free body, he said, electric motors will do away with some of the other upkeep needed for trucks, such as oil changes.
"For us to have something that's maintenance-fee would be pretty nice," he said.

Above: A team of engineers at Bollinger Motors works on the design for an electric truck. Photo by Robert Cairns.
The vehicle will be engineered for off-road use, but will be road-legal. In addition to front bucket seats, it will have a bench seat for passengers.
The firm is producing the parts for the prototype now, and plans to have it completed by February.
"We have a few months of making parts and then we'll start welding," Bollinger said.
After a working vehicle is built, it will be taken to automotive test tracks to compete against existing vehicles and prove that it meets the ratings that the designers claim.
In April, Bollinger's truck will appear at the New York Auto Show in New York City in a bid to attract investors, who, with luck, will bankroll mass production.
Mass production of the truck won't happen in Delaware County, though Bollinger hopes to keep the production in New York. He said the work will be contracted to an existing manufacturer.
Bollinger is using his own design experience to create the exterior of the vehicle. He has four other team members working on the project as well.
His senior engineer is Karl Hacken, who, Bollinger said, "took the gamble" to come to Hobart from Wisconsin to take the lead on the design of the chassis and suspension.
Above: Karl Hacken, lead engineer on the project, works on the design for the vehicle's suspension. Photo by Robert Cairns.
C.J. Winegar graduated from the Rochester Institute of Technology in May and is concentrating on the gears that make the vehicle work.
John Hutchison comes to Bollinger Motors from General Motors, where he worked in fuel cell technology. He is working on the heating and cooling aspects of the new vehicle.
And Luc Pham, an engineer based in Los Angeles, is working on batteries. 
Above: A model of of the Bollinger Motors electric truck helps designers understand the placement of elements of the vehicle. Photo by Robert Cairns.
Bollinger is excited about the future. "It's been a crazy road, but we're in a great spot right now," he said. "It's coming together nicely."
No more "range anxiety"
Once Bollinger's truck gets on the road, there will be plenty of places across the Catskills to charge it.
Delaware County is currently home to five EV charging stations—in Harpersfield, Arkville, Margaretville, Delhi and Hobart.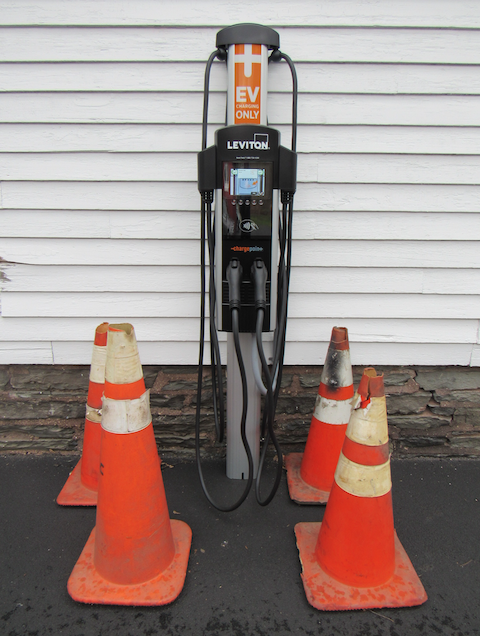 Above: This EV charging station, behind the carriage house at the Delaware County Electric Cooperative office in Delhi, is one of three such stations placed in the county by Transition Catskills. Photo by Robert Cairns.
Three of those EV charging stations were installed this year by Transition Catskills, a group operating under the auspices of the Margaretville-based MARK Project, as part of its mission to promote renewable energy.
Kristina Zill, the coordinator of the group, said that the stations, located at the Delaware County Electric Cooperative in Delhi, the Hobart Community Center and at the village hall in Margaretville, are the latest in a series of projects that have included a county-wide seed swap and workshops on solar panels.
She said that Transitions Catskills hopes to encourage the use of EV vehicles by making sure that drivers are never far from a charging station in Delaware County.
"One of the reasons people don't switch to EV is that they have range anxiety," she said.
An added incentive, Zill said, is that charging vehicles will cost drivers no money for the first four years, thanks to a grant from the New York State Energy Redevelopment Authority (NYSERDA).
Zill said that the efforts to get more people driving electric cars in the Catskills are working.
"I've talked to people who said, 'Hey, I need to change to an electric car,'" she said.
A challenge that remains is the time it takes to charge an electric car. Zill said that it takes two to four hours to fully charge a vehicle.
But this can work to a community's advantage. Zill said that the placement of EV charging stations in the three Catskills villages is meant to encourage drivers to spend time and money at local stores and restaurants while their vehicles are charging.
A fully-charged vehicle, Zill said, can have a range of 100 to over 200 miles.
NYSERDA made Delaware County charging stations possible, funding 85 percent of the cost. A grant from the O'Connor Foundation also helped, and Transition Catskills also picked up some of the cost.
"It was kind of a joint effort," Zill said.
There may be more charging stations in the works. Zill said that the Franklin Chamber of Commerce has expressed interest in having a charging station, and Sidney may be home to a station in the near future as well.
Zill said the stations must be in areas with cellular data signals, because they are connected to the internet. Drivers of electric vehicles are equipped with cell phone apps that help them find the stations.
She said that the EV stations are a small step in transitioning to clean energy.
"It's not the total solution, because not everybody can afford an electric vehicle, but it's part of the solution," she said. She also said she'd like to see electric-powered mass transportation, such as a bus, in the county.
Outside of Delaware County, EV drivers can find charging stations at the Hunter Mountain and Windham Mountain ski centers in Greene County, at the Catskill Brewery in Livingston Manor in Sullivan County, at the Schoharie County Office Annex in Schoharie County, and at a whole slew of locations in Ulster County.
Other charging stations in the region may be found at these locations, according to www.plugshare.com:
• Catskill Center, 43355 State Route 28, Arkville
• New York Safety Track, 396 Zimmerman Rd, Harpersfield
• Windham Mountain, 33 Clarence D Lane Road, Windham
• Hunter Mountain, 64 Klein Ave, Hunter
• Catskill Brewery, 672 Old Rte 17 Livingston Manor
• Ulster County - Trudy Resnick Farber Building, 50 Center St., Ellenville
• Mohonk Mountain House, 1000 Mountain Rest Road, New Paltz
• Modena Travel Plaza Southbound, I-87 Milepost 66 Southbound, Modena
• SUNY New Paltz - Elting Main Parking Lot #5, New Paltz
• Rosendale Park & Ride, 1056 State Route 32, Rosendale
• Kingston Nissan, 140 Route 28, Kingston
• Ulster County Dept of Public Works, 315 Shamrock Lane, Kingston
• Ulster County Courthouse, 285 Wall Street, Kingston
• Ulster County Office Building, 244 Fair Street, Kingston
• Ulster County Probation Dept, 711 Broadway, Kingston
• Ulster County Health Department, 9 Golden Hill Drive, Kingston
• Ulster County Law Enforcement Center, 380 Boulevard, Kingston
• Kingston Center of SUNY Ulster, 94 Marys Avenue, Kingston
• Ulster County Dept of Social Services, 1051 Development Court, Kingston
• Hampton Inn by Hilton, 1307 Ulster Avenue, Kingston
• Romeo Chevrolet Buick GMC, 1665 Ulster Avenue, Lake Katrine
• Country Club Nissan, 55 Oneida Street, Oneonta
• SUNY Oneonta, 108 Ravine Pkwy North, Oneonta
• SUNY Cobleskill, Columbia Lane, Cobleskill
• Gables Chevy, 24311 State Route 7, Cobleskill,
• Apple Foods and Grocery, 3611 State Route 7, Central Bridge
• Schoharie County Office Annex, 113 Park Place, Schoharie