Above: The Broadlands mansion–the former Gerry Estate–which has been listed for sale. Photo via a listing on the Douglas Elliman Real Estate website. 
A century-old mansion and nearly 2,000 acres of land, once part of the famous Gerry Estate, are for sale for $12 million.
Broadlands, once known as Aknusti, was built by tycoon Robert Gerry in 1912, destroyed by fire in 1953 and rebuilt, according to a history written by its current manager, Andy Wos.
In recent days, it was rumored to be at the center of a proposed resort that has not developed. 
Last week, Broadlands appeared on the real estate website trulia.com. 
The listing describes the Broadlands parcel as 1,964 acres spread over the townships of Andes, Bovina and Delhi, but also describes the lot size of the property as one acre. Delaware County's tax maps show seven connected parcels of land in that area, all owned by Broadlands Investments LLC. The property lies between Delaware County Route 2 and state Route 28.
When asked for comment, Wos, who is the chief executive officer of Broadlands Management Corporation, said in an email to the Watershed Post that there is "nothing to report" on plans for the property.
"I guess you'll just have to take the 'for sale' listing at face value," he wrote.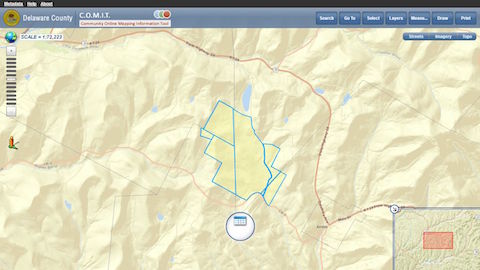 Above: This screenshot, from the Delaware County tax map website, shows the lands of Broadlands–the former Gerry Estate–which has been listed for sale.
Wos said in a 2015 Watershed Post interview that Aman Resorts, which operates resorts around the world, had been involved in plans to develop Broadlands since 1997, but also said: "Under my watch, there have been seven different ownership groups" of the Broadlands property.
According to historic real estate sales information, Broadlands sold in 2012 for $5.5 million, and in 2011 for $4.7 million, both times to entities with "Broadlands" in the name.
The current real estate listing, which is being handled by Douglas Elliman Real Estate in Long Island, does not indicate that a resort is imminent on the property, saying it is the "perfect property for investors, hoteliers or a grand residence in the country."
Previous coverage:
Suspicions swirl around resort plans for Andes, June 22, 2015