Above: A dachshund in lederhosen from the 2014 Doxie Derby. Photo by Matt Petricone.
And they're off! We're not talking about thoroughbred horses or greyhounds. No, the creatures that are going to be running their hearts out at Hunter Mountain on Saturday, August 8 are dachshunds. Winning wiener dogs. It's the second year running, so to speak, that the Dachshund Derby has been a feature of the mountain's annual German Alps Festival.
The festival runs from Saturday, August 8 to Sunday August 9 and will feature live music, entertainment, food and beverages. Saturday's entertainment begins at noon and ends with a fireworks display at 9:30 p.m.; Sunday's kicks off at 11 a.m. and ends at 6 p.m. Admission for those who lack dachshunds is $12 for adults and free for those 12 and under and for those who are bold enough to dress in traditional German garb.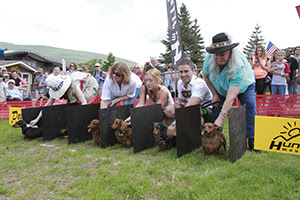 Left: Dachshunds at the starting line of the 2014 Doxie Derby. Photo courtesy of Hunter Mountain. 
Entering your "Doxie," as they're familiarly called, in the festival's Doxie Derby will get you two free festival tickets – you'll need a friend along to hold your pup while you call and cheer from the other end of the course. A costume contest follows the derby; both winning racers and best-dressed get prizes.
We spoke to organizer Katie O'Connor about the running of the dogs and what they add to the festival's delights.
Watershed Post: Dachshund Derbies are becoming an increasingly popular feature at German-themed festivals. Why do you think this might be?
Katie O'Connor: I think Dachshund Derbies are becoming more popular because it's a fun event for all ages! Last year, the inaugural Derby drew a HUGE crowd, more than most events at the festival. Watching the competitors race to the finish line for a treat is a gut-wrenching laugh for all, especially when a few of the canines are uncertain as to what they should be doing and run the wrong way.
WP: How does a Dachshund Derby actually work?
KO: Six Doxies line up at the starting gate with the help of one of their owners. A second owner stands at the finish line with treats and calls for its four-legged friend to cross. When the announcer yells "GO," the owners at the starting gate release their canine friends and watch as they dart toward the finish line. Last year, there were five heats and a final round, in which winners from each of the five preliminary rounds competed.  
WP: So how did last year's Dachshund Derby go?
KO: Last year, about 30 participated. Five heats of six dachshunds. The final heat determined the speediest Dachshund at the 2014 Derby. Most of the stout, short-legged canines made it to the finish line. Others were confused as to what was going on around them and got a late start, but once they saw their owners coercing them with treats at the finish line, they composed themselves and made a beeline to the finish.  
WP: So as to the costume contest that follows the race, what do you think is the most fashion-forward look for a dachshund?
KO: The most fashion forward look, based on last year's Doxie Fashion Show, is definitely lederhosen. What better way to represent the heritage of the Dachshund than to dress up in lederhosen?
The Hunter Mountain German Alps Festival. Saturday, August 8 and Sunday August 9. Hunter Mountain, 64 Klein Ave., Hunter. 518-263-4223. huntermtn.com.