Greg Wilhelm, who just completed his last semester at SUNY Cobleskill, is not your typical recent college grad. As he finishes his bachelor's degree in business administration, he is starting a real business: Royal Meadery, which is on track to open in the Schoharie County town of Richmondville in June.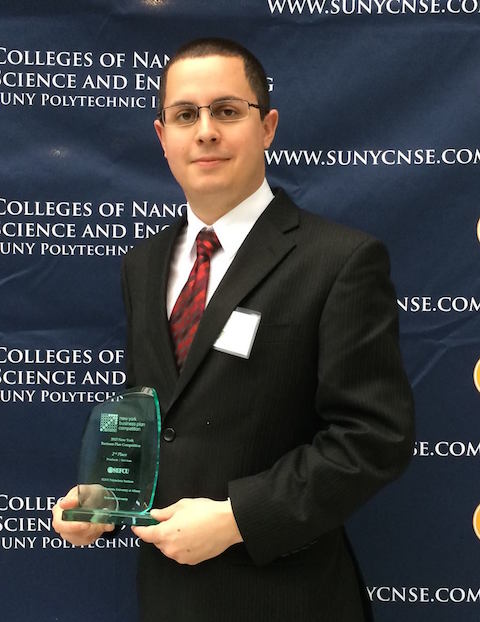 Left: Greg Wilhelm. Wilhelm's business plan for Royal Meadery won second place at the 2015 New York Business Plan Competition in April 2015.
Mead is not exactly a common choice for college students — at least not in this century. The wine-like beverage, created by fermenting honey with water and other ingredients, is known as the drink of either the Norse gods or the Greek gods, depending on whom you ask.
"You could ask 50 different people and they'd give you 50 different stories," Wilhelm said. "Some people market it as a Viking drink. There are Greek myths that say you should give people mead for the first 30 days after marriage to encourage a boy's birth. I don't know. But it was the oldest fermented beverage, and that's the really cool part about it — it's still going today."
Three years ago, in between jobs, Wilhelm, now 28, entered Cobleskill's business administration program, making him a "non-traditional student." While completing schoolwork and working full time at an engineering firm, he also had a hobby: making homebrewed beer, which he started dabbling in back in 2009.
Above: Berries fementing at Royal Meadery, on their way to becoming Mumford's Melomel, a berry mead. Photo by Greg Wilhelm. 
"When I started making beer, I wanted to do it hyperlocal," he said. "So I started growing my own hops, blueberries, raspberries. Then I said, 'Well, I might as well have bees, so I can make my own honey.'"
However, the beekeeping soon took over, becoming the sole focus of Wilhelm's free time.
"I started with one hive — and then I got addicted," he said. "I bought two more the first year, and every year I've grown. And then I had an abundance of honey. What else do you do with honey but make mead?"
The big push toward mead-making came from a business professor at Cobleskill who, when Wilhelm expressed his love for beekeeping, steered his student toward something a bit more lucrative.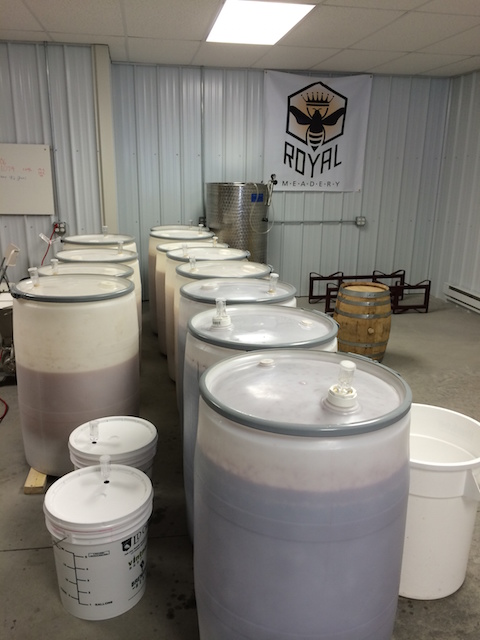 Above: The fermenting room at Royal Meadery. Photo by Greg Wilhelm.
"You'll never make money doing that," his professor told him about keeping bees. "You really have to do something that you're passionate about but that you can make money at."
So, over a period of three years, Wilhelm and his professor put together a meadery business plan — and then his professor entered their work into the New York Business Plan Competition in April of 2014.
"We went to the regional qualifier, and I won 'Products and Services.' It was a really big confidence boost," Wilhelm said. "Then we went to the state competition, where it's very hard. I mean, some participants were paying spokespeople to talk! I'm a horrible talker!" he jokes. But, despite his "underdog" status, Wilhelm took home third place.
After that victory, Wilhelm decided to put his business plan to the ultimate test by launching Royal Meadery. But for him, this undertaking is more than just business — he's on a mission to open people's minds to mead.
"Everyone says, 'Oh, I hate mead, it's too sweet,'" Wilhelm explained. "And there are horrible meads out there — I'll be the first one to say it. I was in California [at a mead convention], and I had about sixty meads. There were some terrible meads. But there were also some meads that blew me away — and I hope I can make some meads that blow people away."
He plans to accomplish this by producing what he calls "bridge beverages" — meads that fall more toward dry red wine on the flavor spectrum.
Royal Meadery's "Mumford's Melomel" is one of these. Made of honey and water fermented with black currants, blueberries, blackberries and raspberries, the mead is subtly sweet and unexpectedly balanced.
Wilhelm's other varieties are equally original, like the "New York Apple Pie," which replaces the water in a traditional mead recipe with apple cider and adds spices and vanilla beans.
"These meads are something you don't taste everyday," Wilhelm said.
Now that he's fermenting commercially, Wilhelm has had to outsource some of his ingredients, combining the production from his hives with honey from other farmers who share his philosophy.
Wilhelm has held on tightly to the idea of "hyperlocal," coordinating with nearby farms for the fruit and ciders he uses. He's also making connections with other Catskills-area craft beverage outfits like Green Wolf Brewery in Middleburgh and Kymar Distillery in Charlotteville, with whom he hopes to work to cement Schoharie County as a craft beverage destination.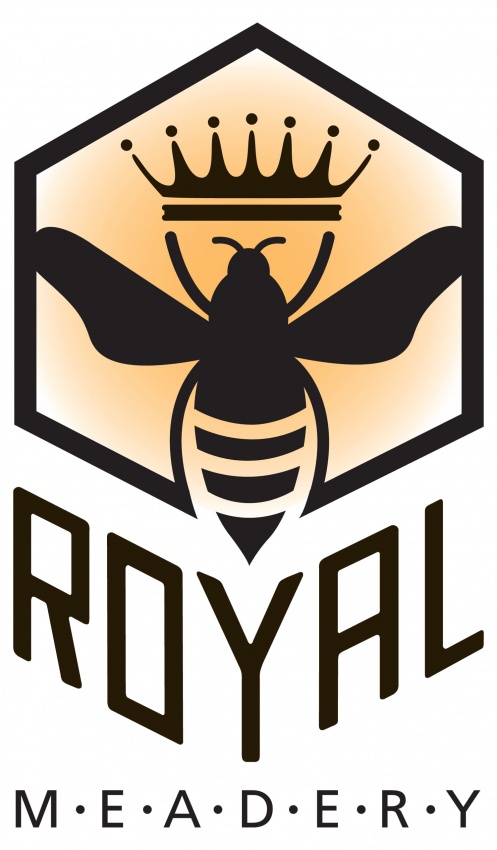 Above: Royal Meadery's logo.
But first, Wilhelm has to open his own tasting room. He is both the brains and the brawn behind Royal Meadery, and as a one-man team — with help from friends and family — he started producing the mead in January of 2015.
Technically, mead is finished after 21 days of fermentation, but letting it age creates a better flavor. The meads that began this process in January will be served at the Meadery opening June 20.
And Wilhelm is still taking home awards. On April 24, his team won second place at the 2015 New York Business Plan Competition.
All of this — before graduation. "Technically, I'm still in school," he laughed when we spoke during his last semester. "I'm on 'life experience.' Instead of doing an internship, I started a business."
The Royal Meadery tasting room, located at 1532 Highway 7 in Richmondville, will open June 20, 2015. On August 1, National Mead Day, the Meadery will be hosting a celebration of all things mead.