Above: An ice rescue training on the Rondout Reservoir on March 10. Photo via the DEP's Flickr page.
March, when the ice of Catskills lakes and reservoirs is the thickest, is the time of year when first responders freshen up their ice rescue skills.
Last week, police and fire departments around the region chopped holes in ice and took turns donning bright, insulated dry suits to practice how to reach a victim who had fallen through ice into frigid water.
On March 10, on the Rondout Reservoir in Ulster and Sullivan counties, police and water quality experts from the New York City Department of Environmental Protection conducted rescue drills.
That same week, in Schoharie County, rescuers practiced used a Rapid Deployment Craft (RDC) in Summit. (We wrote about the annual Summit drill last year.)
Above: A first responder drags a Rapid Deployment Craft out to a "victim" on the ice in Summit. 
On Big Pond in Andes on March 7, the Andes and Beaverkill fire departments and a forest ranger from the New York State Department of Environmental Conservation took turns playing the "victim" who had fallen though the ice. 
Unlike during a real rescue, the "victims" wrote dry suits. Inside a dry suit, even in icy water, "it's quite comfortable," said Andes Fire Chief Dale Tait.
But for someone in normal clothing, it only takes three or four minutes in icy water for hypothermia to set it, Tait said. So first responders, working in pairs, must practice getting into bulky dry suits and getting out on the ice quickly and safely.
"You get into a suit, put the rope on the victim and then the shore party starts pulling gently," Tait said. "Then you pop them right out."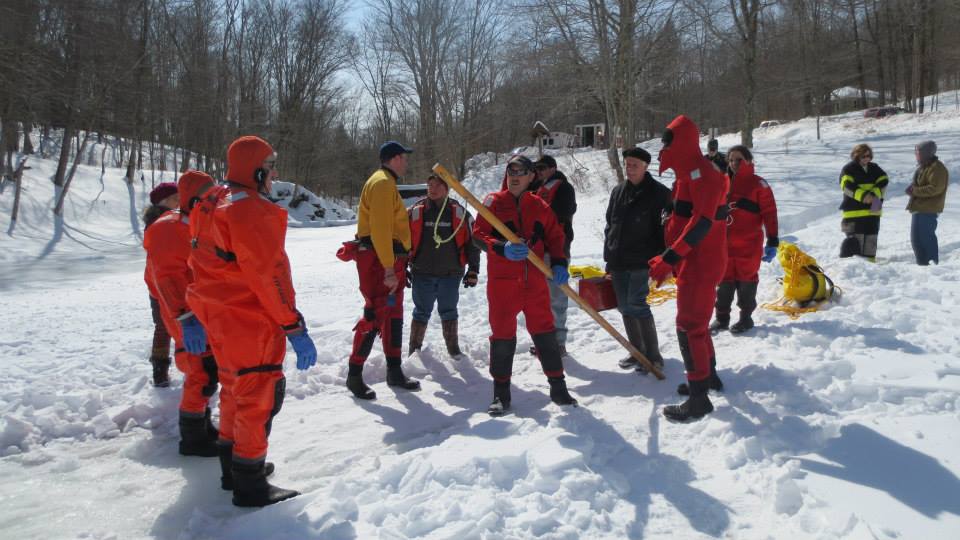 Above: Dale Tait, center, instructs fellow firefighters during an ice rescue training on Big Pond in Andes on March 7. Photo by Mary Davis. 
The rescuer follows behind as the victim is pulled ashore, providing gentle encouragement.
"The biggest thing the rescuer can do is to keep them calm," Tait said.
Ice rescue drills are serious training, but they're also a chance for first responders to get outside and have fun. After hours in the water, the Andes and Beaverkill rescuers broke out a buffet on the lake's shore. 
"What we really need is volunteers; young, able-bodied people who are are interested in becoming firefighters," Tait said as he ate his post-ice-plunge lunch. "We don't have a lot of young people who want to do this, and we need more."