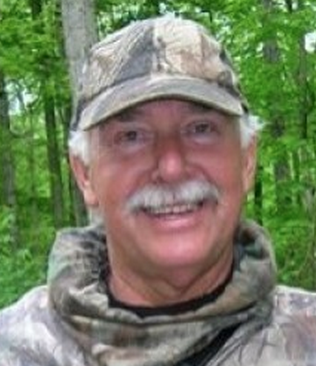 Forty-two days after he was badly burned in an explosion in his garage in the Delaware County village of Margaretville, 72-year-old Glenford "Sandy" Scudder died of his injuries on Sunday, April 26 at Westchester Medical Center, according to an obituary released by the Hynes Funeral Home in Margaretville.
Left: Sandy Scudder, pictured in a photo from a GoFundMe page, died on Sunday, April 26 of injuries sustained in an explosion on March 16. 
Scudder was a well-known figure in Margaretville, the village where he was born and lived all his life. According to his obituary, Scudder was passionate about hunting, classic cars, his two dogs and watercross, a sport where snowmobilers hydroplane their vehicles across lakes and rivers.
On March 16, 2015, Scudder was working on a Jeep in his garage on Route 30 in Margaretville when vapors from "an unknown source" ignited, causing a large explosion that destroyed the garage and set off an inferno so hot that it melted the siding off a nearby house.
Scudder survived the initial blast. With the help of two neighbors, he crawled through the fire to safety. He was then airlifted to the burn unit of Westchester Medical Center, where he remained until Sunday, when he died. 
The village of Margaretville rallied to Scudder's aid, raising tens of thousands of dollars to help pay for his medical care. 
Read Sandy Scudder's obituary, below: 
Glenford "Sandy" Scudder, aged 72, resident of Margaretville died Sunday, April 26, 2015 at Westchester Medical Center. Sandy was born July 20, 1942 at Margaretville, New York, the son of Glenford G. and Ina Mae (Green) Scudder. He married Margaret Burroughs in 1990 at Arkville, New York. Sandy carried on a third generation logging business and also was well known for operating his trucking company. He was a life-long resident of Margaretville. Sandy served in the US Army from 1961 to 1963, spending time in Germany.
He enjoyed watercross racing, hunting, classic cars and most of all his two dogs.
Survivors are his wife Margaret Scudder, children Paul and his wife Stacey, Crystal, Rodney, Victor and stepson Mike Beck.
Sister Jean (Rob) Schindelheim and half sisters Ann Boland and Vinnie Finch. Uncle John (Ruth) Green. Twelve grandchildren, two great-grandchildren and several nieces, nephews and cousins.
A funeral service will be conducted at 2:30 p.m. Saturday, May 2, 2015 at the United Methodist Church in Margaretville, New York with Amy Hinkley Tompkins officiating. Committal service will follow at the Halcottsville cemetery, Halcottsville, NY. Calling with be held at the Hynes Funeral Home, Margaretville, NY on Friday, May 1, 2015 from 2 p.m. to 4 p.m. and from 6 p.m. until 8 p.m. Funeral arrangements are entrusted to the Hynes Funeral Home, Margaretville.
Correction: A previous version of Sandy Scudder's obituary referred to one of his half sisters as Ann Maxim. Her name is now Ann Boland.