Rebecca Andre, a resident of the Delaware County hamlet of Halcottsville, witnessed one of the many brush fires that have plagued the Catskills in the past week while she was out on a walk near her home last Thursday, May 7. Andre is a professional photographer (check out her work at Mountain Girl Photography and Design), so she took photographs of the blaze and sent us this report. Halcottsville Fire Department Chief Jeff Slauson confirmed that the fire was caused by a tree limb falling on an electric line. A tree-trimming crew from NYSEG has trimmed other branches in the area to prevent more incidents, he said. - Ed. 
A deliciously beautiful Catskill day turned dangerous on Thursday, May 7 when a spark from an electric line ignited the top of a sap-covered birch tree, causing a small forest fire in the Delaware County hamlet of Halcottsville. 
On Thursday, May 7, I was finishing a foraging hike – ramps are in season now – when I heard the tone for the Halcottsville Fire Department echo through the tucked away hollow of Maegers Road.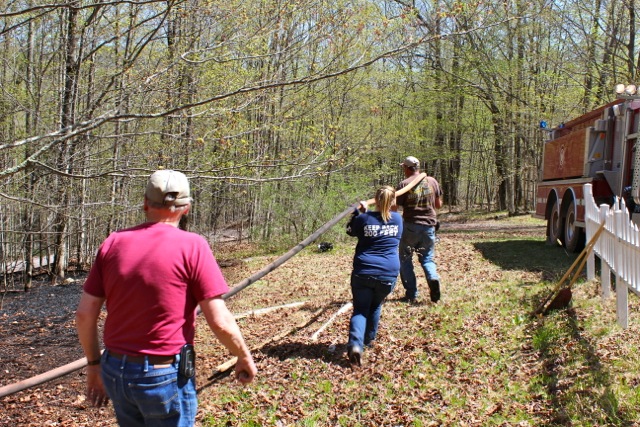 Above: Fighting flames along the burn line. Photo by Rebecca Andre. 
Less then five minutes later, when the trucks start passing my home on the private, dead-end road, I assumed they were lost. Shoes slipped on, camera in hand, I started up my driveway, only to be met by Burr Hubbell and a firefighter kicking up dust as they raced to the scene in Mr. Hubbell's vehicle. I hitched a ride, and soon found myself at the scene, less then half a mile from my own property.
Instantly, I began snapping photos. Then the first responders asked me to go back to my home and retrieve our family's side-by-side all terrain vehicle. This was used in several trips, carting firemen up and down the steep mountainside. The fire, which was a waist-high line of flames, was under control in the blink of an eye, due to the quick work of the Halcottsville Fire Department.
Above: Halcottsville firefighter Stephanie Finch battles the blaze. Photo by Rebecca Andre. 
While the fine fire was subdued, finicky little flames would would pop up alongside it, heating up the leaf-covered forest floor. Our neighbors, John Biruk and Charles Maeger, found themselves pitching in, grabbing any rake or steel broom to be found and attacking these pop-up mini fires.
Next on the scene was the Roxbury Fire Department, which also pitched in with their water-equipped side-by-side ATV, which expertly snaked its way through the burning birches of the property, spraying any little spark that re-ignited.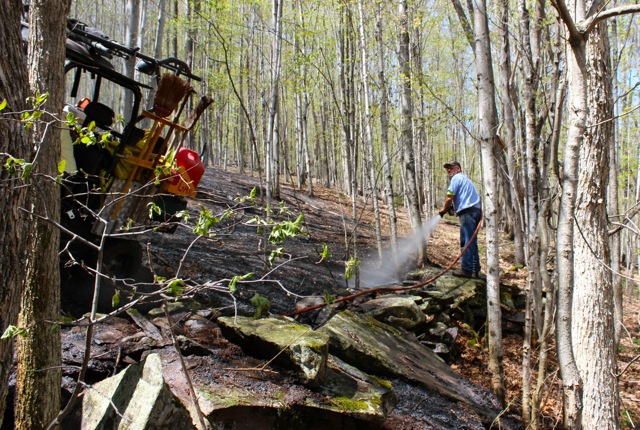 Above: The fire sparked on steep terrain. Photo by Rebecca Andre. 
Thankfully, no one was home at the little cabin on the property, which found itself within yards of the burn line and engulfed in smoke.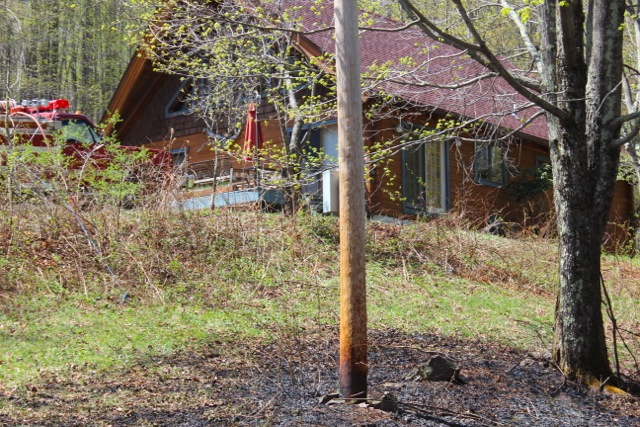 Above: The burn line came within a few yards of a small cabin. Photo by Rebecca Andre.
Many thanks to whomever called in the fire, which could be seen billowing across the mountain from Alta Log Homes on Route 30.
"We will have two or three more of these calls in the next week," said one sweat- and soot-stained firefighter. "This is a dangerous time of year."
Thank you to the men and women Halcottsville Fire Department and the Roxbury Fire Department for their quick action containing a fire that could have devoured the mountain in mere minutes.
Moral of the story: Take heed during this dry burn watch. And pick your ramps before the warm weekend ahead.
Above: A rainbow is visible in the spray of the hose. Photo by Rebecca Andre.