The emerald ash borer – a destructive insect that eats ash trees – is continuing its relentless push through the Catskills and New York state, killing thousands of trees and impacting the budgets of homeowners and state agencies, according to officials and experts.
"Any ash tree that is untreated will die from emerald ash borer at some point in time," said Cornell University Forest Entomologist Mark Whitmore, who has been working with communities and agencies across the state to help slow the spread of the foreign-borne insect.
Whitmore and other experts say that it's not a question whether the emerald ash borer -- first confirmed in the U.S. near Detroit, Michigan in 2002 -- will hit a community, but when.
Source: Ulster County Department of the Environment.
No bigger than the size of a cooked gra­in of rice, the metallic green insect was first confirmed in the Catskills in the Ulster County town of Saugerties in summer 2010.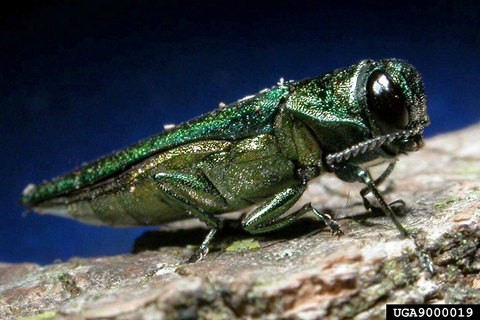 Above: An adult emerald ash borer. Photo by David Cappaert, Michigan State University, Bugwood.org
Since then, state officials have identified ash borer populations as far north as the border of the Greene County town of Coxsackie, as far west as the Ulster County town of Shandaken, as far south as the Ulster County town of New Paltz and well east of the Hudson River. 
When the ash trees go, the financial and aesthetic loss will be significant. Ash, which often appears on Main Streets across the region, makes up almost 8 percent of all trees in New York state.
Emerald ash borer infestation expands
Ulster County and parts of Greene County are among the more heavily impacted areas in the state. Together, they form what the DEC calls an "EAB Core."
This core has expanded from just 60 square miles in 2010 to more than 600 square miles in 2014, according to figures collected by the Ulster County Department of the Environment.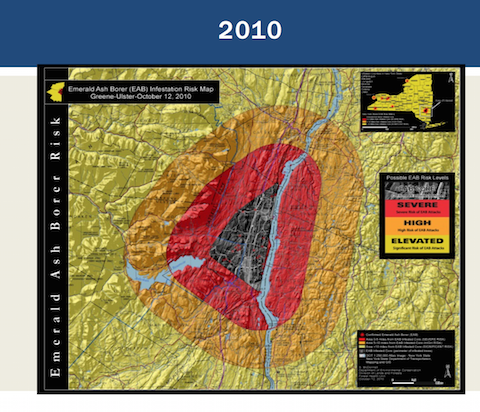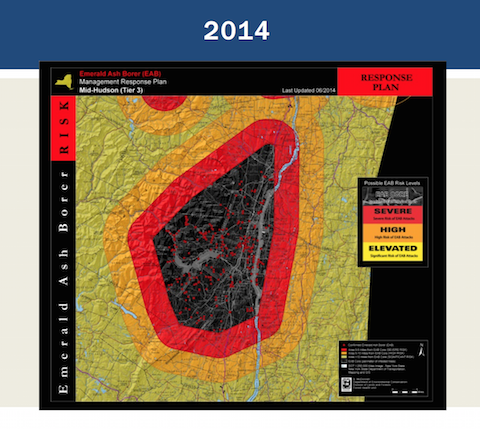 Above: The spread of the emerald ash borer in the mid-Hudson Valley between 2010 and 2014. Source: Ulster County Department of the Environment.
As the core has expanded, so have the areas where attacks by the emerald ash borer are deemed "severe" or "high" risk. In 2010, for example, West Shokan was just outside the high-risk area. By 2014, the town had been swallowed by the core.
Ulster County, which conducted a census of infested ash trees last summer, has found that the towns with the most heavily damaged ash tree populations are Olive, Hurley, Marbletown and Woodstock, according to the county's 2014 Emerald Ash Borer action plan.
Once the ash borer infests an area, it cannot be removed.
"The emerald ash borer can't be eradicated," DEC Regional Forester Jeff Wiegert said at a May 27 meeting of the Ulster County Emerald Ash Borer Task Force, which unites volunteers, arborists and agency officials. "We can only try to slow the spread."
Tighter quarantine zones aim to help slow the spread
In May, in what the DEC said was an effort to slow the spread of the emerald ash borer, the agency and New York's Department of Agriculture and Markets created 14 restricted zones that tighten the quarantine around known ash borer infestations. 
The new zones replace a larger contiguous quarantine area that spanned the state east to west, following the NYS Thruway.
With an estimated one billion ash trees in New York, the new regulations aim to ease the movement of the volume of dead ash within the zones, Wiegert said.
Under the new regulations, homeowners, firewood dealers and arborists can move ash – including untreated firewood, nursery stock and woodchips – within each of the restricted zones without a permit.
"Before, we used to tell homeowners don't take [the infested ash] out over the stone wall," Wiegert said. "Now they can. They can move it anywhere in the infested areas."
Wiegert said that the new regulations emphasize the importance of "buying local."
Twenty-five towns in the Catskills are affected by the new regulations. See a list of them here. 
The ash borer is not a particularly strong flier and most long-distance movement of the insect has been directly traced to humans being unwitting taxis for the bugs by moving infested ash firewood or ash nursery stock. Keeping infested wood remains contained inside the quarantine areas, will slow the insect's spread to new territories.
The borer, native to eastern Asia, is believed by scientists to have likely arrived in the U.S. as an unwanted hitchhiker in wood products like pallets used in shipping. Scientists suspect the insect arrived as early as the 1990s.
It is now present in 25 states and was confirmed in New York in 2009 in Cattaraugus County.
Early detection is difficult, making safety a concern
Early detection of the ash borer can be difficult because the tiny larvae feed under the bark in the wood of the tree where nutrient levels are high, essentially starving it. A tree can be infested for a year before symptoms become visible.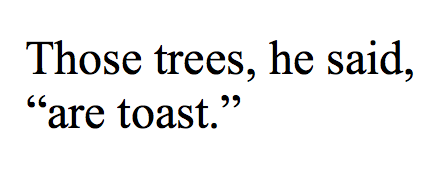 Those symptoms include a dying-back canopy, dead branches, a blonde-color on the trunk and holes made by woodpeckers, which are learning to feed on the ash borer but not fast enough to keep pace with the population.
"I'm watching ash trees die," said Jim Hanson, a Woodstock resident and the chair of the town's environmental commission. "Every ash tree in town is infested at this point."
Hanson, who is also a member of the Ulster County Emerald Ash Task Force, said that volunteers have identified at least 78 infested ash trees along streets in the town of Woodstock.
Those trees, he added, "are toast." 
Most ash trees die within two to four years of the first symptoms being observed.
While some habitats can survive the loss of ash, the death toll creates a serious safety and liability issue for residents, homeowners and governments. Ash is opportunistic, which means that it often grows near human infrastructure where the soil has been disturbed, in locations near schools, roads, power lines and bike paths.
Ash trees are also intentionally planted in parks or along sidewalks for shade and aesthetics. Once dead, an ash trees loses its integrity quickly and begins to drop limbs.

In Greene County, Rick Burstell, a program educator with Cornell Cooperative Extension, said that he has "seen trees leaning over transformers, leaning over highways, and people really need to get going on identifying them."
Burstell, who expressed concern over a lack of funds in Greene County to combat the emerald ash borer, said that, in addition to trees inside the known infestation zone, he's seen signs of infested trees in the towns of Windham, Jewett, Earlton, Cairo and Coxsackie in Greene County.
On May 16, while getting ready to give a talk on invasive insects to mark Earth Day at Riverside Park in Coxsackie, Burstell said that he noticed ash trees along the Hudson River that were riddled with holes by wood peckers. Beneath them sat mothers with their children.
"And, when I was leaving the park, I get up near the top of the hill and I see this 36-inch statuesque ash tree and it's totally leaning over the highway," he said. "We don't want them to fall and kill people."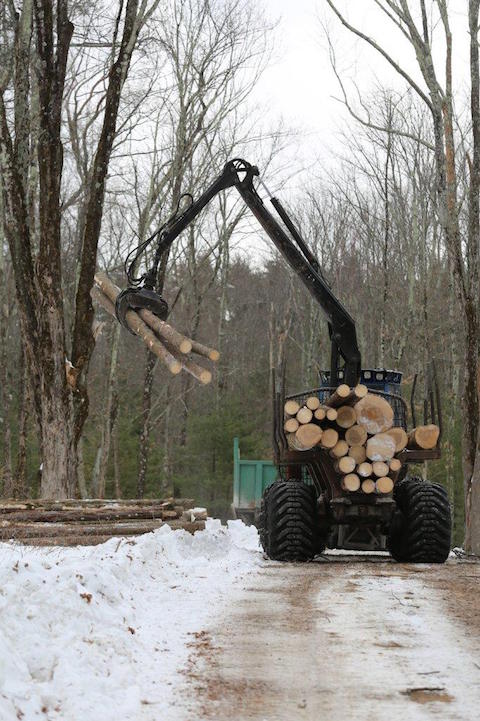 Above: A DEP truck harvests ash trees near the Ashokan Reservoir. Photo by Kristen Artz.
Small insect, big bill
No one has assigned a precise cost to the damage that the emerald ash borer has caused in Catskills towns.
Estimates will vary, depending on budgets and whether towns decide to remove infested ash trees or treat them with insecticides or biological controls.
But figures in Ulster County's Emerald Borer action plan indicate the financial toll that the ash borer has taken across the United States. Ann Arbor, Michigan has spent $2 million removing 7,000 dead ash trees that posed a hazard, while Fort Wayne, Indiana budgeted $900,000 to remove 13,500 ash trees.
In New York, officials from Onondaga County said last June that they expect to spend $15 million over the next 25 years to combat the ash borer and remove about 47,000 ash trees, according to media reports. 
Arborists such as Burstell and Cornell's Whitmore warn that communities need to get ahead of the ash borer's spread by taking an inventory of trees, educating themselves, encouraging task forces and budgeting for removal or long-term treatment of ash trees.
"When you're in a reactive environment, you are always spending more money," said Whitmore, who has helped establish task forces to coordinate efforts to combat the ash borer.
Whitmore said that there are seven or eight task forces in New York. One is in Ulster County. Greene County does not have a task force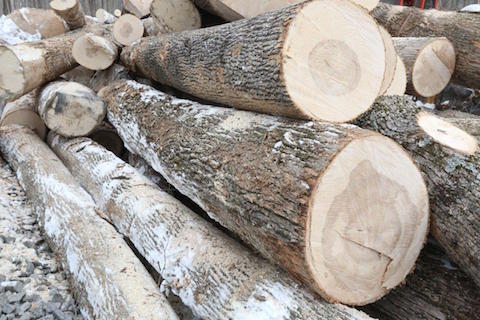 Above: Harvested ash trees in Ulster County. Photo by Kristen Artz of the NYC DEP. 
Thousands of dollars, thousands of trees in Ulster County
In May, Amanda LaValle, the Ulster County Environment Department coordinator, told the Watershed Post that the county had approved $60,000 to pay a local tree service to remove about 480 trees along county roads that pose a hazard. The trees had been identified during a "windshield" survey of 423 miles of county road last year summer.
In the survey, 3,462 ash trees were identified and about half of those trees showed signs of light to heavy damage by wood peckers, LaValle said.
"We can't take them all down right now," LaValle said. "There is an acknowledgement this is an ongoing issue that requires time and attention and money … These trees are dying and dying quickly."
During the fiscal year ending on March 30, 2015, the New York Department of Transportation took down 1,250 ash trees along state roads in Ulster County, "which is by far the worst," said DOT spokeswoman Carol Breen. The in-house cost was $150,000, half the budget for tree removal for the county, Breen said.
The DOT expects to take down more ash trees. According to Jordan Voelker, the owner of Limber Tree Services Inc. in West Hurley, his company was recently awarded a bid on a five-year, $4 million contract to remove trees along state roads in Ulster, Dutchess and Columbia counties.
The NYC Department of Environmental Protection, which has been working with the DEC and the U.S. Forest Service since 2010 to combat the ash borer, plans to ask for bids on a roughly $1.5 million contract to take down about 2,500 to 3,000 ash trees deemed hazardous along Route 28A at the Ashokan Reservoir, according to DEP Chief Forester Fred Gliesing.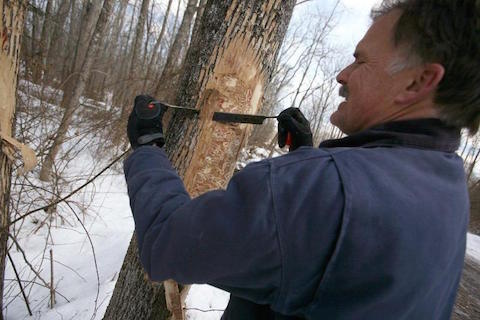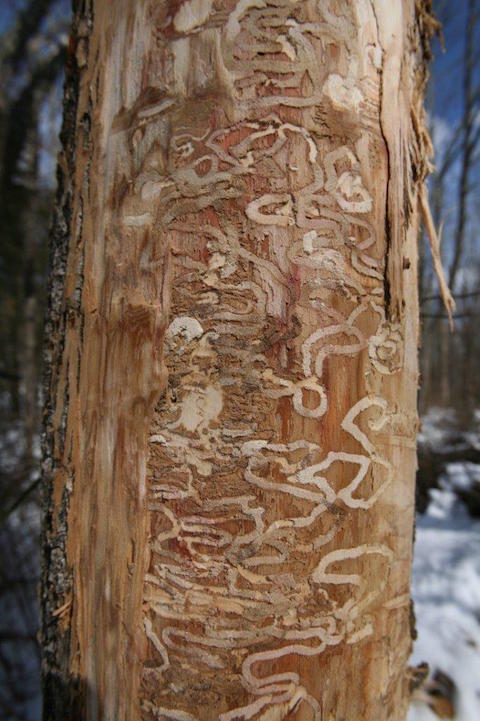 Above: A DEP forester stripping the bark off ash ash tree near the Ashokan Reservoir to reveal the distinctive S-shaped galleries that have been eaten through the tree by emerald ash borers. Photos by Kristern Artz for the DEP. 
This winter, the DEP removed 4,000 ash trees along Route 28 in Ulster County that showed signs of infestation. The harvest was done early enough that the wood could be sold to local sawmills for flooring, furniture and other products, according to Gliesing.
Officials urge homeowners to have a plan to deal with the ash borer on a small scale. Taking down a dead ash tree is much more expensive than taking down one that is infested but still alive because dead ash trees are too dangerous to climb.
Limber Tree Service's Voelker said that costs range widely, depending on where a residential tree is located and what its condition is. It can cost a few hundred dollars to more than a thousand dollars to take down an infested ash tree, he said.
Some bright spots
New York's ash trees are not necessarily doomed.
Insecticides have proven effective in protecting healthy trees from ash borers, and are an option for towns and homeowners who want to protect prized ash tree specimens.
Vern Rist, the owner of Healthy Trees in Saugerties, said that the cost of treating a tree is about $8.50 to $10 per inch of the tree's diameter. That price declines if municipalities buy in bulk.
The treatments are effective for two years, or "with a little luck, three years," Rist said.
Insecticide treatments, however, would need to continue for the foreseeable future. The emerald ash borer populations have not yet reached critical mass, which means that the insect will be plaguing ash trees in the region for years to come.
In the meantime, scientists are experimenting with biological controls to attack the ash borer. One is a parasitic wasp from Asia that is the ash borer's natural predator. But the wasps have a long way to catch up before they can keep a resident ash borer population in check.
"It's a numbers game," said Whitmore, the entomologist from Cornell.
But Whitmore thinks that, if the ash borer can be controlled, ash trees might one day return to New York.
"On a personal level, my goal is to bring back ash to the landscape and I think we can do it," he said. But, he added, it will take time.
Below: See Whitmore speak about invasive species, including the emerald ash borer, in this video shot at the Ashokan Stream Conference in April 2015. Video by Vecc Videography.