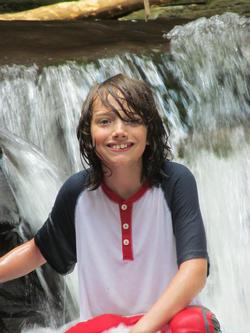 An 11-year-old DeLancey boy who was injured in an ATV crash in Hamden last week has died, according to the Delaware County Sheriff's Office and an obituary issued by the family.
Left: Nicholas J. Dungan. Photo via his obituary at the Courtney Funeral Home.  
Nicholas J. Dungan died on Friday night, April 24 at Albany Medical Center, according to a press release from the sheriff's office and his obituary.
Dungan had been driving an ATV on Stoddard Hollow Road in Hamden with his brother on Tuesday, April 21 when he lost control, flipped the ATV and was pinned underneath it. Although he was wearing a helmet at the time of the crash, he sustained serious head injuries. 
Nicholas Dungan was in 5th grade, was an avid fan of The Hobbit and Lord of the Rings, and is survived by two brothers and his parents, Greg and Kathy Primus Dungan, according to his obituary. Calling hours are being held from 5 p.m. to 7 p.m. on Tuesday, April 28 and a service will be held at 1 p.m. on Wednesday, April 29 at New Hope Community Church in Walton.