Katie Cokinos wasn't too sure the film she had labored over was going to happen until she found Ridgely Manor. The country refuge in the Ulster County hamlet of Stone Ridge had just the right presence to become Aunt Vera's estate in the feature film "I Dream Too Much."
Cokinos, of Saugerties, is one of 25 female directors whose work is being showcased at this week's Woodstock Film Festival, which opened last night and runs through Sunday, Oct. 4.
The film is one of several included this year that either were shot locally or made by a local filmmaker.
The manor house Cokinos chose, which originally belonged to Francis Leggett and Besse MacLeod Sturges Leggett, had been passed down to a Bengali monk known as Swami Vivekananda and later became a Hindu retreat house. Cokinos and her production team fell in love with the imposing yellow estate that stood out starkly from the snowy landscape in the 93-minute film.
"When we got that location, it was the first time I thought, 'This movie is actually happening,'" said Cokinos, who has made 10 short films and features like "Portrait of a Girl as a Young Cat."
Her latest movie makes its upstate New York premiere at 3:30 p.m. today, Thursday, Oct. 1, at the Woodstock Film Festival and will be screened again on Friday, Oct 2 at Saugerties' Orpheum Theater at 6:30 p.m.
Though the bulk of "I Dream Too Much" was filmed in Saugerties in February 2014, Cokinos ventured out of town in the pre-production phase to find a home for the movie's affluent aunt, whom her protagonist, Dora, visits to escape her nagging mother.
"We hired a location scout through the Hudson Valley Film Commission," Cokinos said.
"We were considering one house across the river, but then our scout said, 'I'm going to check out the Hindu retreat in Stone Ridge,' and I said, 'Good luck with that.'"
Much to Cokinos' surprise, the caretakers of Ridgely were open to it serving as a movie set, though some parts of the house were off-limits to her crew.
"There was one room we couldn't shoot in because that's where the Swami Vivekananda died," she said. "There was a couch we couldn't use because he used to sleep there."
Oscar-nominated actress Diane Ladd, who plays the reclusive Aunt Vera, was allowed to stay in the guest house at Ridgely while the crew shot there for 10 days during two snowstorms.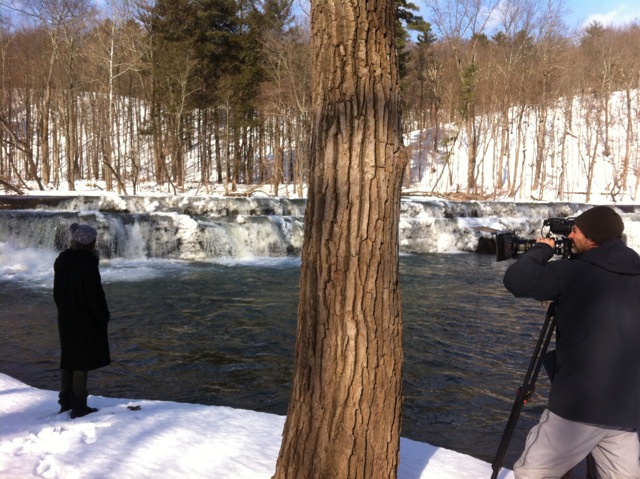 Above: Alex Rappoport films actress Eden Brolin near Hudson Valley waterfalls in frigid temperatures on the set of "I Dream Too Much" in 2014. Contributed photo. 
The entire project moved quickly and on-budget, turning out to be a three-week affair and one the Texas-born filmmaker won't soon forget.
"There were two solid days where it didn't make it to 20 degrees," she said. "In the garden scene, where Aunt Vera is sitting outside, it was like 16 degrees."
"I'm not doing that ever again. I've got three other story ideas that I want to shoot in Saugerties, but it won't be in the winter," she said.
"A young woman on a train"
The light-hearted film centers on a recent college graduate's quest to find herself.
Dora's mother is insistent that she go to law school, but the dreamy and flippant young woman often finds herself fantasizing about something more.
Cokinos, who has lived in Saugerties for the past 10 years, said that she imagined a young woman on a train heading to upstate New York.
"One of the things I set out to do is make a modern-day tale of a Jane Austen novel," she said. "That's why I have this whole poor relation come to visit the wealthy relation."
In at least three scenes, Dora romanticizes about being pursued by an Austen-like English gentleman in a snowy field shot at Winston Farm in Saugerties.
Another landmark that Ulster County filmgoers might recognize is the dramatic Falling Waters Preserve in Glasco, where, in one scene, Dora seems to find inspiration from the frozen grounds.
The Saugerties Lighthouse also commands a role in "I Dream Too Much."
In the lighthouse scene, actresses Eden Brolin (Dora) and "Orange is the New Black" regular Danielle Brooks (Abbey) walk on the frozen Esopus Creek.
"Eden and Danielle did have thermals and handwarmers on, and in between takes, I'd hug them," Cokinos said.
Originally, Cokinos had cast Saugerties Police Chief Joseph Sinagra in the role of the driver in the movie, but he was called to a meeting.
She then cast her next-door neighbor, Kim Emerson, in the role and included other locals like Guy Reed, a well-known local poet, in a scene at Aunt Vera's estate.
In the final scene shot at Colony Café in Woodstock, several local faces can be spotted in the crowd, including Sonia Terri Gittens, a Kingston actress who has appeared in other films.
DIG, a Saugerties boutique owned by Daisy Bolle, has a prominent place in the film, serving as the location where Dora meets and befriends Abbey. 
Mother Earth Storehouse on Saugerties' Main St. also serves as a backdrop in "I Dream Too Much."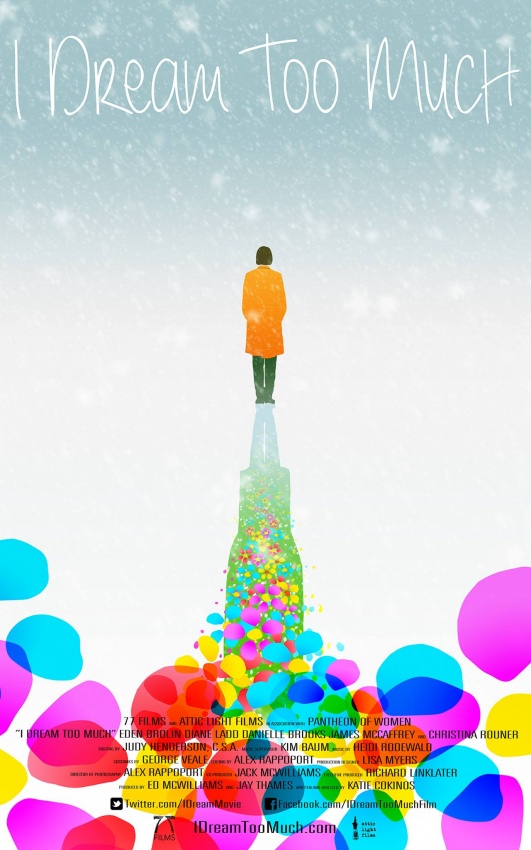 Above: The poster for "I Dream Too Much." 
"Really an all-town affair"
Cokinos, who collaborated on the project with her husband, Alex Rappoport, a cinematographer and editor, said that knowing the town certainly helped to make the film move seamlessly.
"One of the reasons we were able to go full speed is because I know the area so well," Cokinos said.
Meira Blaustein, co-founder and executive director of the Woodstock Film Festival, lauded Cokinos' full-length feature and said that the familiar landmarks should thrill the home crowd.
"It's stunningly beautiful and was really an all-town affair," Blaustein said. "The whole village was a part of it, and it shows."
Blaustein is especially proud of Cokinos and the other 24 women whose work is being spotlighted at this year's film festival.
Blaustein said that the 2 p.m. Saturday panel, "Women in Film and Media: Enough Already! Changing the Status of Women in Film and Television," will take it a step further, tackling the issue of gender-equality in filmmaking.
"Unfortunately, we're not there yet, so we have to continue this conversation," she said.
"It takes a lot of voices and a lot of attention. For so long, women have played second fiddle to men in the creative arts as well as other jobs in the world," she said. "We will keep on pushing and do our part to give women a platform."
Woodstock Film Festival. Wednesday, Sept. 30 through Sunday, Oct. 4. Various venues around Woodstock. woodstockfilmfestival.org.
"I Dream Too Much" screens at 3:30 p.m. on Thursday, Oct. 1 at the Woodstock Playhouse and at 6 p.m. Friday, Oct. 2 at the Orpheum Theater in Saugerties. idreamtoomuch.com.
Correction: Due to an editing error, the original version of this story stated that the evening showing of the flim was in Woodstock, when it was actually in Saugerties. Our apologies for the error.