A new restaurant that serves an eclectic mix of Turkish specialities and American diner classics is bringing together a Sufi Muslim community and its rural Catskills neighbors.
"More and more we are seeing less and less prejudice," said café manager Erdem Kahyaoglu. "We want to share – our spiritual lessons and our bread. There's a Sufi saying, 'Come, come, whoever you are.' And we have a sign on our door, 'Welcome to those who come. Farewell to those who leave.' So come."
The Tulip and the Rose Café opened on July 5 in the Delaware County town of Franklin. It is owned and operated by the Osmanli Naksibendi Dergahi, a spiritual retreat center founded by Sufi Muslims that opened in the neighboring town of Sidney 12 years ago. The Sufi center was thrust into the national spotlight four years ago when the town tried to close a cemetery located on its property.
The café was born out of a desire to bring the community together after the cemetery controversy. It now serves breakfast and lunch, has plans to add dinners on weekends, and opens in the evenings when there is a show at the Franklin Stage Company.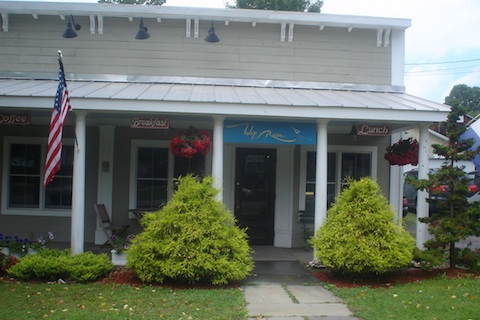 Above: The Tulip and The Rose in Franklin opened in July.
The Osmanli Naksibendi Dergahi was founded in 2002 by Shaykh Abdulkerim Kibrisi. Members of the community are Sufis, practitioners of a mystical branch of Islam, who manage a 50-acre farm, make cheese, and do welding and carpentry. Some followers live outside the dergah, as the center is called, and work in local businesses and send their children to public schools.
Left: Café manager Erdem Kahyaoglu.
"When we first came, we were different," said Kahyaoglu, who is of Turkish descent and grew up on Long Island. "People would drive by honking horns and cursing while we were praying. But as time went on, people got to know us and see we are not terrorists or a wacky cult."
Then in 2010, Sidney's town officials attempted to close a small cemetery located on the Dergah's land, arguing that it was unauthorized. The story made national news, including CNN and The Colbert Report. The town ultimately backed down.
The fight prompted members of the Sufi community to reach out to their neighbors. Some began making and selling sandwiches and gyros at the local farmer's market.
"People started seeing more of us and it took off from there," Kahyaoglu said. "Many said, 'You should open a restaurant.'"
When the former Franklin Diner became available, the group got low-interest business start-up funding from the Delaware County Industrial Development Agency (IDA), and the café was born.
The community renovated the building, adding dark blue and yellow tiles imported from Turkey and rustic local barn wood. In July, the café opened with counter service and table seating for up to 70 people, including an intimate back garden patio.
"An everything, one-stop kind of place" 
Four chefs -- all members of the Sufi community -- prepare dishes and baked goods made with local ingredients. They hail from a diverse set of backgrounds: Turkey, Russia, Cuba and Virginia.
The food, like the chefs, comes from many traditions.
"We carry croissants, donuts and baklava," said Kahyaoglu. "It's an everything, one-stop kind of place."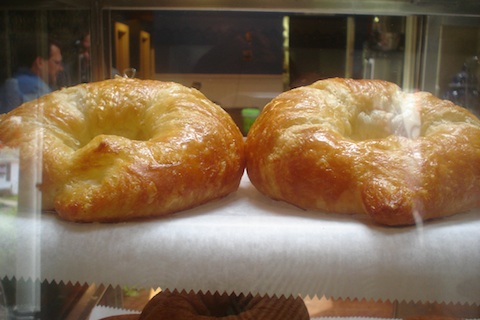 Above: Fluffy croissants at the Tulip and the Rose Café.
Mornings start with classic eggs and toast ($3.50) or pancakes ($6.50). A variety of sides includes hash browns, baked beans, sausage, turkey or beef bacon ($1.50 - $2). Fluffy croissants can be ordered stuffed with egg and cheese ($5) or topped with chives and full of smoked salmon and creamed eggs ($11).
For big appetites, the "hungry-man omelette" has three eggs, beef, vegetables and cheese ($11). A traditional baby spinach and feta cheese omelette is kicked up with black olives, bell peppers, parsley and dill ($6.50). Freshly-made croissants, donuts and bagels sit beckoning in the large display case at the front counter.
Above: The Gyro is made of local Angus beef and lamb.
Lunch ranges from gyro and fries (flame-grilled local Angus beef and lamb, vegetables and tzatziki sauce on a pita - $8) to a plump hamburger and fries ($8). House-made hummus served on a platter with puffy pitas ($8) or as a sandwich ($7) compliments the fried-to-order chicken wings with buffalo sauce ($7).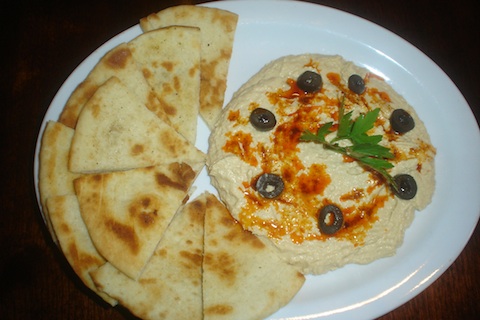 Above: Homemade hummus.
For lighter appetites, the menu includes a grilled chicken summer salad of tomatoes, cranberries and apples with zesty lemon vinaigrette ($8). For dessert, try a two-inch sliver of sweet baklava or warm apple-cinnamon Turkish cookies that look like little pillows. The rich, dark roast coffee should satisfy any caffeine fanatic.
Come fall and winter, the café will change up the menu with soups and stews, including a rich Turkish red lentil soup.
Muslims do not drink alcohol or eat pork, so neither will be served at the café.
The restaurant's name is symbolic: The rose and the tulip are two flowers with spiritual meanings for Sufis. The tulip represents the Creator, God, while the rose is the symbol of the prophet Muhammad.
"My eggs were perfect"
So far, the café is a neighborhood hit.
John Bennett of Unadilla stopped by for eggs and coffee one afternoon last week.
"My eggs were perfect," he said. "This is the best that can happen and it's already helping some of the other businesses around here."
The community has been enthusiastic, Kahyaoglu said.
"It's nice to get some farmers in. And the other day, someone pulled up in a Ferrari," he said. "That's the good thing about America. It's the only place you can have that, not like in other parts of the world where you are divided by social status, by religion. You are more free in this country than anywhere else. We are more free as Muslims in this country than even in a Muslim country."
The Tulip and The Rose Café. 435 Main St., Franklin. 607-829-4040. Open Monday – Thursday 7 a.m. - 3 p.m., Friday 7 a.m - 11 a.m., and Saturday and Sunday 8 a.m. - 3 p.m. Café is open for dinner when there is a performance at the Franklin Stage Company. thetulipandtherose.com. facebook.com/thetulipandtherosecafe.