Above: First responders and witnesses on the scene of a one-car crash on Margaretville's Main Street. Photo by Lissa Harris. 
An erratic driver in an Elantra coupe jumped the curb, took out a streetlight and hit the Gottfried Municipal Building at 773 Main Street in Margaretville on Wednesday afternoon. Luckily, it was a drizzly Wednesday and not a sunny Sunday, and few people were on the street.
The accident occurred around 4:45 p.m. No one was struck, and the building did not appear to be badly damaged. The Gottfried building houses the Margaretville village office and local DMV branch.
The driver, who appeared to be conscious after the accident, was taken from the scene by ambulance by Margaretville Hospital Emergency Medical Services. 
Jess Olenych, owner of the Home Goods kitchen store across the street from the building, saw the crash happen and was the first to call 911. 
"She just came around the corner and hit the light pole and just kept going," Olenych said. 
Several witnesses said that the driver -- who was still in the car when fire, police and paramedics arrived -- appeared to be unable to respond to first responders. The car came to rest alongside the building with its tires still spinning, said Steve Yaekel, owner of the Margaretville Liquor Store, whose plate-glass window also overlooks the Gottfried Building from across the street.
"I ran over to the car, and it looked like she was having a medical problem," Yaekel said. One of the first responders broke the passenger side window to get the woman out of the car, he said.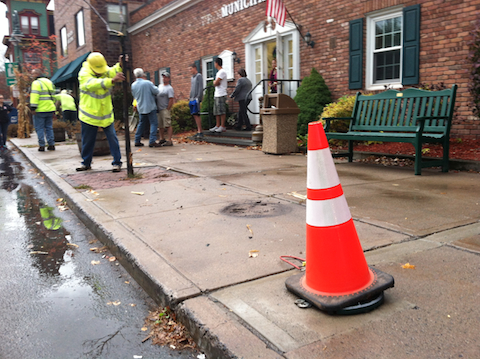 Above: A cone marks the spot on Margaretville's Main Street where a streetlight was knocked down by a driver on Wednesday, Oct. 15. The car plowed over a small tree, bent a handrail on the building's front staircase and came to rest in the shrubbery alongside the building. Photo by Lissa Harris.
The accident occurred just around the corner from the Margaretville Fire Department, and firefighters were on the scene within minutes. Olenych, who ran into the street after the crash, managed to flag a first responder down even before he got the call.
"Chris Rosa [of the Margaretville Fire Department] happened to be coming around the corner, and I was like, 'Chris, go get a truck!'" she said.
Margaretville Fire Chief Gene Rosa said that apart from the driver, no one was injured in the accident. New York State Police also responded to the scene along with local fire and ambulance first responders.
Reached for more information on the driver's condition, a staffer at the Margaretville Hospital declined to comment.
Below: The toppled streetlight gets loaded onto a Margaretville Department of Public Works truck. Photo by Lissa Harris.