Above: The Cannonsville Reservoir in 2012. Photo by Flickr user David, shared in the Watershed Post Flickr pool. 
This summer, the Catskills Outdoor Guide is partnering with the New York City Department of Environmental Protection (DEP) and the Catskill Watershed Corporation to bring you our new Catskill Reservoir Paddler embroidered badge, which you can only earn by paddling a specific reservoir each month.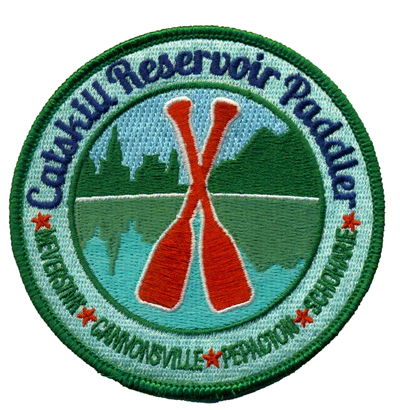 In August, the spotlight is on the Cannonsville Reservoir. Paddle the Cannonsville anytime between August 1 and 31, send in your proof, and a Catskill Reservoir Paddler badge will be yours. Click here or scroll down for full redemption instructions. 
The Cannonsville reservoir is the most remote of the Catskill reservoirs. At the northwestern edge of Delaware County, it's in the middle of nowhere, just the destination for someone looking for a little on-the-water solitude.
The Cannonsville also has a whopping seven boat launches studding its 61-mile shoreline, which makes it the easiest reservoir to thoroughly explore. That's because the recreational boating program made its debut on the Cannonsville in 2009 before expanding to the other reservoirs in NYC's Catskill system. There's been lots of time to build out the infrastructure. 
For a detailed map of the Cannonsville and its boat launches, click here.
The Cannonsville was the last of the city's Catskills reservoirs to be constructed. It was finished in the 1960s, forcing five communities to evacuate.
Some reminders remain under the waters. A twin-span iron bridge that once spanned the West Branch of the Delaware River was submerged along with the abandoned towns, according to a newspaper clipping reproduced on the blog Ghost Lakes: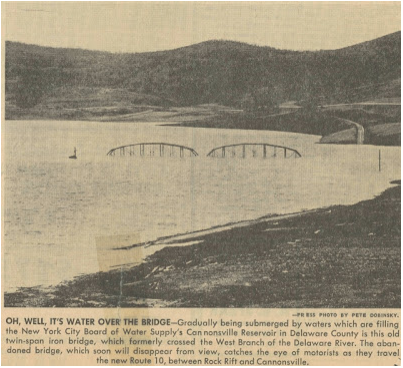 You can get your boat steam-cleaned for the Cannonsville at Rainbow Lodge (607-865-7534, 440 Rainbow Lodge Road, Walton), JMT Enterprises (607-865-7801, 1724 Chamberlain Brook Road, Walton), Backus Farms (607-865-6639, 7377 County Highway 27, Trout Creek), and Warner Enterprises (607-349-5105, 69 Main Street, Deposit). And you can rent a boat or get it steam-cleaned at Hawk Mountain Guide Service (607-865-7830, 751 McLaughlin Road, Sidney Center). 
For our five-step guide to boating NYC's Catskills reservoirs, click here. 
HOW TO EARN YOUR CATSKILL RESERVOIR PADDLER BADGE
To earn your badge, you must paddle or sail at least one reservoir in 2014 during its scheduled month:
Schoharie Reservoir (May 26-June 30)
Neversink Reservoir (July 1-31)
Cannonsville Reservoir (Aug. 1-31)
Pepacton Reservoir (Sept. 1-Oct. 13)
Bring along a camera, because you'll need to provide one of the following: 
a date-stamped photo from your boat looking back at the launch site (so the reservoir can be recognized)
a photo of your DEP access permit
a photo of your boat rental/steam-cleaning receipt
Email your proof, along with an address where the badge should be mailed, to Diane Galusha of the Catskill Watershed Corporation, at galusha@cwconline.org.